Friday was a tough day for the market, with a down opening that fed upon itself for most of the day. The S&P 500 (NYSEARCA:SPY) dropped 1.66%. It probably didn't help that it was the 25th anniversary of Black Monday, when the market plunged more than 20% in a single day. It probably also didn't help that this is October, a notoriously volatile month, or that it's weeks before a presidential election or that it was an options expiration or that we are in the middle of one ugly earnings season.
Despite the worst day since early June (right before the market took off for a 14% rally over the next three months), the market ended up for the week. Despite several high-profile plunges, including mega-cap earnings reporters Google (NASDAQ:GOOG) and International Business Machine (NYSE:IBM), the S&P 500 rallied a few points for the week.
I know that Investors Business Daily has been characterizing the current market action as a correction since early October, but they have been whipped silly this year with their market calls. In this case, I believe they (and others) are incorrectly extrapolating a very narrow correction of the technology sector. To me, the rest of the market is quite healthy. In fact, while the S&P 500, which had rallied four straight months to set new highs in September, is officially down in October (-0.52% or -0.4% including dividends), I have noticed a strange divergence: More stocks are up than down.
Two weeks ago, I had shared my lament concern that the market was being driven by very narrow leadership, suggesting to shift into "healthy laggards". So far in October, despite the negative bias for the market, it's interesting that 275 of the 500 stocks are up on the month (55%), a technical condition known as positive breadth.
Before I get too carried away, though, we are talking about just large-caps, as the small-cap market remains abysmal. Mutual fund outflows continue to defy logic, with a massive $10.6 billion outflow from domestic equities in the week ending October 3rd according to ICI and then a smaller one of $2.3 billion the following week.
I find it useful to look at the sub-components of the market when I am assessing the trend. S&P has 10 economic sectors, and they aren't all equal. The largest, by far, is technology (NYSEARCA:XLK), which currently represents 19% of the S&P 500. At its peak in September, it had been up over 24%, but it has pulled back to a market-matching 14% price-return. Let's look at all 10 sectors: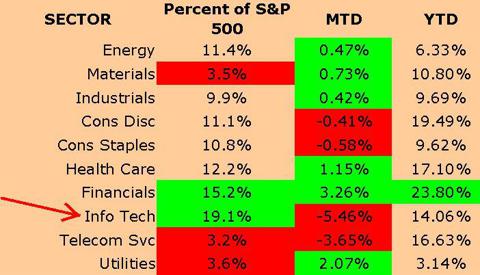 Tech started the month at about 20% of the market, and it is now 19%. Were it not for this sector correction, the S&P 500 would be up in October. For those concerned by the market action, let's contrast this with five years ago, when the five-year old bull market was rolling over. Look at that sector above tech: Financials (NYSEARCA:XLF). They are up 3.26% so far in October. Don't look now, but financials are dominating the YTD returns, 431bps above second-place consumer discretionary (NYSEARCA:XLY).
We have established that more stocks are up than down and that were it not for tech (and even netting out financials) the overall market would be up. Let's add that 6 of the 10 sectors are actually up this month.
Here's yet another way to look at it: The S&P 500 has pulled back to its 50dma, which is rising. Looking at the 10 sectors, only 1 closed more than 0.5% below the 50dma: Technology (which is now almost 5% below it).
So, while we had a scary day, and it's not a robust month, I think it's important to understand what's driving the market and to keep things in perspective. Technology has been a leading sector for quite some time, rising more than 30% through the year ending 9/30/12. An 8% pullback that has cost the S&P 500 about 1.6% is likely an opportunity rather than a reason for concern.
Disclosure: I have no positions in any stocks mentioned, and no plans to initiate any positions within the next 72 hours. I wrote this article myself, and it expresses my own opinions. I am not receiving compensation for it (other than from Seeking Alpha). I have no business relationship with any company whose stock is mentioned in this article.