By Jeff Bailey
Operating without stores is a huge bonus to a modern retailer, and you see it right there in the sales-per-employee figures: It was $855,463 at Amazon (NASDAQ:AMZN) last year, while each Wal-Mart (NYSE:WMT) worker generated $201,752. That's a heck of an advantage and is just one reason why Amazon shares trade at such a stunning premium to those of Wal-Mart, based on PE ratio.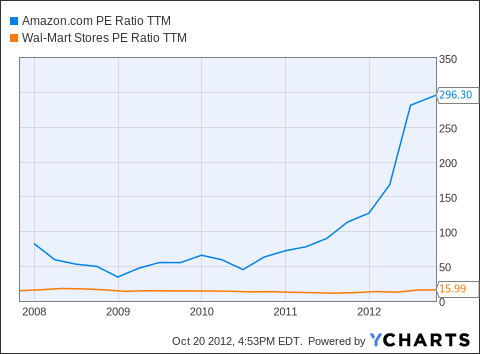 AMZN PE Ratio TTM data by YCharts
Perhaps the market's favorite statistic about Amazon, of course, is revenue growth, where it makes Wal-Mart look flat-footed.
AMZN Revenue Quarterly YoY Growth data by YCharts
But the Amazon productivity machine has sputtered of late. It either reflects CEO Jeff Bezos wisely sinking money into added workers and facilities - the company recently agreed to lay out $1.2 billion for part of its headquarters compound in Seattle - or desperate efforts to keep the revenue gains coming and thus keep the stock aloft. Bezos's stake is worth more than $20 billion, and stock options have been a major draw in attracting and keeping talent at Amazon.
The revenue-per-employee figure listed above for Amazon, $855,463, is a steep drop from the prior year, 2010, when each Amazon worker generated $1,014,955. That's a 16% decline, and helps explain why net income has been plunging at Amazon and why its guidance for the third quarter of 2012 calls for an operating loss of between $50 million and $350 million. The profit margin ain't what it was.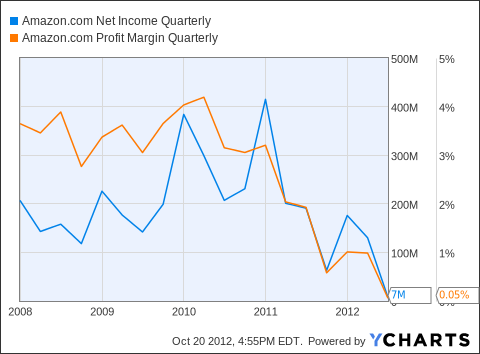 AMZN Net Income Quarterly data by YCharts
The culprit is a huge increase in employment at Amazon, up 67% last year to 56,200. That, while sales rose just 41%. And while many companies keep you waiting for the 10-K to see the total employee number, Amazon kindly provides on its website an end-of-second quarter figure, of 65,600. So Bezos welcomed aboard another 9,400 workers during the first six months of this year. If he adds another 9,400 during the second half of 2012, Amazon would employ 75,000. And if sales rise 31% this year - that's how much they rose during the first six months, and Amazon's 3Q guidance calls for an increase of between 19% and 31% -- sales per employee would drop, slightly, again to $839,745, if our calculations are correct.
Here's the largely fabulous performance of sales-per-employee at Amazon since it went public, using the number of employees at year end and net sales as reported in the 10-K:
2011: $855,463

2010: $1,014,955

2009: $1,008,601

2008: $925,894

2007: $872,647

2006: $770,576

2005: $707,500

2004: $769,000

2003: $674,872

2002: $524,400

2001: $400,256

2000: $306,889

1999: $215,789

1998: $290,476

1997: $241,042
So, yes, overall, Bezos has pulled off a miracle, and that record helps keep believers believing, and thus Amazon shares remain ridiculously valued.
The layering of staff, and the potential two-years-running decline in sales per employee, however, is troubling. Bezos has goosed sales nicely with his free shipping program Amazon Prime, which cost the company about $1.25 billion during the first six months of 2012, or 4.8% of net sales. That drags on profits, of course.
Another problem: Amazon, as an internet retailer, has been competing on price against others - Barnes & Noble (NYSE:BKS), Target (NYSE:TGT), Best Buy (NYSE:BBY) - without having to collect sales taxes in many locales. That's a huge advantage, as a gander at any map of U.S. sales tax rates will show.
That's changing, however, and as Amazon is forced to levy sales taxes in more states, its price advantage will be harder to come by - and eat into its margins even more.
Reading the quarterly earnings release is a fascinating, sort of parallel-universe experience. Bezos extols the latest nice thing Amazon has done for its customers: "Amazon Prime is now the best bargain in the history of shopping - that is not hyperbole," he says in the second-quarter 2012 release, engaging in a bit of, well, hyperbole. But then the financial results are recited, with neither hype nor chagrin. As if they matter little. And, so far, investors are buying it.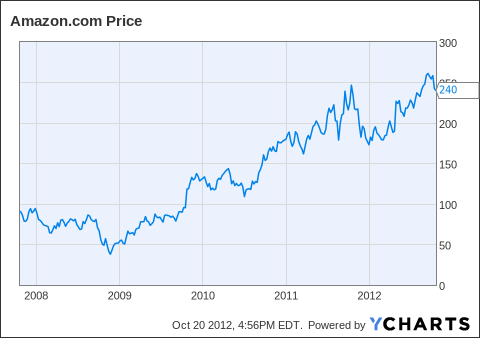 AMZN data by YCharts
Bezos will either figure out how to wring a profit from all he has created, or the stock, eventually, will plunge. It seems unlikely he'll drive all other retailers out of business and thus be able to jack up profits. And given that price-comparing zealots form a large base of Amazon's sales, continuing competition, one suspects, means continuing pressure on margins.
Meantime, enjoy the free shipping, and you might suggest your kid seek a job here. I hear they're hiring.
Disclosure: I have no positions in any stocks mentioned, and no plans to initiate any positions within the next 72 hours. I wrote this article myself, and it expresses my own opinions. I am not receiving compensation for it. I have no business relationship with any company whose stock is mentioned in this article.