Just over two months ago I wrote an article titled "Mid-Continent Propane Prices Set To Rise". Since the article was published, Mid-Continent Conway propane prices have risen by 17%, from an average of 74c/gal in August to an average of 87c/gal today. Meanwhile, Mont Belvieu propane prices have risen by 7.8%, from an average of 89c/gal in August to 96c/gal today.
While the prior article focused on the Mid-Continent, in this article I will focus on propane prices in general and demonstrate why propane prices are set to keep rising over the next few months. Despite the increase in price at Conway and Mont Belvieu over the last two months, propane prices continue to trade at a 45% to 55% discount from their historical prices. This discount is driven by:
Warmer than average 2011/2012 winter in North America (4th warmest on record).
Steady increase in propane production as a result of the move to liquids drilling.
Exports bottleneck, as the infrastructure to export rising propane supplies is insufficient.
Excessive storage as a result of the above with propane storage being 70% above normal at the start of the season (currently 26% above normal or 15.7m barrels).
Prices in 2013
To estimate future propane prices, I will use a method very similar to the one used by Encana (NYSE:ECA) to estimate future NG prices in its 2012 Investor Day market analysis. In May Encana projected a return of NG prices to $4 Mcf by the end of the year due to the shrinkage of excess storage back to its normalized 5 years average level: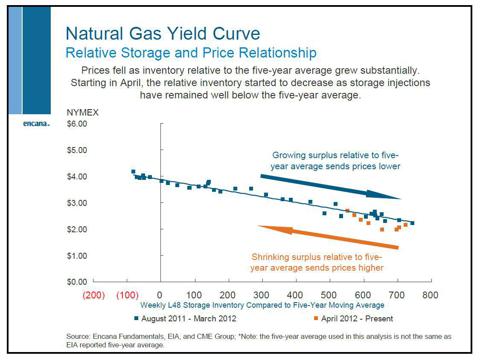 The above method worked beautifully as NG 2013 futures move into the $4 Mcf range in reaction to shrinking storage. But, before we go further let's review where the propane market stands in 2012:
Review of 2012 Propane Storage, Production & Demand
Current propane storage stands at 74.6m barrels or 26.6% above last year's levels according to the latest EIA weekly inventories report: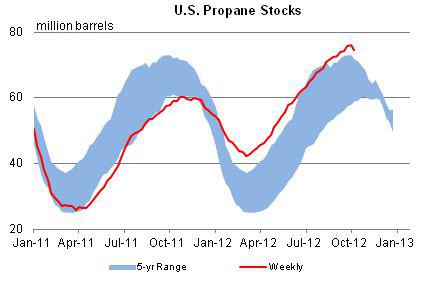 Average U.S. propane production is currently running at 1.27m barrels per day, this represents an increase of 165K barrels per day in produced propane compared to the same period in 2011: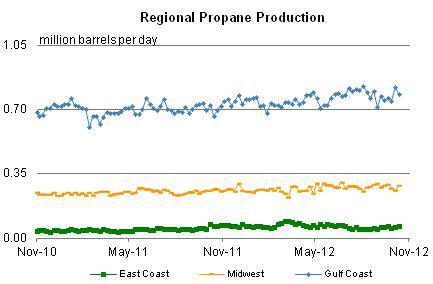 Source: EIA
However, current propane demand is running at 1.23m or 237K barrels above the same period in 2011: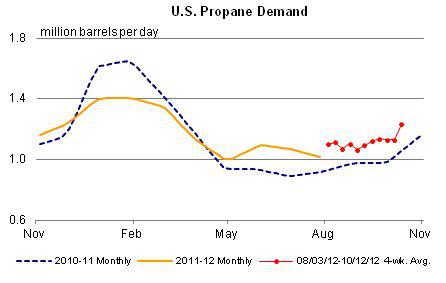 Source: EIA
The increase in propane demand since this summer is largely due to the increase in demand from the petrochemical industry and the maximization of current export capacity.
2013 Supply & Demand
Propane supply is projected to increase by 149K barrels per day in 2013; this increase will be driven by the following industry projects:
| | |
| --- | --- |
| Processor | Estimated increase in production |
| Enterprise VI | 22.5K |
| Energy Transfer I | 30K |
| Enterprise VII | 22.5K |
| Enterprise VIII | 22.5K |
| Enterprise Exp. | 3K |
| Oneok BF | 18K |
| Targa CBF 4 | 30K |
| Total increase in supply: | 149K |
Propane demand (outside of weather) is projected to increase by 336K barrels per day as the result of the following 3 export projects:
| | |
| --- | --- |
| Exporter | Export Capacity addition |
| Enterprise Products (Dec/2012) | 116K |
| Costal Caverns - Vitol (Q1/2013) | 100K |
| Targa Resources (Q3/2013) | 120K |
| Total increase in exports: | 336K |
Benetek Energy (NGL research house) has confirmed the above through an estimate of a slight propane supply vs demand shortage in 2013 & 2014: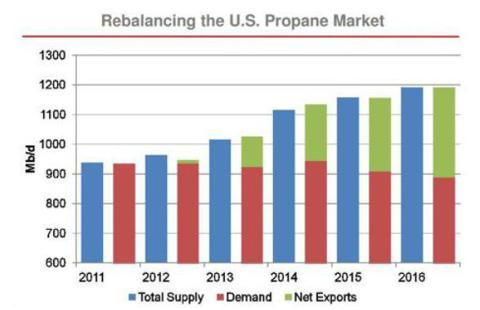 Enterprise (NYSE:EPD) and Targa (NYSE:NGLS) have both indicated that they are fully contracted for their export terminals. This is not surprising when considering that U.S. propane is trading at a discount of over 50% to international propane prices: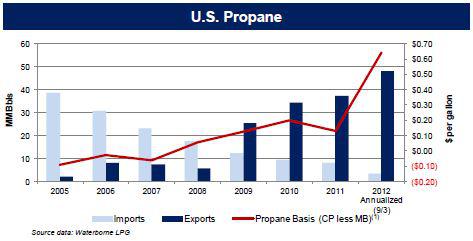 The slide above is from Targa's October 18th investor presentation. The red line represents the added cost of international propane vs U.S. propane prices; we can clearly see the rise in U.S. propane exports (dark blue) vs U.S. propane imports (light blue) over the last 4 years, as the price differential switched from negative to positive in 2008.
It is important to note that while the future increase in U.S. propane exports will be substantial, those exports continue to represent a small portion of the global propane trade, with U.S. exports rising from 5.5% of the global market in 2011 to 11% by 2015 and 12.5% by 2020. Thus, rising U.S. propane exports should have a negligible impact on international propane prices.
Rising Exports / Demand impact on propane prices
Going back to our model, how long would it take for Propane prices to regain their historical pricing range?
Based on the information presented above, it appears that U.S. demand will exceed U.S. supply next year by 187K barrels per day. It is possible that demand will further increase if we factor in a normal winter, however excluding the impact of weather, at 187K barrels increase per day it would take the industry approximately 3 months to work the excess 15.7m barrels in supply. And since the increase in exports is front loaded with Enterprise & Vitol going into operations in December 2012 and Q1/2013, it is likely that propane prices will regain their historical range and work off excess storage by Q2/2013.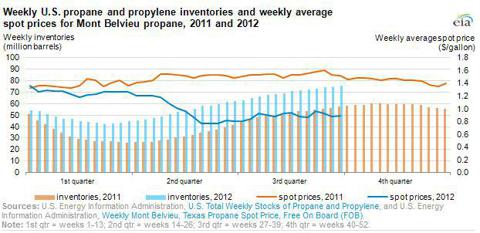 Assuming that propane storage will reach 2011 level inventories by Q2/2013, the above relationship indicates a likely propane price of 140c/gal to 150c/gal, or a 47% to 57% increase in propane prices in the next two quarters.
It is worth noting that based on transportation and loading costs, U.S. propane would remain competitive with international propane prices until 160c/gal, and hence exports would not be affected at the expected 140c-150c/gal price range.
The above estimate is also in accordance with prices experienced over the last 5 years; except for 2009, propane prices at Mont Belvieu have traded higher than 116c/gal in Q4 to Q1: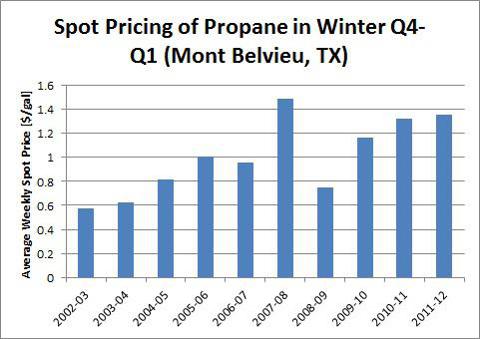 Source: Amerigas
The rising trend of propane prices is unmistakable when reviewed over the last 10 years: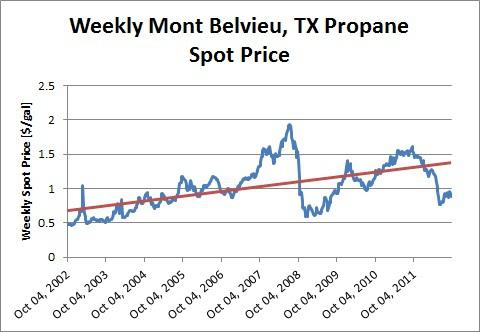 Source: Amerigas
The above trend is largely driven by the fact that propane prices are highly correlated with oil prices, since outside of the U.S. propane is mainly a by product of oil refining.
Who is set to benefit from the rebound in propane prices?
I believe the company that is best positioned to benefit from rebound in propane prices is Equal Energy (NYSE:EQU). Equal Energy is an oil and gas producer with operations in Canada and the U.S. (Oklahoma), the company is in the process of divesting its Canadian operations and is currently considering the transformation into a Canadian dividend trust similar to Eagle Energy Trust or Argent Energy Trust, or alternatively the transformation into an MLP such as Eagle Rock Energy (NASDAQ:EROC), LRR Energy (NYSE:LRE) or Mid-Con Energy Partners (NASDAQ:MCEP) among others.
Equal Energy stands to benefit further from the expected shrinkage in the differential between Conway NGL prices and Mont Belvieu due to the activation of DCP Midstream Partners Southern Hills Pipeline, which, according to the company's investor day conference of October 11th, is running ahead of schedule with the Oklahoma portion ready for activation in Q1/2013.
An increase in propane prices from 95c to 140c would increase a resulting Equal Trust or MLP payable cash dividend from 42c to 85c or 56c to $1.14 inclusive of a 25% DRIP, meaning an Equal Trust unit price would rise from $5.6 to $11.4 at 10% yield. Considering that Equal Energy is currently trading at $3.5 per share, a transformation into a dividend entity combined with a strong rebound in propane prices would prove very beneficial to the valuation of the company.
Alternatively another way to get exposure to rising propane prices is shorting a name such as Petrologistics (NYSE:PDH), which operates a propane dehydrogenation facility. A substantial rise in the price of the company's propane feedstock could significantly reduce Petroloogistics' operating margins. According to the company's May 2nd 2012 prospectuses, a 10c decline in the propane to propylene spread (from 25c to 15c) would shrink the company's EBITDA from $156.8m to $27.4m.
It is also possible to envisage a pair trade with both of those names; a long position in Equal Energy can be hedged with a long position in Petrologistics should propane prices remain depressed, meanwhile a long position in Petrologistics can be hedged with a long position in Equal Energy should propane prices rise as expected in this article.
Disclosure: I am long EQU. I wrote this article myself, and it expresses my own opinions. I am not receiving compensation for it (other than from Seeking Alpha). I have no business relationship with any company whose stock is mentioned in this article.