An efficient portfolio is one which has the lowest volatility for a given return or the "best" return for a given volatility. Another way of looking at this is to simply say that optimization (which is the process of creating portfolios that are efficient) can make any portfolio perform "better".
In this article, I shall show how optimization and a rebalancing strategy tackles both a stable low volatility portfolio as well as a high volatility model portfolio.
The Stable Low Volatility Portfolio
Let's re-visit this portfolio that I talked about in my previous article on Looking for Noise in Berkshire Hathaway's Portfolio (NYSE:BRK.A)(NYSE:BRK.B). This is a relatively stable portfolio which in the context of this article is not a high performance portfolio. The portfolio consists of the following stocks:
American Express Co. (NYSE:AXP); Bank of New York Mellon Corp (NYSE:BK); Coca Cola Co. (NYSE:KO); ConocoPhillips (NYSE:COP); Gannett Co. (NYSE:GCI); General Dynamics Corp (NYSE:GD); General Electric Corp (NYSE:GE); GlaxoSmithKline (NYSE:GSK); Ingersoll-Rand (NYSE:IR); Intel Corp (NASDAQ:INTC); International Business Machines (NYSE:IBM); Johnson & Johnson (NYSE:JNJ); Procter & Gamble (NYSE:PG); Wal-Mart Stores (NYSE:WMT); Wells Fargo & Co. (WFC).
images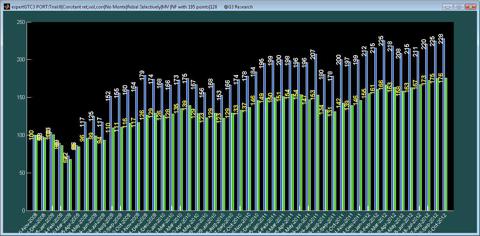 For ease of interpretation we have starting portfolio values of $100, where the blue bars use the hybrid rebalancing process, while the green bars use a buy-and-hold strategy. Taxes, commissions, and the use of a risk-free proxy are not included in the calculations. Price data has been sourced from SeekingAlpha on a dividend-adjusted basis. The results are obtained by going back in time to use only the data available as at each review point, calculating the optimal weights, then going forward to compare the performance between the optimized and equal-weights portfolios. The equal weights portfolio is computed on a buy & hold basis, while the optimized portfolio is rebalanced using the hybrid rebalancing process.
The optimization process makes the portfolio better but because the portfolio is generally normal, the simple buy & hold strategy performs acceptably albeit at a lower rate than the hybrid rebalancing strategy.
The High Volatility Model Portfolio
To witness the hybrid rebalancing strategy go into overdrive, consider the following 33 high volatility stocks which are a subset of the OxStones Portfolio .
Alumina Ltd (AWC), Aluminum Corp Of China Ltd (NYSE:ACH), Arch Coal (ACI), Archer Daniels Midland Company (NYSE:ADM), CEMEX, S.A.B. de C.V. (NYSE:CX), CNH Global NV (NYSE:CNH), Cameco Corp (NYSE:CCJ), Central European Dist Corp (NASDAQ:CEDC), Central European Media Ent Ltd (NASDAQ:CETV), China Life Insurance Co. Ltd (NYSE:LFC), Coeur d'Alene Mines Corp (NYSE:CDE), Corning (NYSE:GLW), DRDGOLD Ltd (NYSE:DRD), Fibria Celulose SA (NYSE:FBR), France Telecom (FTE), GOL Linhas Areas Inteligentes SA (NYSE:GOL), Harmony Gold Mining Co. Ltd (NYSE:HMY), Impala Platinum Holdings Ltd (OTCQX:IMPUY), Kinross Gold Corp (NYSE:KGC), Net 1 Ueps Technologies (NASDAQ:UEPS), Newmont Mining Corp (NYSE:NEM), Nokia Corp (NYSE:NOK), Oi SA (NYSE:OIBR), Owens-Illinois (NYSE:OI), Petroleo Brazileiro (NYSE:PBR), Pilgrim's Pride Corp (NYSE:PPC), Repsol Ypf SA (OTCQX:REPYY), Telefonica SA (NYSE:TEF),Teva Pharmaceutical Ind Ltd (NYSE:TEVA), Total SA (NYSE:TOT), Universal Corporation (NYSE:UVV), Veolia Environnement SA (VE), Yahoo! (YHOO)
To reiterate, the results below are obtained by going back in time to use only the data available as at each review point, calculating the optimal weights, then going forward to compare the performance between the optimized (blue bars) and equal-weights (green bars) portfolios.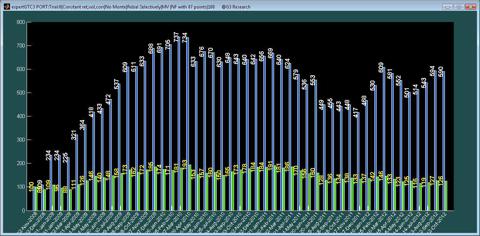 During the period of analysis, using the hybrid rebalancing strategy, this portfolio of 33 stocks achieved a significant return over its starting value and never once dipped below its original capital value.
Not Just Correlation
The correlation table for these 33 stocks is shown in the figure below which has been tilted upwards so you can see that there are some negatively correlated stocks. Having said that, diversification advantage is already had when 2 stocks are less than perfectly positively correlated. I explained this in my article entitled Optimization Mechanics - It's Not Just Correlation.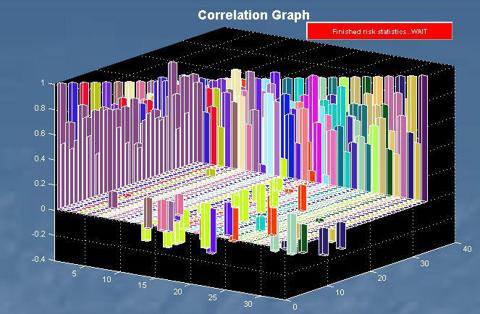 Rebalancing is Key
The hybrid rebalancing strategy reviews the portfolio every month and remains fully invested throughout. The following figure shows the mix that is anything but a buy & hold strategy. In this figure, the left axis shows the 48 monthly review points, the right axis are the 33 stocks, and the vertical axis are the weights in fractions.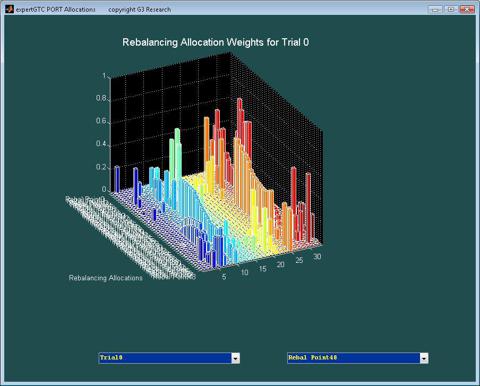 In the last Review Point dated 12 October 2012, the portfolio focused on the following stocks (valid till the next Review Point on 12 November 2012):
Archer Daniels Midland Company 14.89%
CNH Global NV 25.69%
Cameco Corp 9.10%
China Life Insurance Co Ltd 11.09%
Newmont Mining Corp 3.25%
Petroleum Brazil 35.98%
Notice that not all the stocks are chosen or weighted at any one time and I have explained why this is the case in my article on Optimization Mechanics.
Conclusion
So what is the formula? There are lots embedded into the hybrid rebalancing algorithm. But formulas are sterile tools that only come to life when used together in a blended recipe for performance.
I will talk about this recipe in future articles. But in the meantime, readers are welcomed to point me to other portfolios that they wish to push through this process.
Disclosure: I have no positions in any stocks mentioned, and no plans to initiate any positions within the next 72 hours. I wrote this article myself, and it expresses my own opinions. I am not receiving compensation for it (other than from Seeking Alpha). I have no business relationship with any company whose stock is mentioned in this article.