IMAX Corp. (NYSE:IMAX) stock is trading around $21.50 versus its 52-week range of $15.33-$26.68, up 37% in the past 1-year. The stock trades at a P/E multiple of 31 times, and a forward P/E of 21 times. The stock does not pay a dividend. The company's competitor Regal Entertainment (NYSE:RGC) trades at a P/E multiple of 18 times, and a forward multiple of 17 times. Regal Entertainment stock yields 5.6%.
IMAX is expected to report earnings before market open on Thursday, October 25th, 2012.
The chart below compares share performance over the past year. The letter "E"s mark earnings reported.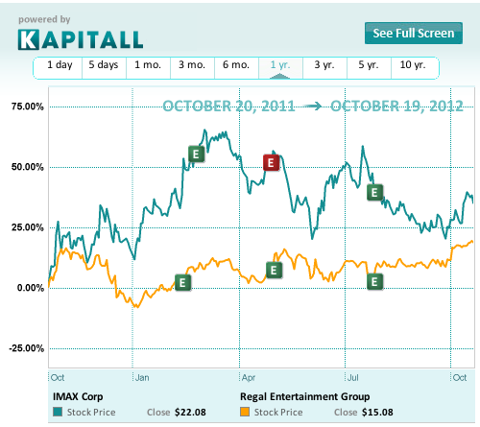 Focus points for earnings:
New film releases such as the Dark Knight Rises, Resident Evil: Retribution, and The Amazing Spiderman, are expected to have a positive impact on revenues with consensus being $75.7 million, up from $67.5 million reported last year. Earlier this week, Dark Knight Rises crossed a $100 million global box office mark worldwide. Dark Knight is only the second movie to cross this milestone after Avatar.
China is an important market for IMAX with approximately 98 theatres being operated. Management's color on the performance in China will be important given the non-competitive nature of the market, and the weak economy in China. China is on a path to become the second biggest film market after the U.S. It presents a great opportunity for Hollywood today.
Investors look forward to management's guidance on new installations in 2012. Investors are expecting stable growth from the summer.
Although the liquidity on the balance sheet is not a concern, any color on free cash flow going forward will be a positive. As of June 30th, 2012, the company has $24 million in cash & cash equivalents, and $55 million in bank debt due 2015. Historically, management has been disciplined in paying down bank debt.
The health of the box office is the biggest risk in investing in IMAX. Historically, the movie business has performed well during recessions, but the company's choice of films, the timing of the films, and the overall performance will be the primary focus of investors.
Written by Kapitall's Sabina Bhatia. Tool provided by Kapitall.
Disclosure: I have no positions in any stocks mentioned, and no plans to initiate any positions within the next 72 hours.
Business relationship disclosure: Business relationship disclosure: Kapitall is a team of analysts. This article was written by Sabina Bhatia, one of our writers. We did not receive compensation for this article (other than from Seeking Alpha), and we have no business relationship with any company whose stock is mentioned in this article.