Investors continue to shun U.S. equity investments as noted in the below chart. In spite of this data most U.S. equity indexes have continued to move higher this year. As we have noted in several earlier posts, it appears investors are allocating increasingly more of their investment assets to fixed income funds. Then what is driving U.S. equity prices higher?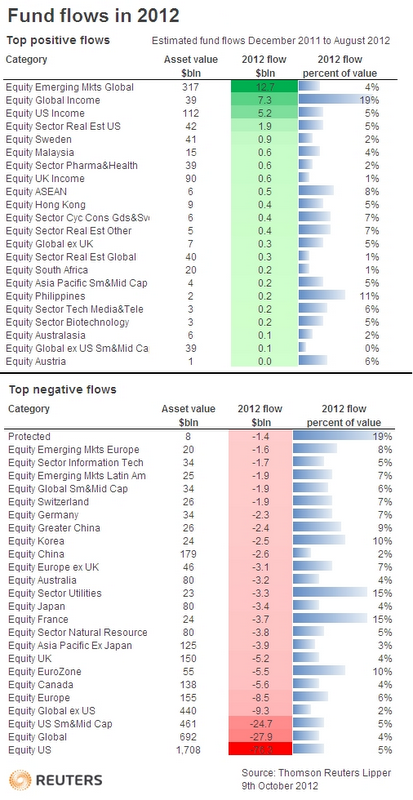 From The Blog of HORAN Capital Advisors
As discussed in our third quarter investor letter, the Federal Reserve's Flow of Funds Z.1 quarterly report, shows corporations had negative net equity issuance of $218 billion in 2011. Currently, net equity issuance is running at an annual rate of negative $259.5 billion through the second quarter of this year. In other words, one reason the equity market continues to move higher is the fact companies are reducing the supply of available equity in the market place. This has been accomplished via stock repurchases.
Another factor contributing to negative equity issuance is the increase in the number of corporate acquisitions by publicly traded companies and private equity firms. That being said, if demand for equities stays the same and available equity supply continues to decline, equity prices will trend higher. In 2006 and 2007, net equity issuance was nearly negative $1 trillion which preceded the peak of the market in 2008. Corporations seem to be more confident in buying their own shares than investing in future growth.
Certainly, Q3 earnings reports are anything but stellar. However, the risk/reward of fixed income investments does not seem to favor bond investors at this point in time.