MFA Financial Inc.(NYSE:MFA) is a self-advised REIT that invests primarily in Agency and non-Agency RMBS (residential mortgage backed securities). Through these investments it is able to generate a great dividend (currently 10.29%) with some stock growth for its investors. Its current portfolio is well set up to weather the most recent Fed policy changes. Specifically the Fed already had Operation Twist going until the end of 2012. On September 13, 2012, the Fed started its QE3 program of buying $40B in MBS per month. This has led to slightly lower mortgage interest rates. In one way this is good, lower mortgage interest rates tend to make the prices of the MBS already owned go up. The MBS will then be paying higher than market level interest. This increases the market value of the MBS.
In other ways the Fed action increases problems for mortgage REITs, especially heavy owners of Agency MBS. Mortgage interest rates have gone down a little. However, they have generally only fluctuated between -0.1% to -0.2% of their pre-QE3 announcement levels. Hence there has been no spike in refinancing. This is good for MFA because it tends to lose money on Agency RMBS when such a spike occurs. In the Agency RMBS case MFA has paid a premium over par value for its Agency RMBS. Specifically MFA's Agency portfolio had an average amortized cost of 73.0% of par as of June 30, 2012. If people prepay their mortgages, MFA can lose money on its investments. A normal way to avoid losses in any given quarter would be to sell some of the now more highly valued Agency RMBS for good profits. This effectively counters any losses incurred by high levels of prepayments. The problem occurs when MFA then needs to reinvest this money. The premium above par of the Agency securities it may wish to buy may present a large risk to company profitability. MFA has a variety of hedging activities for when mortgage interest rates go the other way. These tend to protect the portfolio from losses in book value.
What makes MFA's portfolio especially good under the current conditions is that it has a higher percentage of non-Agency RMBS than many other mortgage REITs. These are usually bought at a discount to par. When there are prepayments, MFA actually makes money. As of June 31, 2012, MFA's non-Agency portfolio had an average amortized cost of 73.0% of par, and it generated a loss-adjusted yield of 6.75% in Q2.
Currently the Fed is backing real estate. The real estate market seems to be bottoming or even turning upward. Plus the mortgage rates are falling slightly. This means that the bases (property values) for the loans are going up. Any foreclosures will be less costly due to the higher property values. It means the values of the non-Agency RMBS are going up due to the decreased mortgage interest rates. Hence they should sell at less of a discount to par now and in the future. Plus in a growing market there should be fewer defaults, as homes should be more easily salable at higher prices due to the rebound in the housing market. A higher level of prepayments at par (for non-Agency RMBS), when you have bought at 73.0% of par can be a very good thing.
To put the above descriptions in perspective, MFA as of June 30, 2012 had $6,619,530,000 in Agency MBS and $6,283,837,000 in non-Agency MBS for a total MBS portfolio value of $12,903,367,000. The fair value percentage for each of these portfolios as of June 31, 2012 was 105.97% for the Agency portfolio and 74.41% for the non-Agency portfolio. In fact MFA had net unrealized gains on these two portfolios of approximately $296 million as of June 31,2012.
The above portfolio balance is a significant change from MFA's portfolio breakout as of December 31, 2011 of $6,741,271,000 in Agency MBS and $5,414,353,000 in non-Agency MBS for a total MBS portfolio value of $12,155,624,000. As the real estate market turns upward with the backing of the Fed, it makes sense to take on the riskier non-Agency loans, which are quickly becoming less risky in an improving real estate environment. At the same time investors should realize that the non-Agency purchases are all risk adjusted (bought at a large discount to par due to potential losses), so there is really less risk in owning them than many would suppose. Plus MFA uses on average only about 1.8x leverage on its non-Agency MBS portfolio, while it uses about 6.9x leverage on its Agency MBS portfolio. The lower leverage keeps the extra risk in the non-Agency MBS portfolio from becoming unhealthy. Plus the non-Agency portfolio is much less sensitive to the changes in interest rates. Hence the heavier weighting of non-Agency MBS in the overall portfolio makes a lot of sense under the current circumstances. The only big downside I can see is the high percentage of subprime mortgages in the non-Agency portfolio. If the US goes into recession next year due to the fiscal cliff, the EU credit crisis, and other economic considerations, the real estate market might resume its downward course, in spite of the Fed's backing. The good news is that the Fed appears to be dead set against letting that happen.
Overall MFA looks like a solid buy. It is not perfect. It did just lower its quarterly dividend/distribution (K-1 form) from $0.23 per share for Q2 2012 to an announced Q3 dividend of $0.21. However, the 10.29% annual dividend is still fantastic, and the company's portfolio strategy looks solid. MFA has an average analysts' recommendation of 2.3 (a buy) and a CAPS rating of five stars. A lot of people seem to think highly of MFA. MFA trades at a quite reasonable PE of 9.57, so it is not currently overvalued.
Further MFA compares well to other mortgage REITs that also have significant non-Agency MBS portfolios such as: Resource Capital Corp. (NYSE:RSO), which invests in CMBS, mezzanine loans, etc., Two Harbors Investment Corp. (NYSE:TWO), which invests in Agency and non-Agency RMBS, residential mortgage loans, residential real properties, etc., and New York Mortgage Trust Inc. (NASDAQ:NYMT), which invests in CMBS as well as RMBS. MFA may hold up better than the large mortgage REITs that invest primarily in Agency RMBS such as American Capital Agency Corp. (NASDAQ:AGNC) and Annaly Capital management Inc. (NYSE:NLY). These two companies stand to be hurt more by the narrowing in the spreads between the cost of funds (including hedging) and the rate of return of the Agency RMBS, which will be lowered by a higher percentage than the non-Agency RMBS spreads.
The five year chart of MFA provides some technical direction for this trade.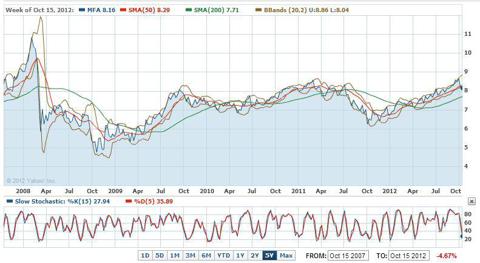 The chart shows that MFA stock took a big hit in 2008, when the economy and the real estate market both tanked. However, it has been in a general uptrend since late 2008; and the real estate market is not likely to lose 35% of its value again soon. The uptrend is likely secure, especially after you consider that it is being backed by the Fed. The slow stochastic sub chart shows that MFA is approaching oversold status. It could be due for a rebound upward soon. The main problem is that the overall market may be in for a retracement soon. Q3 earnings have not gone well for many companies. Data collected by Bloomberg show that S&P 500 earnings are expected to drop by 1.7% and revenues by 0.6% in Q3 2012. This will be the first time in three years that profits have dropped. This may bring home to investors that the market may do something besides go up, even with the Fed behind it. With this in mind, it may be a good strategy to average in, especially around the fiscal cliff.
Note: Some of the fundamental data above is from Yahoo Finance.
Good Luck Trading.
Disclosure: I have no positions in any stocks mentioned, but may initiate a long position in MFA over the next 72 hours. I wrote this article myself, and it expresses my own opinions. I am not receiving compensation for it (other than from Seeking Alpha). I have no business relationship with any company whose stock is mentioned in this article.