The NASDAQ Premium Income & Growth Fund (NASDAQ:QQQX) is a closed-end fund with an interesting investment strategy. The fund's strategy also gives some insight and ability to measure the often discussed CEF distribution return-of-capital debate.
The QQQX investment strategy is to hold a portfolio of stocks to match the return of the NASDAQ 100 stock index and enhance that return by selling call options on the index. Options can be written for up to 50% of the portfolio value. This Nuveen Investments managed fund employs a "managed distribution policy" to pay an attractive distribution yield to investors. QQQX pays quarterly distributions with a current yield of 7.6%. The market price is at a 3% premium to NAV and the shares typically trade minus 9% to plus 3% of NAV . The goal of the fund appears to be to provide the share price return of the popular PowerShares QQQ Trust ETF (NASDAQ:QQQ) with a dividend yield kicker.
Performance Results
Since QQQX attempts to essentially mirror the performance of QQQ, some chart comparisons provide revealing results. First the share price returns for the last year (click to enlarge images):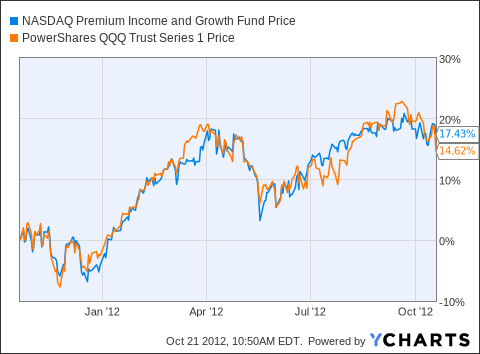 Now a chart covering 2008 and 2009: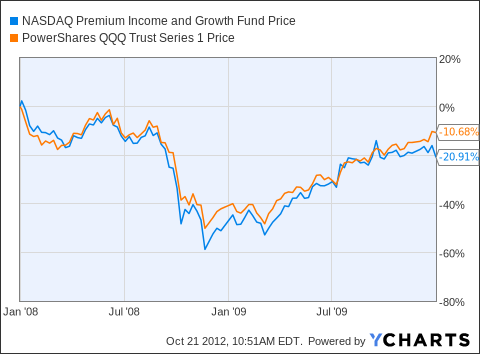 Finally, to break the pattern, the middle years - 2010 and 2011: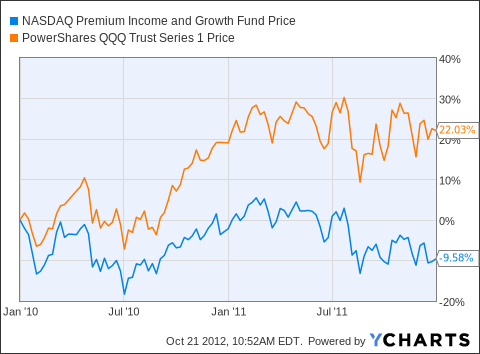 As you can see there are periods of time when QQQX really works as advertised and other periods when it is hard to tell if the two funds were holding the same stocks. Some possible explanations for the under-performance periods could be that the option income strategy does not work well during periods of high market volatility or that it took the fund management a while - two years - to re-tune their options strategies coming out of the 2008-2009 bear market.
The 5-year comparison chart show that the share price divergence which started in 2010 has resulted in a continuing lag by QQQX behind QQQ. However, if the distributions from QQQX are included, the total returns are pretty close. QQQX reports an average annual return for the last 5 years of 8.22% on the share price and 5.71% on NAV. The PowerShares QQQ averaged 6.64% over the same time period.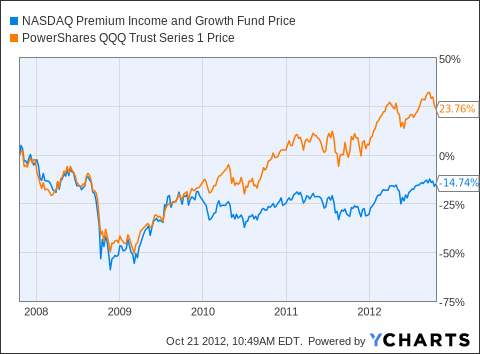 Distributions and Return of Capital
Closed-end funds can declare a managed distribution policy, which entails paying regular even distribution which may be composed of earnings, capital gains or return of capital. At the end of the year investors receive a 1099 with a breakdown of distributions by type. Also, to establish a managed distribution policy, a fund must apply to the SEC for a waiver to Rule 19b-1 of the Investment Company Act of 1940. The rule limits long term capital gains distributions to once a year for investment funds. Note that not all CEFs which pay ROC in the distributions have a managed distributions policy.
Closed-end fund management company Gabelli Funds, LLC put out a white paper discussion their reasons for using managed distribution policies. Here is a breakdown of the pros and cons from the paper.
Pros

- Consistent cash flow for shareholders

- Initiative designed to reduce discount to NAV

- Creates support for a fund's common stock in declining markets

- Presents the adviser with a measurable performance target

- Provides adviser incentive to earn distribution to avoid a return of capital

- Increases share liquidity

Cons

- Return of capital complicates record keeping

- May create confusion regarding true "yield"

- Increased cash positions contrary to purpose of fully invested closed-end structure

- Uses capital for distribution versus investment

- Increases expense ratio if distributions exceeds investment performance
If a fund paying ROC in its distributions eventually earns that money back in the form of capital gains, a policy of paying return of capital does not have a large negative effect on investors. For the last 4 quarters, QQQX has paid out $1.208 in distributions of which $0.1149 was income, $0.1871 was capital gains and 97.6 cents of ROC. However, the fund is also sitting on about $5.50 per share of unrealized long-term capital gains. For a CEF paying ROC, the bottom line factor is whether or not the NAV increases over the investment period in spite of any capital which was paid as distributions. As an index tracking fund, QQQX may not realize a lot of the gains which occur as the NASDAQ 100 increases in value.
Investment Potential
When it is working the NASDAQ Premium Income & Growth Fund provides an interesting way to invest in the NASDAQ 100. Investors get the index performance plus a 7% dividend from whatever source. But when the Mr. Hyde side of the fund comes out, there is no performance difference between QQQX and the much lower cost QQQ. This would be a CEF to buy when the share prices drops to a 5% or more discount and then hold and collect dividends until the share price stops matching the QQQ changes.
Disclosure: I have no positions in any stocks mentioned, and no plans to initiate any positions within the next 72 hours. I wrote this article myself, and it expresses my own opinions. I am not receiving compensation for it (other than from Seeking Alpha). I have no business relationship with any company whose stock is mentioned in this article.