By: Brendan Gilmartin
3M (MMM) is scheduled to report 3Q 2012 earnings before the opening bell on Tuesday, October 23. The actual results are typically reported at 7:30 a.m. Eastern and will follow with a conference call at 8:00 a.m. 3M is likely to garner close scrutiny after recently hitting levels not seen in over a year, thanks in part to recent dollar weakness. 3M is also a member of the Dow Jones Industrial Average and widely considered an economic bellwether with broad influence and could therefore impact the broader indices.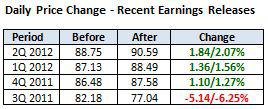 3M is forecast to post a profit of $1.65 per share, the mid-point of the projected range ($1.61 to $1.70) (Source: Yahoo! Finance). Given the recent run-up toward all-time highs over the past several months, look for a figure toward the high end of the Street's guidance to push the shares higher. A miss on earnings could drag the shares below the 200-Day SMA near $88.00.
Revenues for the 3Q 2012 period are seen rising 1.3% to $7.63 billion, with high forecasts on the Street running as high as $8.0 bln.
Keep an eye for the outlook for the balance of 2012. Back in July, 3M maintained its full-year 2012 earnings expectations of $6.35 to $6.50 per share. Any adjustment to this guidance, in either direction, could have definitive consequences for the market.
Recent News
10/01: According to a write-up in Barron's, 3M shares are poised to move higher, thanks in part to the acquisition of Ceradyne, which will help expand the company's presence in several industries. Needham Analyst James Ricchiuti reportedly believes the core industrial ceramics and nuclear power chemistry products are a good fit for 3M.
10/01: 3M entered into a definitive agreement to acquire Ceradyne, Inc. for an aggregate value of approximately $860 million.
09/24: Jefferies reiterated a Buy rating and raised the price target on 3M from $108 to $110, according to a post on StreetInsider.com. However, the firm lowered the FY2012 EPS estimate from $6.45 to $6.40, citing slower volumes in the U.S. and Latin America, coupled with ongoing softness in the European Union and Asia.
09/10: J.P. Morgan reiterated a Neutral rating on 3M and raised the price target for $83 to $94, according to Benzinga.com. While the firm is upbeat on 3M's margins, strong R&D, and strategic efforts to drive growth, there is little room for upside at these levels.
09/05: Citigroup reiterated a Neutral rating on 3M but raised the price target from $87 to $90, according to Benzinga.com.
08/14: 3M declared a dividend on the company's common stock of $0.59 per share for the third quarter of 2012.
Technical Review
3M touched a 52-week high of $95.46 on October 8 and is up close to 20% over the past year. In the past several sessions, however, the momentum has faded in conjunction with the broader market sell-off. 3M just recently tested and held support at the 50-Day SMA near $93 - a key level to watch in reaction to the 3Q earnings release. Should results disappoint, there is downside risk to $91, followed by the 200-Day SMA near $88. There is soft resistance at $94, followed by the recently highs near $95.50. (Chart courtesy of StockCharts.com)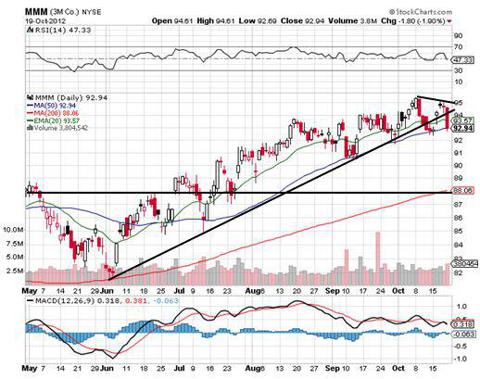 Summary
3M shares are enjoying a solid quarter, up nearly 10% since the previous July earnings release, thanks in part to a weakening dollar, the perceived benefit from the Ceradyne acquisition, and a rich dividend yield. Despite a positive growth story and solid performance in the share price over the past several months, analysts have been quick to raise price objectives, but reluctant to carry positive ratings and expressing reservations over 3M's valuation. With that being said, 3M is vulnerable to any missteps and a miss on either earnings per share, revenues, or downward adjustment to FY2012 earnings guidance could have negative consequences, given the recent gains.
DISCLAIMER: By using this report, you acknowledge that Selerity, Inc. is in no way liable for losses or gains arising out of commentary, analysis, and or data in this report. Your investment decisions and recommendations are made entirely at your discretion. Selerity does not own securities in companies that they write about, is not an investment adviser, and the content contained herein is not an endorsement to buy or sell any securities. No content published as part of this report constitutes a recommendation that any particular investment, security, portfolio of securities, transaction or investment strategy is suitable for any specific person.
Disclosure: I have no positions in any stocks mentioned, and no plans to initiate any positions within the next 72 hours. I wrote this article myself, and it expresses my own opinions. I am not receiving compensation for it (other than from Seeking Alpha). I have no business relationship with any company whose stock is mentioned in this article.