The $15.1 billion takeover of Canadian oil and gas producer Nexen (NXY) by China's CNOOC Limited (NYSE:CEO) was never considered a done deal by the market. This can be seen by the 8.3% spread between the offer price of $27.50 and the current market price of $25.40.
Some opposing the transaction fear the Chinese government will determine the strategy of the company and thereby have its interest on top of the company's agenda. That's a determining factor when the Canadian government decides whether the transaction provides a net benefit to Canada before allowing it to proceed.
Those opposed also demand reciprocity -- that is, equal access for Canadian companies to the Chinese market. At the same time, the Canadian Security Intelligence Service warned (without naming any specific countries) in its annual report that state-owned corporations receive intelligence support from their respective governments and serve to implement foreign government policies that include corporate espionage.
Click to enlarge image.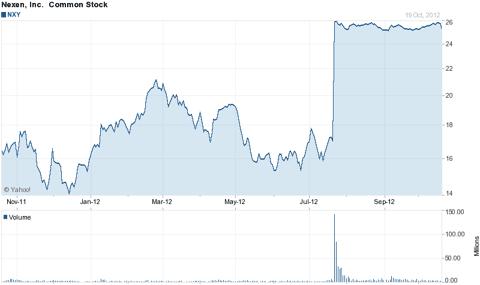 Most recently, Malaysian state-owned Petronas' $6 billion bid for Progress Energy (OTC:PRQNF) has been blocked by the Canadian government after it was determined that it did not meet the net benefit to Canada test. This decision has considerable implications for the CNOOC-Nexen deal, which is much larger in size and entails more risk as CNOOC is viewed as an extension of the Chinese government.
Disclosure: I have no positions in any stocks mentioned, and no plans to initiate any positions within the next 72 hours. I wrote this article myself, and it expresses my own opinions. I am not receiving compensation for it (other than from Seeking Alpha). I have no business relationship with any company whose stock is mentioned in this article.