The Rural Mainstreet Index (RMI) increased to its highest level in four months. The farmland price index jumped 10.1 points and has now been above growth neutral for 33 straight months.
For the first time since June, the Rural Mainstreet Index is above growth neutral, posting a 56.6. According to Creighton University economist Ernie Goss, "Our survey indicates that the negative impacts of the drought are being more than offset by the positives of very strong incomes from high agriculture and energy prices."
Agriculture
The farmland price index has jumped almost 20 points in the last two months, posting a 71.7 this month. This marks the 33rd consecutive month the index has been above growth neutral. The farm equipment sales index increased to its highest level in five months to 60.5 vs. 50.0 last month.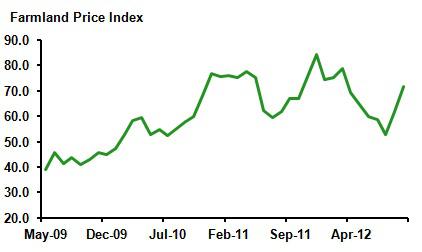 Bankers were asked this month to project whether the U.S. will suffer a recession in 2013. One fourth of bankers believed a recession is likely while 30.8% do not. Bankers expressed their uncertainty of the economic outlook due to the upcoming election and the fiscal cliff fast approaching.
Banking
The loan volume index decreased to 44.2 after increasing for seven months to a high of 70.2 in September. The check deposit index increased to 66.7 from 48.3 in September and the certificate of deposit and savings instruments increased to 42.0 from 38.4 in September. "The 2012 drought failed to increase the demand for loans from farming and nonfarming organizations in the region," explained Goss.
September's hiring index increased slightly to 51.5 compared to 50.9 in September. The economic confidence index increased to 50.7 in October compared to 43.0 from last month. Ernie Goss said, "As the Rural Mainstreet economy turned upward for the month, so did bankers' outlook. The turnaround in the housing market is an important factor boosting economic confidence."
Survey
This survey represents an early snapshot of the economy of rural, agriculturally and energy-dependent portions of the nation. The RMI is a unique index covering 10 regional states, focusing on approximately 200 rural communities with an average population of 1,300. It gives the most current real-time analysis of the rural economy.
Disclosure: I have no positions in any stocks mentioned, and no plans to initiate any positions within the next 72 hours. I wrote this article myself, and it expresses my own opinions. I am not receiving compensation for it. I have no business relationship with any company whose stock is mentioned in this article.