Earning season is in full bloom, and last week's earnings were not very good, to say the least. A number of top names reported earnings that were not great, and some were plain terrible. But a few of the names reporting last week were in transitional periods. Microsoft (NASDAQ:MSFT) was waiting for Windows 8, leading to a slowdown in PC sales, which also hurt Intel (NASDAQ:INTC). Google (NASDAQ:GOOG) is still in the process of integrating Motorola Mobility and launching new products. Thus, I don't think some of those reports were extremely important in the long run. This week, we get some big names reporting, and I think these reports are very important to these names. In some cases, these reports are crucial. Here are five earnings reports to watch, in terms of importance to the company.
Netflix (NASDAQ:NFLX) - Tuesday, after market close:
There are so many questions regarding Netflix that this report is a must watch. We know that they will add both domestic and international streaming subscribers, and that they will continue to bleed DVD subscribers. But how many of each is the question, and lately, subscriber guidance has been weaker than expected. For Q2, they blamed seasonality, and for Q3 they blamed the Olympics. What's Q4's excuse? The holiday season? Netflix shares recently popped 40% after a couple of upgrades. Shares have lost a chunk of those gains, but are still elevated a bit. Rallying into earnings hasn't proven a winning strategy in the past few quarters, as poor guidance has sent shares down afterwards.
When looking at expectations, don't forget to review Netflix's guidance for the quarter. The headline numbers Netflix guided to were a revenue range of $890 million to $911 million, and earnings per share ranging from a 10 cent loss to a 14 cent profit. Analysts are towards the higher end of that range, currently expecting $904.89 million in revenues and a 4 cent profit. That would represent a 10% increase in year over year revenues, and a plunge in earnings from Q3 of 2011, which saw a profit of $1.16. Netflix has gone to a lower margin business, and the company's international expansion plans have been costly. The company recently launched in Scandinavia, which is going to cause Netflix to post an overall loss in Q4.
In my opinion, this is a make or break quarter for Netflix. The company has been more selective with its content purchases in recent months, but will that start to cost them subscribers? Also, Netflix stated that this is the most content they've built up for a new launch, so I think investors may be surprised to see how costly this launch is, all for a region whose population equals the state of Texas, approximately.
Facebook (NASDAQ:FB) - Tuesday, after market close:
Facebook shares have struggled lately, something I predicted would happen recently thanks to a bunch of negative analyst notes. With analysts taking down 2013 growth forecasts and price targets by the week, Facebook has fallen back to $19. The average price target has been cut to $28.52, down almost $2 in the past two weeks. The chart below shows how the average price target on Facebook has been slashed in recent months. Since June 25th, the average price target has come down by more than $10, a decline of about 26%.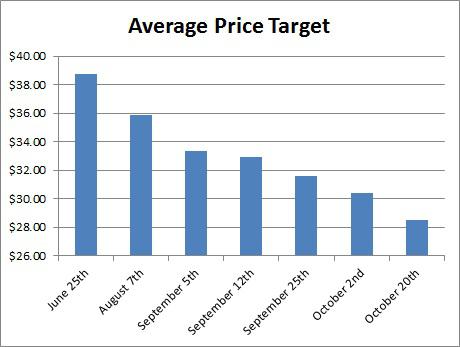 For the third quarter, analysts are looking for Facebook to post revenues of $1.23 billion and earnings per share of $0.11. This is an important quarter for Facebook because it needs to break the chain of negativity. Facebook stumbled after its first earnings report as a publicly traded company, and it doesn't want a repeat performance. Also, don't forget that in November a lockup expiration of more than one billion shares expires. That means an additional billion plus shares could be sold by insiders. Should Facebook's earnings disappoint, look for this name to remain under pressure as there will certainly be more than a few that will look to bail.
Amazon (NASDAQ:AMZN) - Thursday, after market close:
Amazon's quarter is really important because it could be the first one in a while where Amazon actually loses money. Amazon's top line numbers have been so-so to unimpressive in the last few quarters, and the company guided to a revenue midpoint of $13.6 billion for Q3. Analysts are currently expecting $13.92 billion, so the street is expecting a lot. Also, because the company guided to an operating loss, analysts expect Amazon to lose 8 cents a share this quarter, compared to a 14 cent profit in the year ago period. All that, despite revenues expected to grow by 28%. Netflix reminds me of Amazon, a company that will take on as much costs as possible in order to grow the top line. Unfortunately, that doesn't bode well for the bottom line.
I'm sure the bears will be out in full force after this one, no matter what Amazon does. A loss of 8 cents would push Amazon's trailing price to earnings ratio above 400, and it could even approach 500 in the next week. But as I've reminded investors in the past, Amazon trades more off the price to sales numbers than price to earnings. As long as Amazon's revenues and revenue guidance are decent, this stock can hold up. If not, maybe the recent high was a top, and we could see this head back down towards $200.
Apple (NASDAQ:AAPL) - Thursday, after market close:
It would be hard to have a list of earnings reports to watch without including the largest US stock by market cap. It will be a huge week for Apple, as the company is expected to unveil an iPad mini on Tuesday, and there could be some other product announcements as well. Thursday will bring the fiscal fourth quarter earnings report.
As I've described over the past month and a half, Apple analysts had been raising their forecasts after the company released the iPhone 5 in September. However, over the past couple of days, a few analysts have taken down their estimates. Recently, I saw the average revenue number near $36.4 billion, and earnings per share of $8.91. Those numbers have come down, and we are currently expecting $36.23 billion and $8.85, respectively. There have been some concerns over iPhone sales, due to the Maps issue and supply constraints.
On Friday, Apple closed at its lowest point since early August. Shares are now off $95 from the 52-week high. Does this set up the possibility of a huge rally post-earnings? It might, but it also depends what happens after Tuesday. If we rally too much into Thursday, it changes the whole picture. If Apple were to come in light on revenues or expectations, the stock probably will take a hit on Friday, but will the company get a pass again? I would think most investors would give it another pass, saying that fiscal Q1 will be absolutely blockbuster. It could be possible that Apple again beats its own expectations ($34 billion and $7.65), but comes in below analyst expectations. I'm not definitely calling an Apple miss here, just saying we have seen that happen before. My official Apple earnings preview will be out Wednesday morning.
3M (NYSE:MMM) - Tuesday, before market open:
3M is still the third largest Dow component, and earnings amongst Dow components have been rather lackluster so far, leading to last week's late week declines. When it comes to the global economy, 3M is a good barometer, and investors will be looking to this name Tuesday. 3M shares hit a 52-week high a few weeks ago and were close to that level last week before Friday's decline. A good report should send this name to a new high, but a bad report probably sends shares to $90.
Analysts are expecting 3M to report a 1.3% revenue increase for the third quarter, while earnings per share are expected to rise from $1.52 to $1.65. The company has beaten earnings expectations in three straight quarters, but missed on last year's 3rd quarter result.
3M recent announced that it was acquiring Ceradyne (CRDN), an advanced ceramics producer, and expects the deal to close in Q4. Then, 3M announced a reorganization of its business units. Investors will probably look for more information on these two news pieces on the conference call.
Disclosure: I have no positions in any stocks mentioned, but may initiate a long position in AAPL over the next 72 hours. I wrote this article myself, and it expresses my own opinions. I am not receiving compensation for it (other than from Seeking Alpha). I have no business relationship with any company whose stock is mentioned in this article.