Small-Cap Chinese companies have not been the most promising investments in the last few years. An infiltration of numerous fraudulent companies on the American stock exchanges via the reverse merger process had prompted a widespread distrust of Chinese companies as a whole. Yet for those that survived the ensuing witch hunt, there was little light at the end of the tunnel. Share prices have since failed to adequately reflect the book values of the remaining companies, many that were never implicated in scandals to begin with.
Yet while share prices continued to linger, the underlying businesses have continued to improve for many of these regional companies. China's economy, while being far from reflecting the heartbeat of a steady marathon runner, has been growing at rates that far exceed those found in the western world. As a result of this regional growth, small companies large enough to gain access to the American public capital markets also gained a strong domestic advantage in their ability to quickly expand their operations.
However, due to the atypical trading environment that remains clouded in general distrust, the success of the following companies hasn't always proven to be advantageous for shareholders. While some companies increased their efforts to improve investor relations, others showed little regard for their investors. As I previously wrote in an article found here, investors appeared to be under assault by their own management teams. The following four companies have shown the ramification of a prospering region of the world and the investment fear surrounding it.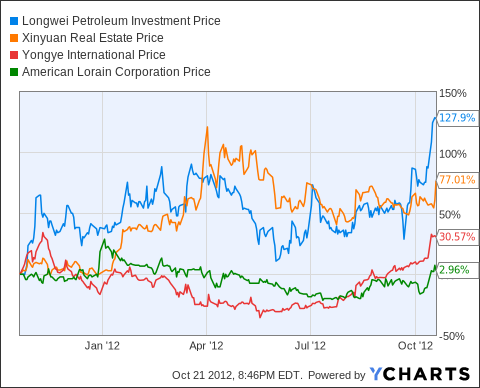 LPH data by YCharts
American Lorain Corporation
Seemingly every quarter, American Lorain Corporation (NYSEMKT:ALN) had announced its business was either improving or holding steady. The processed snack food, convenience food, and frozen foods company increased its domestic sales and expanded internationally. Yet from early 2010 to the middle of 2012, the company's share price sank from $3.92 to a low of $1.01. The company now carries a book value of $4.53. Despite this, the company recently announced the receipt of a "going private" proposal as the company's CEO stated he would buy the remaining outstanding shares at $1.6 per share. The offer appears far too low from the standpoint of the company's books and yet it now remains under consideration.
Xinyuan Real Estate Co., Ltd.
Xinyuan Real Estate (NYSE:XIN) was among the few Chinese real estate developers that was fortunate enough to gain a listing on the NYSE. Yet like its many Chinese peers, the company found little support as prices fell from its initial public offering of $14 per American Depositary Share [ADS]. The company has since fallen to the current price of $3.08. However, in recognition of its undervaluation, the company has taken steps to improve investor relations. In 2011, the company bought back $10 million of its ADS and subsequently raised the buyback program by another $20 million in June of 2012. The company also initiated an annual dividend in 2011, which it reconstituted as a quarterly dividend in 2012 after raising the annual rate by 60%. The company has shown a strong commitment to investors and has been steadily gaining in recent weeks.
Longwei Petroleum Investment Holding Ltd.
Longwei Petroleum (LPH) engages in the wholesale distribution of finished petroleum products and now operates 220,000 metric tons of storage capacity. The company has very rapidly been expanding its storage capacity as it gains increasing influence in the region right outside of Beijing. Share prices fell in 2010 from $3.50 to the current price of $2.14 despite the ongoing progress. Management has taken the extraordinary steps of improving investor relations. In July 2012, the company completed an unnecessary tax reconciliation via a third-party auditor in order to assure its investors of its books' validity. Most importantly, management declined to further dilute shareholders in order to complete its largest acquisition in late September 2012. The company managed to accomplish this acquisition through operating cash flows.
Yongye International Inc
Yongye International (NASDAQ:YONG) operates as an agricultural company that engages in the development and sale of crop and animal nutrient products. The company has continued to show robust growth as revenue increased from $98 million in 2009 to over $390 million in 2011. Yet even as net income rose from $2.2 million to $84.9 million over the same time period, stock prices have fallen from $11 to a low of $2.6. As a result, management announced on October 15, that the company's CEO proposed a "going private" for $6.60 share. Despite the 38% premium to the closing price, the company's book value per share rests at $7.64. The offer appears quite low from the standpoint of the company's books and yet it now remains under consideration.
Disclosure: I am long LPH, XIN. I wrote this article myself, and it expresses my own opinions. I am not receiving compensation for it (other than from Seeking Alpha). I have no business relationship with any company whose stock is mentioned in this article.