Priceline.com (PCLN) is an online travel aggregator that offers booking services for hotel rooms, airline tickets, rental cars, cruises, and other vacation packages. PCLN operates under the Priceline.com name in the U.S., Booking.com in Europe, and Agoda in Asia, and recently re-branded its car rental business as rentalcars.com. In essence, PCLN enables consumers to use the Internet to save money on the products and services it offers. The Company's product allows customers to name their own price on products or services and communicates that demand directly to participating sellers or to their private databases. Priceline's strategic focus on the fragmented Europe and Asia travel markets, together with sounds international acquisitions, has enabled Priceline to outpace its larger, more domestically focused competitor, Expedia Inc. (NASDAQ:EXPE). While there are increased concerns for the global economic slowdown and sales slump in Europe, we believe that PCLN has a great potential for growth in the $600 billion international markets and we expect its margin expansion to continue on better operating leverages in the coming years. With the recent pull back of PCLN, we will investigate its fundamentals and short-term technical in the following article.
Recent Earnings and Guidance Announcements
In past two quarters, Priceline had issued Q2 and Q3, 2012 guidance below analysts' estimates. PCLN announced that for Q2, 2012, it expects year-over-year revenue growth by approximately 18-23% and GAAP EPS to be $6.34-6.54, which was below analysts' expectation of $6.68, as reported by Reuters on May 9, 2012. For Q3 guidance, as reported by Reuter on Aug. 7, 2012, PCLN expects year-over-year revenue growth by approximately 9-15% and non-GAAP fully diluted EPS to be about $11.10-12.10, which was again below analysts' expectation of $12.48. So, what happened after these announcements? Prior May 9's Q2 guidance, PCLN closed at $718.95 on May 9, 2012. Then, it continued to drop until $632, with 12.09% drop as compared to May 9 closing, on May 18, 2012 before it rebounded. For Q3 guidance, PCLN dropped from $679.80, the closing price on Aug. 7, to $562.32, with 17.28% drop, on Aug. 8 before it stabilized and started to recover. With the upcoming Q3 earnings and Q4 guidance, PCLN investors do need to worry if PCLN misses the guidance estimate again.
Fundamentals Overview
While the recent earnings are causing large price swings for PCLN, it is important for us to take a look into PCLN's fundamentals to assess where PCLN stands. We will look at the chart below comparing PCLN to the averages in the leisure industry.
| | | |
| --- | --- | --- |
| Key Stats | Priceline.com Inc. | Industry Average |
| Price/Earning ttm | 23.4 | 20.8 |
| Price/Book | 9.5 | 1.9 |
| Price/Sales ttm | 6.0 | 1.9 |
| Revenue Growth (3 Yr Avg) | 32.2 | 2.8 |
| EPS Growth (3 Yr Avg) | 76.7 | 1.5 |
| Operating Margin % ttm | 33.7 | 13.4 |
| Net Margin % ttm | 25.6 | 9.0 |
| ROE ttm | 50.0 | 9.4 |
| Debt/Equity | 0.3 | 3.1 |
Source: MorningStar
While the valuation for PCLN is higher than the industry average with P/E of 23.4 and P/B of 9.5, as compared to the average of 20.8 and 1.9, it can be reasonably justified by PCLN's much stronger revenue and EPS growth of 32.2 and 76.7, as compared to the industry average of 2.8 and 1.5. PCLN's operating margin and net margin of 33.7% and 25.6% are also leading the industry. We are also impressed with PCLN's 50.0 ROE as compared to the average of 9.4, while maintaining a very comfortable debt/equity of 0.3.
Short-term Technical Analysis
While PCLN's fundamentals look very solid, we are concerned about PCLN's recent pull back. PCLN closed at $560.50 with 3.76% loss on Friday's trading. The volume of 2.02M is 129.5% more than the 30 day average of 880.19K. PCLN had been suffering a strong pull back, with 11.74% loss, since Oct. 4, 2012 with the closing price of $635.04. As seen from the chart below, the trend indicator, MACD (12, 26, 9) had been showing a bearish sign since Sep. 28, 2012 and the MACD difference continued to diverge after yesterday's drop. At the current price, PCLN is also below its 50-day MV of $607 and 200-day MV of $634.24. From the momentum perspective, RSI (14) at 27.68 is in the oversold territory. In the short-term, selling pressure should continue for PCLN and there will be more speculation before Q3 earnings on Nov 5, 2012, which was immediately followed by U.S. Presidential election.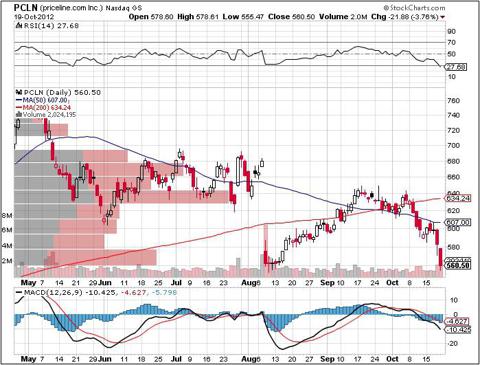 Source: StockCharts.com
Options Play
While the long-term outlook and fundamentals for PCLN look strong, the short-term technical for PCLN is still bearish and more volatility is expected prior to the Q3 earnings. To avoid extra risks, we will wait and set up the bull, credit put spread after the Q3 earnings and the U.S. presidential election and when MACD indicator turns bullish with RSI coming out of the oversold territory. For example, if PCLN closes at $500 after U.S. presidential election and when MACD turns green, we will consider a 3 month term option play by shorting 1x put at the strike price of $450 and buying 1x put at the strike price of $430. Even if this option play fails to generate profit, we will be comfortable holding PCLN at this discounted price level of sub $450. Patience should pay off nicely for PCLN investors, especially when investors/traders can name your own price through options trading.
Disclosure: I have no positions in any stocks mentioned, and no plans to initiate any positions within the next 72 hours. I wrote this article myself, and it expresses my own opinions. I am not receiving compensation for it (other than from Seeking Alpha). I have no business relationship with any company whose stock is mentioned in this article.