In 2007 approximately 280, 000 Chinese children under the age of five died from preventable diseases caused by lack of clean drinking water.
According to the UN, contaminated drinking water causes five times the number of child deaths than are caused by HIV/AIDS.
More than 300 million rural Chinese citizens lack access to clean drinking water. Sewage is often dumped into the fields creating a breeding ground for disease in rural China. The World Bank estimates that health and environmental problems cost the Chinese about $50 billion a year.
Is it any wonder that the Chinese are spending tens of billions of dollars each year modernizing the way they process and deliver water?
As investors, we are now used to big infrastructure stories coming out of China. New skyscrapers, highways, modern mass transit, all drive the commodity boom. But the water opportunity is launching a tidal wave of investment that may swamp them all.
Unlike the demand for stereos, cars or cell phones, no economic downturn is going to decrease the demand for water infrastructure. There are 1.3 billion people in China. They all drink water. They all don't have clean water. It's just that simple.
China water resources are vast. It has the same amount of water as Canada, but 40 times the population.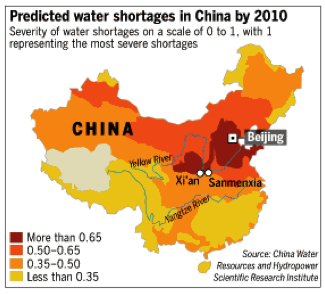 Approximately 400 out of 600 cities in China are facing water shortages, including 30 out of the 32 largest cities.
Some resource analysts talk dramatically of "Peak Water" - as though it were similar to our usage of oil. But the situations are very different. For one thing, we are not running out of water. It is never technically "used up." It simply changes forms. Approximately 97% of the water on the planet is undrinkable, and that's the key here.
When we talk about investment opportunities in water, we are not talking about how to monetize a dwindling resource, like oil. We are talking about distribution. Getting drinkable water to where it can be used.
This is China's big problem. And there are already a few companies profitably supplying some solutions. Jean-Michel Herrewyn, CEO of Veolia Environmental (NYSE: VE), says "There is fantastic growth potential in Asia due to water scarcity and the fact that people are living in bigger cities."
Mr. Herrewyn should know. Veolia is quickly becoming a key partner in helping China with its emerging water crisis. Veolia provides wastewater services, operates drinking water plants, and builds wastewater decontamination and recycling plants. Last year it had revenues of $51 billion. Veolia didn't get to be that big by stumbling around in the dark. They think big, and go after big opportunities. They're heavily focused on the water sector. Of course, big companies like Veolia rarely provide the massive upside that risk-tolerant investors are looking for.
Pentair (NYSE: PNR) offers products and systems used in the movement, storage, treatment, and enjoyment of water. It makes pumps, turbines, tanks, control valves, filter systems and a bunch of the plumbing that makes modern water systems work.
Its residential equipment sales surged 20% in Asia in Q2 2008. Meanwhile European sales grew only 15%. Pentair reports that the Chinese are lining up to buy home filtration equipment. Pentair had $3.6 billion revenue last year, up about 7% from the year prior. More importantly, Pentair has a healthy operating margin of 11% (up from 9.7% a year earlier). Like Veolia, Pentair is succeeding because they have in demand products with efficient sales and distribution networks.
Clearly business is good. The expanding operating margin proves Pentair is not just selling more, but generating more profits from each sale. The company is getting more efficient as sales are growing. Expanding operating margins are the hallmark of a healthy business that is getting even stronger.
With eight-digit budgets, this boom is paying off for more than just two companies. Asia's water infrastructure boom is also paying off for a water purification company, Calgon Carbon Corporation (NYSE: CCC).
Last year Calgon was awarded a contract by Jiaxing Jiayuan Water Co. to supply 1.1 million pounds of granular activated carbon [GAC] to the Jiaxing Nanjiao Water Plant in China for drinking water purification. The Nanjiao Water Plant supplies 40 million gallons of water per day to the 3.3 million residents of Jiaxing, a major city in Zhejiang Province.
"Over the last 40 years, Calgon Carbon has supplied millions of pounds of activated carbon to municipalities all over the world," said James Fishburne, senior VP, "and we are committed to serving the rapidly growing market in China."
Calgon's carbon-based solutions have been a tremendous success so far. The company's shares have been on a tear for the last 2 years, gaining 450%.
Despite the aggressive investment by China there's still a lot more that needs to be done. Remember, almost 30% of China doesn't have clean drinking water and 66% of cities are officially facing water shortages. This problem isn't going away and it's going to take billions more to fix it.
Thanks in large part to the Chinese spending spree; water investments are outperforming the Dow. In turbulent markets, nimble investors can keep their head above water by moving into sectors that feature non-discretionary products, like water.
When the product is a weapon against child mortality, governments are highly motivated to spend lavishly. China has a GDP of $6.9 trillion dollars. The trade surplus with the US is running at $700 billion a year. The Chinese have warehouses full of cash. They are going to spend hundreds of billions of dollars bringing drinkable water to their citizens.
Boring old water can offer tremendous returns for investors. In this case, water infrastructure spending from China and the rest of Asia could keep this boom going for another decade. They've got the money and proven they are willing to spend it. At Q1 Publishing, that's something we need to see before putting money into any sector.
Last week I wrote about ultra safe investment opportunities in U.S. utilities that run monopolies with huge customer bases. Next week we're going to explore what could be the most exciting of all investment opportunities in water, desalination.
The companies that have the technology to turn seawater into fresh drinking water could be in for the biggest run of all. Best of all, most of them haven't already run up in price. We'll decide whether desalination is the future of water and whether it's worthy of our capital.
Make money not war.
Disclosure: None