According to various studies, Americans are the most obese people in the world. If you see the chart below, you will get an idea of how dangerous this problem is. 31% of all Americans are considered medically obese, compared to 24% in Mexico, 14% in Canada, and only 3% in Japan and Korea. This means, 100 million Americans are obese.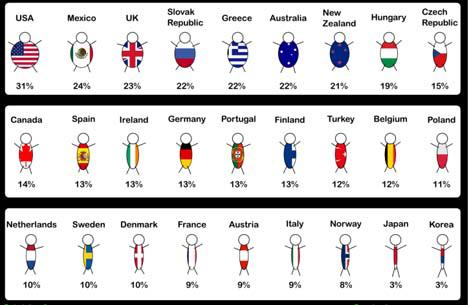 There is an alarming trend in America that is making us more and more obese over the years. See the following chart that shows you the American trend for obesity. Sometime in the early 80s, we just gave up on healthy eating as a nation, and in 2 decades became the most obese country in the world.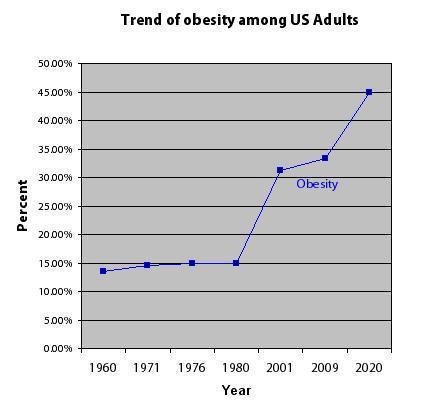 Obesity leads to many diseases. There is no better way to pre-empt many of our physical and even some mental problems than by losing weight. See the data below: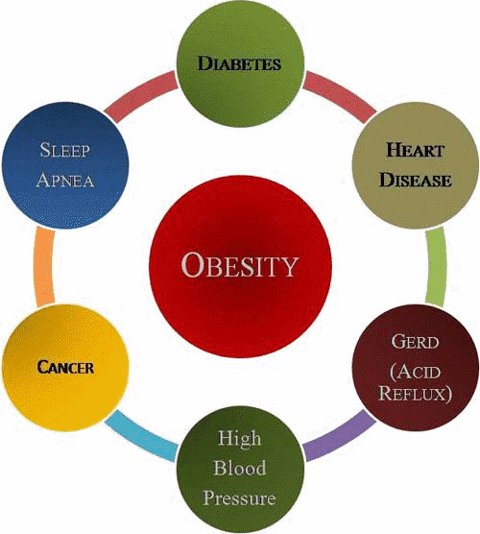 So, as you can see, obesity drugs are a much-needed item in today's America, and as such, there is a considerable market in the sector. Investing in a company that has an FDA approved anti-obesity drug in the market can be good strategy for investment in the healthcare sector.
Some of the top obesity drugs in the market right now are:
| | |
| --- | --- |
| Drug | Manufacturer |
| Orlistat (Xenical) | Roche Holdings AG (OTCQX:RHHBY) (ADR) |
| Lorcaserin (Belviq) | Arena Pharmaceuticals (NASDAQ:ARNA) |
| Phentermine-topiramate (Qsymia) | Vivus Inc (NASDAQ:VVUS) |
In this article, we will briefly study each of these 3 drugs and their manufacturers.
Roche Holdings: Xenical was one of the first obesity drugs to hit the markets. It helps you lose weight by blocking the digestion of fat, which goes out through your stool. Side effects of the drug includes "oily and frequent bowel movements, bowel urgency, and gas." Its reduced-strength OTC version Alli is also FDA approved; it is sold by GlaxoSmithKline (NYSE:GSK). Roche Holdings lost the patent for Xenical in 2009; since then, generic versions of the drug are available in many countries.
Roche has currently focused attention on various sorts of cancer drugs. Here's a chart from their Annual report detailing their pipeline: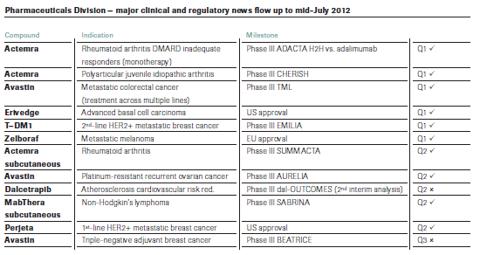 Roche is currently trading at $50.35. Also noteworthy is that the company has a dividend yield of 3.66%.
Arena Pharmaceuticals: Belviq from Arena makes you lose appetite by affecting chemicals in your brain. Taking this drug has to be closely monitored for 3 months to see if it works for you. Side effects include "headaches, dizziness, fatigue, nausea, dry mouth and constipation. Rare but serious side effects include a chemical imbalance (serotonin syndrome), suicidal thoughts, psychiatric problems, and problems with memory or comprehension. Pregnant women shouldn't take lorcaserin." (From Mayo Clinic website cited above).
The rejection of its chief rival, Qsymia, in the EU, can be a great opportunity for ARNA. This will ensure that it can beat Qsymia in the EU if it gets approval there next year; however, the U.S. is the largest market for obesity drugs, so it still has to fight stiff competition here.
ARNA is currently trading at $9.19; the company does not offer dividend in the current fiscal.
Vivus Inc: Qsymia from Vivus "combines phentermine, a weight-loss drug prescribed for short-term use, with topiramate, a medication that's used to control seizures." According to Mayo Clinic research, Qsymia can produce "increased heart rate, tingling of hands and feet, insomnia, dizziness, dry mouth and constipation. Serious but rare side effects include suicidal thoughts, problems with memory or comprehension, sleep disorders and changes to your vision. Pregnant women shouldn't take Qsymia. Qsymia increases the risk of birth defects."
Vivus suffered a recent setback after the European Medicines Agency (EMA) rejected Qsymia. Although the drug has recently been approved in the U.S., one of its two main components, phentermine, is banned in the EU because of side effects on the heart and blood vessels.
Vivus will have to try and gain EU approval once again. Meanwhile, the stock is trading at $20.6 after a sharp fall on Thursday when the EU rejection news hit the markets.
Disclosure: I have no positions in any stocks mentioned, and no plans to initiate any positions within the next 72 hours. I wrote this article myself, and it expresses my own opinions. I am not receiving compensation for it (other than from Seeking Alpha). I have no business relationship with any company whose stock is mentioned in this article.