The 2008 presidential election is heading down the home stretch. After a long and historic primary season, the nominees for both major parties are now in place and the general election season is about to get into full swing. With a new President set to be elected on November 4, many investors are actively debating which candidate will be best for the stock market. Fortunately, recent history serves as a useful guide to determine whether an Obama or McCain presidency might be better for investment markets over the next four years. Unfortunately, the results may prove unsatisfying for those voters seeking a decisive difference.
Since World War II, the presidency has been generally split between the two parties. Eleven Presidents have served in office over the last 63 years since the end of World War II. Democrats including Harry Truman, John Kennedy, Lyndon Johnson, Jimmy Carter and Bill Clinton held office for a total of 27 years, or 43% of the time. On the GOP side, Dwight Eisenhower, Richard Nixon, Gerald Ford, Ronald Reagan, George H.W. Bush and George W. Bush all served as President for a total of 36 years, or 57% of the time.
A first look at the data implies a potential edge for Obama. During the 27 years with a Democrat in the White House, the stock market as measured by the S&P 500 posted an annualized return of 13.42%. This compares favorably to the annualized return of 9.26% over the 36 years with a Republican President. At first glance, this +4.16 percentage point advantage for Democratic Presidents might suggest that an Obama presidency might be better for the stock market. Such a conclusion would be far too simplistic, however. The President certainly does not lead the country alone, as Congress also plays a critical role by directing the legislative process.
click to enlarge

Adding Congress into the mix quickly balances the scales. In the last 63 years since WWII, Democrats have held a majority in Congress two-thirds of the time, or 41 years. Under a Democratic controlled Congress, the stock market has generated an annualized return of 9.91%. For the remaining one-third of the time, or 22 years, that Congress was under Republican control, stocks posted an annualized return of 13.12%. But beyond Congressional influence, other more significant factors must also be considered before any definitive conclusions may be drawn.
The stock market experiences long-term cycles that are largely beyond political influence. The stock market has historically moved in long-term secular cycles that generally last 16 years on average. These include secular bull markets where stocks steadily rise and secular bear markets where stocks trade sideways with chops up and down along the way (see chart).
Since 1900, the market has completed seven secular market cycles and is currently in the ninth year of an eighth secular market cycle. Focusing on the time since World War II, the secular bull market from 1946 to 1968 was inspired by post war optimism, pent up consumer demand and the "baby boom". The secular bear market from 1968 to 1982 was marked by the aftermath of the speculative excesses of the Nifty 50, illicit conglomeration accounting activity in corporate America, two oil crises and rampant inflation. The more recent secular bull market from 1982 to 2000 was driven by the longest economic expansion in U.S. history and dramatic global technological innovation. Finally, the secular bear market since 2000 has been influenced by the collapse of the technology bubble, the September 11 terrorist attacks, corporate accounting scandals at Enron and WorldCom, the collapse of a speculative housing bubble, a banking credit crisis and a spike in commodity and oil prices.
While regulation or lack thereof may have influenced some of these market events along the way, many occurred outside of any direct political control. In other words, the stock market is a force in and of itself, and politicians have limited influence on its overall course barring a major fiscal policy mistake.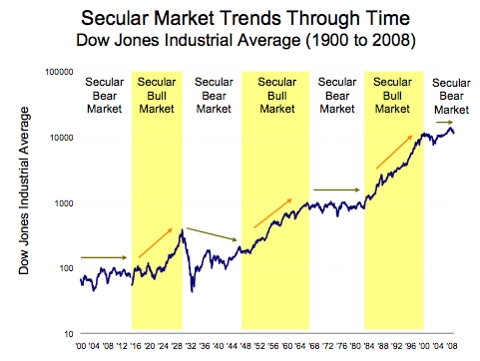 Presidents have shown little differentiation by party in influencing the stock market. Before proceeding, it is worth noting that Democratic Presidents have served mostly during secular bull markets. Of their 27 years in the presidency, 22 years (81%) occurred during such markets. The experience has been much more evenly distributed for Republican Presidents with 19 years served during secular bull markets and 17 years in secular bear markets. This fact helps to explain the overall returns advantage enjoyed by Democratic Presidents discussed above.
When examining annualized stock returns during only secular bull markets under Democratic and Republican presidential administrations, it becomes a near wash, with a 14.90% annualized returns under Democratic Presidents versus a 15.93% return under Republican Presidents. During secular bear markets, the results are just as inconclusive. While Democratic Presidents have an annualized returns advantage of 7.11% versus the Republican result of 2.25%, Democrats have been in the White House for only 5 years during secular bear markets. And when the outlier year of 1980 that included the election of Ronald Reagan is removed from the analysis, this annualized return number is 1.26%. Thus, the stock market appears to be largely indifferent to whether the President is a Democrat or a Republican.

Returns under each President since WWII further supports this general stock market indifference. Whether the President was a Democrat or a Republican, the stock market responded well during secular bull markets. Annualized market returns ranged between 9% and 18% with an average return of roughly 14%. As for secular bear markets, while those Presidents with relatively short administrations such as Jimmy Carter and Gerald Ford experienced positive stock market results, those with longer stays in the White House such as Richard Nixon and George W. Bush saw generally flat annualized stock returns during their administrations.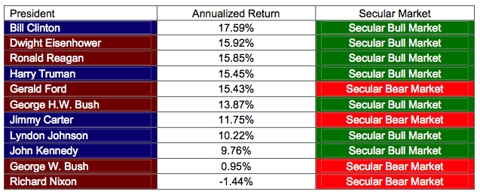 The difference in market performance will likely be minimal regardless of who wins in November. Several factors appear likely as we head toward the upcoming election. First, the current secular bear market is likely to remain in tact for at least the next several years given the global economic backdrop. Impressive rallies should occur along the way and they will likely be accompanied by equally dramatic corrections. Second, it appears probable that the Democrats will retain control of Congress coming out of Election Day. Thus, the key question is whether a Democrat or Republican will reside in the White House come January 2009. But whether Obama or McCain prevails in November, what appears most likely is that they will have a challenging stock market environment to contend with over the next four years.
Conclusion: The stock market is driven by forces that extend well beyond the political influences of the President or Congress. Regardless of whether Obama or McCain wins the presidency in November, any resulting difference in stock market returns will likely be minimal based on recent historical precedence.
Disclosure: None