This is the second part of our coverage on gold. In part 1, we discussed the key drivers of gold. In this part, we will discuss two gold stocks we have a long stance on. These companies have underperformed due to their cost structure, relative to the recent rally in gold prices. However, Barrick Gold Corporation's (NYSE:ABX) costs are expected to reduce significantly as they sell their African operations. Yamana Gold has a very attractive dividend yield and has shown significant growth in dividends over the past years.
Barrick Gold Corporation:
Barrick Gold is the largest producer of gold in the world, and has 26 operating mines in North and South America, and the Australia Pacific regions. With almost 75 per cent equity interest in African Barrick Gold plc, it is also the major shareholder in ABG. ABX holds the largest amount of gold reserves in the world, with 139.9 million ounces (moz) of proved and probable reserves, as of 2011 end. Other than gold, the company is also a major producer of copper and silver. The company has its headquarters in Toronto, and it is listed on both Toronto and New York stock exchanges.
Recent Earnings:
ABX reported second quarter adjusted EPS of $0.78, which were below consensus EPS of $0.94, and down from EPS of $1.12 for the same period last year. Lower earnings were mainly driven by higher gold costs (particularly, Barrick's African project has had higher costs than any other region) and lower sales volume (offset, to some degree, by higher realized prices) in the first half in Australia Pacific, and at ABG. However, costs are expected to be lower for H2 2012. Higher copper costs and lower production also contributed to lower Q2 earnings. Adjusted EPS include $25 million in impairment charges, $17 million in foreign exchange losses, and a tax benefit of $29 million.
Potential Sale of High Cost African Barrick Gold:
ABX confirmed in August that it is involved in preliminary talks with a Chinese company to sell most, or all, of its share in ABG. If the sale does go ahead, it will be positive for Barrick Gold as it would reduce ABX's average cash cost; Barrick's African project has had higher costs than any other region. ABG's shares have performed badly since being listed in 2010. Before news of these talks came out, shares had dropped by as much as 30 per cent. However, after news of the Chinese acquisition came out, shares rebounded a little, but are still down 16 per cent since being listed. The sale will free up more cash flow for ABX as the company completes its Pascua-Lama project.
African Barrick Gold Share performance (since listing)

Source: Yahoo Finance
Bullish Factors:
We are bullish on ABX for long term investors because of its resource and reserve base, which is the largest in the industry. It has a strong production base of gold and copper. Gold's production base is expected to be more than 8 million ounces per annum by 2015, if Pascua-Lama (NYSE:PL) and Pueblo Viejo are in full production. According to company documents, once operational, PL is expected to be one of the world's largest mines with the lowest costs. Copper's production is expected to be more than 600 million pounds by 2013. Copper production can increase to more than one billion pounds, if the company goes ahead with Lumwana (Zambia) and Zaldívar Sulfide expansions. The expected increase in gold prices is another reason to buy ABX. As central banks around the world engage in accommodative monetary policies, gold prices are expected to increase further. On the other hand, in recessionary times, gold prices are more sustainable than other metals.
ABX has an attractive dividend yield of 2 per cent, and it has a forward P/E ratio of 7.68 compared to 12.91 for Yamana Gold (NYSE:AUY) and 9.37 for Kinross Gold (NYSE:KCG).
Yamana Gold Inc:
Yamana Gold Inc. is a Canada based gold company. It has major operations in Brazil and Central America. It is involved with the exploration, acquisition, development, and production of gold and other precious metals. However, its major operations are in gold. Most of AUY's revenue comes from its operations in Argentine, Chile, and Brazil.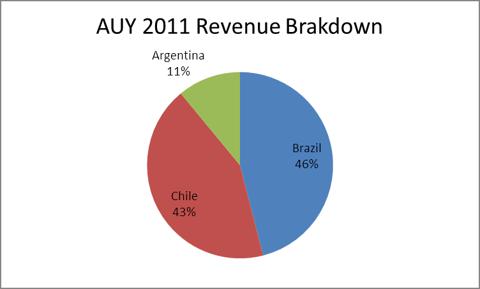 Yamana has its headquarters in Toronto, and it is listed on the New York Stock Exchange , Toronto Stock Exchange, and London Stock Exchange.
Recent Earnings:
AUY reported adjusted EPS of $0.18, which is lower than the estimated EPS of $0.21, and also lower than EPS of $0.25 in the same quarter last year. Lower metal prices, and lower sales volume as compared to production, were the main drivers of low earnings compared to estimates in Q2. Revenues of $535.7 million were also lower than Q2'11 revenues of $573.3 million. Suspended export sales, due to a new resolution regarding export sales in Argentina, contributed to low sales volume. However, export sales are expected to resume in H2'12.
Bullish Factors:
We remain bullish on AUY due to its planned increase in production, very sustainable dividend yield and long term growth prospects.
Increase in Production - AUY plans to increase production by 60 per cent by 2014. The Mercedes mine is ramping up and C1 Santa Luz and EPAP are more than 85 per cent complete. Pilar is more than 50 per cent complete and is scheduled to start in mid-2013.
Attractive Dividend Yield - Though AUY's dividend yield is modest compared to its competitors, it has had sustained dividends in the past. AUY announced in its Q2 report to increase its dividend by 18 per cent for Q3. AUY believes its dividend should be consistent and reliable and not based on metal prices as it plans to increase dividend with cash flows. Yamana Gold has been a dividend growth story; its dividends have increased by a whopping 550 per cent in the last three years.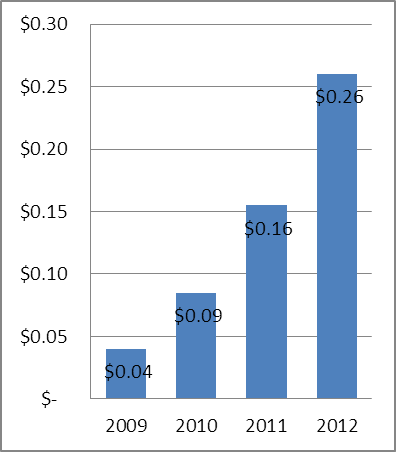 AUY Annual Dividends Per Share: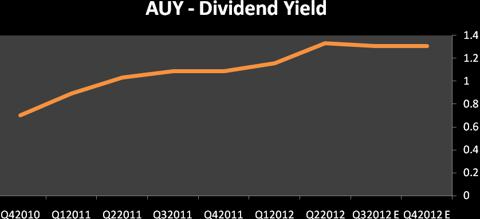 Source: Qineqt Calculations
Growth and Margins - AUY has strong margins; a profit margin of 18.85 per cent and an operating margin of 39.33 per cent. It has a long term earnings growth rate of 11.5 per cent and a PEG of 1.81
Risks:
The profitability of both ABX and AUY is highly linked to gold prices, and that remains the main risk to our analysis. As we discussed in our previous article, gold prices are highly linked to macroeconomic factors, monetary and fiscal policy, real interest rates, and economic confidence. Volatile gold prices can hurt the earnings of ABX and AUY. Both these companies also have a significant cost exposure in foreign currencies. A sharp decline in the U.S. Dollar, compared to the currencies ABX has exposure in, will increase costs and hurt earnings.
| | | | |
| --- | --- | --- | --- |
| Comp Sheet | ABX | AUY | KGC |
| Forward P/E (1 year) | 7.68 | 12.91 | 9.37 |
| PEG ratio (5 year expected) | N/A | 1.81 | 1.41 |
| EV/EBITDA (TTM) | 6.42 | 11.91 | 6.36 |
| Dividend yield | 2.00% | 1.30% | 1.50% |
| Long-term earnings growth rate | N/A | 11.50% | 10.00% |
| Share price Performance (YTD) | -18.08% | 25.59% | -17.52% |
Disclosure: I have no positions in any stocks mentioned, and no plans to initiate any positions within the next 72 hours.
Business relationship disclosure: The article has been written by Qineqt's Basic Material Analyst. Qineqt is not receiving compensation for it (other than from Seeking Alpha). Qineqt has no business relationship with any company whose stock is mentioned in this article.