In a previous report on Sprint, we mentioned the possibility of Sprint Nextel Corp. (NYSE:S) enhancing its stake in the mobile wireless company, Clearwire (CLWR). We also looked at how it would help the company compete more aggressively with its peers, Verizon Communications (NYSE:VZ) and AT&T (NYSE:T), by obtaining more airwaves. Now, according to the regulatory filings, Sprint will pay approximately $100 million to Eagle River Holdings LLC for its shares in Clearwire, essentially gaining control over the company's board. This transaction has been a disappointment for Clearwire's shareholders, and has reflected negatively in the company's shares, which lost around 20% of their value over the last five trading days. The disappointment is largely due to the fact that shareholders were expecting an outright sale of the company to the third-largest telecom operator, Sprint. Instead, Sprint turned the situation to its own advantage by simply increasing its stake in the company without taking on any of its debt.
Even though obtaining a majority stake in Clearwire was not a precondition for the Sprint/Softbank deal to go ahead, it is rumored that Softbank did actually want Sprint to gain control over the mobile wireless company for its spectrum holdings. The main reason for the interest of Japan-based Softbank in Clearwire is that it is building its own wireless infrastructure, using technology that resembles that of Clearwire's in the U.S. Sprint is already using the company's network to direct some traffic for its users. Now, with Sprint increasing its stake in the company, Softbank CEO Masayoshi Son will probably be assured of Clearwire's technology being able to be utilized for the company's benefit.
According to a deal announced recently, Softbank will invest over $20 billion in Sprint, $12 billion of which will be distributed to its shareholders, and the remaining $8 billion or so will be used by the company for upgrading its network, and in paying off debt. The transaction will, essentially, open doors for the Japan-based telecom in the U.S. market, where there is still some growth potential.
In a question asked by a Bloomberg reporter on the concentrated U.S. Telecom Industry, Softbank's CEO said that, according to him, the market is not saturated at all, and every customer should have two subscriptions instead of one. He also said he did consider the idea of four, or even five, lines per customer in the coming days to be far fetched. From his replies, it seems obvious that he sees tremendous growth potential for Sprint, which is far behind Verizon and AT&T in terms of revenue generation and overall market share.
However, Softbank is one of those companies in Japan that has benefited tremendously from the increase in mobile usage. This is evident in all its key metrics relevant to the wireless segment, with improvements seen in average revenue per user from increased smartphone use. Additionally, in the overall mobile customer base. It has successfully expanded its mobile customer base over the years, leading it to steal market share from some of its competitors, as evident in the following chart.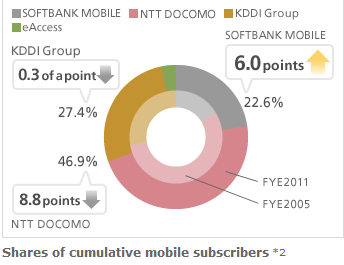 Source: Company presentation
Softbank derives more than two thirds of its total revenue from data services, which is also almost double the average in the U.S. It seems like data services is that segment of the U.S. telecom market that the Softbank CEO is more interested in, as far as his acquisition of Sprint is concerned. He has repeatedly said that he views Sprint as a company in a good position to challenge the duopoly of Verizon and AT&T. Although Sprint would still retain its third spot in the industry, even after the acquisition, the capital injection would certainly help it bring back much-needed customer growth. Moreover, with access to the newly acquired Clearwire network, the company is in a better position to turn itself around. The stock has appreciated more than 140% since the start of the year. We reiterate our previous long stance on the stock based on the reasons above.
Disclosure: I have no positions in any stocks mentioned, and no plans to initiate any positions within the next 72 hours.
Business relationship disclosure: The article has been written by Qineqt's Telecom Analyst. Qineqt is not receiving compensation for it (other than from Seeking Alpha). Qineqt has no business relationship with any company whose stock is mentioned in this article.