Yesterday I noticed an article at Seeking Alpha about a stock that we have owned for clients for many years. The implication from the title (as I read it) was that the stock has been great and will continue to be great for a long time. Although the name doesn't matter for purposes of this post, I obviously hope the conclusion drawn turns out to be correct.
My thought upon digesting the title but before I read the article was that it would be great to be able to pick one stock for each sector and have them all grow to the sky. My next thought was the folly that usually goes along with articles that try to find ten stocks to own forever.
I was not able to find any ten stocks to own forever articles from 2000 but most of us probably have a good sense of the types names that merited such praise back then. Two names that probably showed up a lot in this context back then were Cisco (NASDAQ:CSCO) and JDS Uniphase (JDSU).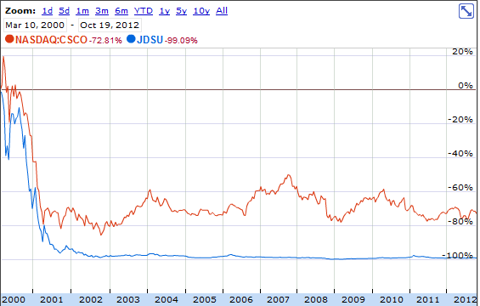 There is no doubt about how important their products are in terms of making the world function, especially Cisco, but as you can see from the chart, JDSU is down 99% from its high and Cisco is down 72% (actually from Cisco's high a couple of weeks later it is down 77%). Clearly the prices in Q1 2000 were not justified but the results for the last five years have been lousy too. In the past five years JDSU is down 33% (there was a huge spike up in early 2011 though) and Cisco is down 45%.
Back then the stories behind all the top tier tech stocks, DELL, INTC, MSFT and CSCO, were very persuasive and all these stocks were poised to grow to the sky. Chances are we all met someone who was made rich holding on to these names for ten years but then of course it ended.
This is a good excuse to remember that any stock, no matter how great it appears to be, can have its story end or change meaningfully for the worse. This is not to say that buy and hold must be dead, we have quite a few names that we have owned for clients for eight years and I would be happy to hold them forever. If the story for a stock doesn't change meaningfully for the worse and you are not a trader then why not hold on to it? Fewer commissions, less in the way of tax consequences and more in the way of dividend growth are all good reasons to try to hold on for a very long time. The job then becomes monitoring the names owned and being on the lookout for serious changes which can include grossly excessive valuations.