Below is an updated look at S&P 500 sector weightings. As shown, Technology remains as the largest sector of the S&P 500 at 19.27%. Financials ranks second at 15.14%, and then Industrials, Consumer Staples, Consumer Discretionary, Energy and Health Care are bunched up between 10% and 12%. At the bottom of the barrel around 3.5% is Telecom, Materials and Utilities.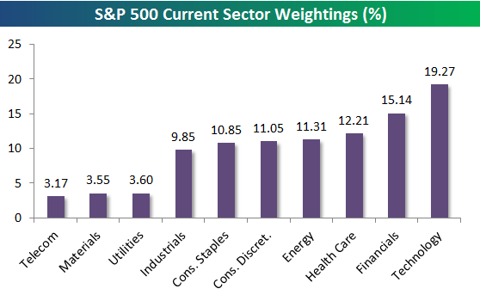 Below is a look at how S&P 500 sector weightings have changed since the start of the year as well as since the market's 2012 closing high made on September 14th. Since the start of the year, the Financial sector has gained by far the most market share in the S&P 500 at 1.71 percentage points. Health Care, Consumer Discretionary and Technology are the only other sectors that have seen a nice increase in share so far in 2012. The big gains in the Financial sector this year have come at the expense of Consumer Staples, Energy and Industrials. Energy has lost the most share this year at -0.95 percentage points, followed by Industrials at -0.84 and Consumer Staples at -0.69.
While the Technology sector has gained share in 2012, it has really lost a lot of share since the market peaked on September 14th. As shown below, Technology's weighting in the S&P has dropped by 0.78 percentage points since 9/14. So who has benefitted from the drop in Tech's weighting? Financials, Health Care and Utilities.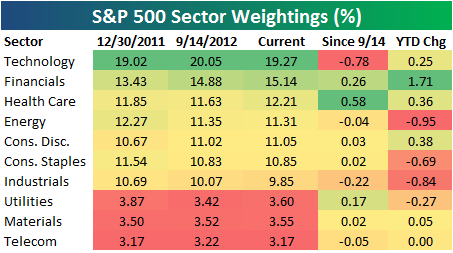 Below we provide historical charts of S&P 500 sector weightings going back to 1990. For each chart, we also show the sector's average historical weighting over the entire period.
Even with the big drop in share over the last month, Technology's weighting still remains well above its historical average. Energy is the only other sector that is nicely above its historical average. Financials, Health Care, Consumer Staples and Utilities are currently right near their average, while Industrials, Materials, Consumer Discretionary and Telecom have noticeable space below their averages. But while Consumer Discretionary has been moving up towards its long-term average over the last few years, the Industrials sector continues to move farther and farther below its average.
If you're looking for a gauge on which sectors are currently driving the US economy and which ones are faltering, these weightings charts do a pretty good job.