National Retail Properties (NYSE:NNN) is expected to report earnings on November 7th, 2012. I wanted to take this opportunity to give you a clear picture of the fundamentals of a retail REIT that provides an attractive 5% yield, and a 5-year dividend growth of 2.5%. Others in its peer group such as Akadia Realty Trust (NYSE:AKR) yields 2.8%, DDR Corp. (NYSE:DDR) yields 3.1%, and Glimcher Realty Trust (GRT) yields 3.7%.
Fundamentals that support an attractive dividend yield:
The company has a strong balance sheet with $307 million in available borrowings under its $450 million credit facility, which matures May 2015. The credit facility's borrowing capacity can be increased to $650 million by the approval of the banks. National Retail has total debt of $1.374 billion, out of which $146.2 million are the borrowings under the credit facility, and $29 million are in mortgages. Details of the company's debt maturities are included below. It is safe to say that the company's short-term debt due is not a risk to its liquidity cushion.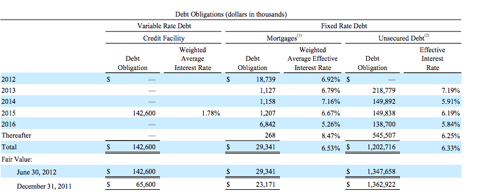 The company has a diversified portfolio, which consists of top 10 lines of trade with Convenience stores contributing 23% of annual base rent, full service restaurants contributing 12%, and automotive parts contributing 6%.
Occupancy rate remains a high 98.2% as of Q2-2012, and has increased more than 1% year-over-year. Also, lease maturities remain minimal at 0.5% in 2012, and 2-3% going forward.
National Retail continues to generate extra liquidity by the sale of properties. In Q2-2012, the company generated close to $7 million in the sale of properties. We expect to see this trend continue.
Conclusion: Here is a REIT with predictable cash flow, strong prospects for future growth and a reliable dividend. It presents a great opportunity for income-oriented investors.
Disclosure: I have no positions in any stocks mentioned, and no plans to initiate any positions within the next 72 hours. I wrote this article myself, and it expresses my own opinions. I am not receiving compensation for it (other than from Seeking Alpha). I have no business relationship with any company whose stock is mentioned in this article.