Edwards Lifesciences (NYSE:EW) had to revise downard its 2012 revenue forecast for its Sapien transCatheter aortic heart valve. For that its share price took a beating from a peak of $110 on October 4th to its current level of $86 and change.
So what is all the fuss about, and what are transcatheter heart valves anyway? Let us take a look at that new heart device market and try to take a stab at the one million dollar question: Should I buy Edwards after it has dropped over 20%, hold it or sell it?
Normally, blood flows from the left ventricle, left lower chamber of the heart, through the aortic valve into the main artery of the body, the aorta. If the aortic valve becomes narrowed, or stenosed, the blood flow through it is reduced and the heart has to work harder to pump blood to the body. Aortic stenosis is the obstruction of blood flow across the aortic valve.
Symptoms of aortic stenosis usually develop gradually after an asymptomatic latent period of 10-20 years. Exertion dyspnea or fatigue is the most common initial complaint. Ultimately, most patients experience a classic triad of chest pain, heart failure, and syncope.
In most adults with symptomatic, severe aortic stenosis, surgical aortic valve replacement is the treatment of choice. A cut is made in the chest to access the heart. The heart is stopped and a heart-lung machine is used to take over circulation during the operation. The aortic valve is removed and replaced with an artificial valve (prosthesis).
Surgical aortic valve replacement carries a high risk of complications, some of which can be life threatening. Surgical mortality risk is 5% and the 5-year survival rate is 85%.
Successful aortic valve replacement produces substantial improvement in patients. However, the average age for patients diagnosed with severe aortic stenosis is 70 years and surgical valve replacement is considered a high risk for most of these elderly patients. A significant percentage of patients are denied valve surgery due to its high operative mortality rate.
TransCatheter aortic valve implantation (TAVI) is a relatively new, minimally invasive, procedure that has been established as an alternative to surgical aortic valve replacement in high-risk patients. During the procedure, a replacement aortic valve is delivered through a catheter inserted in the femoral artery and, using the patient's arteries as highways to reach the heart, a new aortic valve is inserted.
TAVI was developed in Europe, initially performed in April 2002 by Prof. Alain Cribier in Hopital Charles Nicolle in Rouen, France. In high-risk patients with severe aortic stenosis, transCatheter and surgical procedures for aortic-valve replacement had similar rates of survival at 1 year.
There are two current market leaders whose devices have earned CE Mark approval in Europe: Edwards Lifesciences' SAPIEN device and Medtronic's (NYSE:MDT) CoreValve device. The technology is developing rapidly and, to date, more than 60,000 transCatheter aortic valves have been implanted worldwide and the global TransCatheter Aortic Valves Market is expected to reach $830 million by the end of 2012.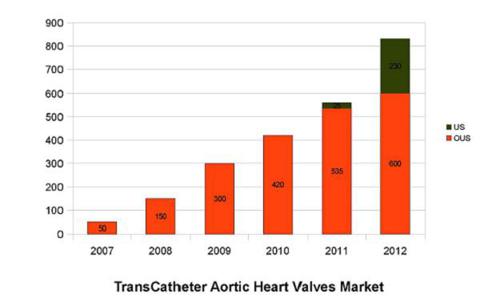 The rollout of Edwards Sapien in the US was the main driver of growth during 2012. The Sapien, which was FDA approved in November 2011, is currently the only commercially approved transCatheter aortic valve in the United States where it is expected to achieve $230 million by the end of this year. More than 300,000 people worldwide are diagnosed with severe aortic stenosis every year and approximately one-third of these patients, 100,000 are deemed at too high a risk for open-heart surgery.
Device costs are reported to range from $25,000 to $35,000, as compared to $2,800 to $5,600 for traditional surgically implanted aortic valves. According to industry participants, the market for transCatheter aortic valve could reach $2.2 billion by 2018. So the market itself is sound and is as good as it can get. In fact it is the currently the only cardiac device market that is exhibiting double digit growth.
However, Edwards Sapien is a first generation balloon expandable device and the technology is moving towards lower profile self-expandable devices like Medtronic's CoreValve. Competition is also heating up, Medtronic's CoreValve is expected to received FDA approval within the next 12 months and St. Jude (NYSE:STJ) will launch yet another competing product in Europe before the end of the year.
I don't currently have a position in Edwards; however, if I had I would hold that position rather than sell it. I wouldn't enter Edwards at that level, though, before getting some more visibility on the condition of the whole medical device space.
Disclosure: I have no positions in any stocks mentioned, and no plans to initiate any positions within the next 72 hours. I wrote this article myself, and it expresses my own opinions. I am not receiving compensation for it (other than from Seeking Alpha). I have no business relationship with any company whose stock is mentioned in this article.