Investors got a new investment opportunity when the divergence between natural gas prices and oil prices started to widen. In April this year, the spot price of natural gas reached $1.8, almost 56 times the price of crude oil of $103. The Burner tip parity suggests that the price of a single barrel of WTI crude oil should be, at most, 10 times more than that of the spot natural gas price. As soon as the rule is violated, natural gas automatically becomes the cheaper source of fuel.
Therefore, despite the natural gas price shooting upward, it is still relatively cheap, almost 30 times less than oil price. This inevitably leads us to the discussion of which industries are to lose and which are to gain if the current gas prices sustain for long.
Energy Drilling and Infrastructure
After the decline in natural gas prices, some energy operators have diverted some of their resources to the exploration of shale gas, and to liquid drilling activity. These companies include Halliburton (NYSE:HAL) and Bakes Hughes Inc (NYSE:BKI-OLD). Schlumberger (NYSE:SLB) is another player that earned big profits from Chinese shale exploration activities.
However, there are some other giants of the industry as well that have not shown much interest in shale gas exploration. Exxon Mobil (NYSE:XOM) and Chevron Corp (NYSE:CVX) are two such companies. These companies also feature in discussions about natural gas fueling infrastructure in the U.S. The market believes that both companies have not invested in fueling infrastructure because of a chicken and egg scenario; one industry waiting for the other to take the first step in promoting natural gas usage in the country. The triangle is made up of truck manufacturers, infrastructure developers and the final consumers. Final consumers have not been quick in embracing natural gas despite the fact that it is extremely cheap. This is because they do not want to end up without fuel in the middle of a highway. Truck and engine manufacturers have not developed a wide variety of natural-gas driven products because of the low level of demand. Also, infrastructure developers have not invested themselves too much in natural gas due to the demand problems.
However, Clean Energy Fuels Corp (NASDAQ:CLNE) has been an exception. The company got a loan of $450 million from Chesapeake through which the company plans to build 70 stations in this year and 80 stations in the next year. In case of depressed natural gas prices, CLNE will stand to gain as well as lose. Where lower prices (coupled with infrastructural development) will help improve the natural gas adoption rate, it will decrease revenue as CLNE is a producer of natural gas as well. In that case, Encana Corporation (ENC), EQT Corp (NYSE:EQT) and South Western Energy Corp (NYSE:SWN) will also stand to lose because a major chunk of their production mix is formed of natural gas.
One of T. Boone's favorite companies, Chesapeake (NYSE:CHK), stands to lose just like other natural gas producers; however, CHK has been making an effort to benefit from the potential change in the energy landscape of the U.S. Recently, CHK and General Electric (NYSE:GE), the largest conglomerates in the U.S., came up with a technology that will make natural gas infrastructure development a lot easier. Named CNG In A Box, the technology can compress natural gas from a pipeline at a filling station or at an industrial location. GE has also manufactured gas-fired turbines, which can be handy for electric utilities.
Energy Infrastructure Stocks
The energy infrastructure industry expects a multi-billion dollar investment in the next 5-7 years, which is likely to benefit engineering and construction stocks like Chicago Bridge, Iron (NYSE:CBI) and KBR Inc (NYSE:KBR). The main areas where the investment will be used are:
Gas processing
Fractionation
Petrochemical
LNG exports
Gas power
The reason why CBI and KBR are considered the main beneficiaries is the projects that they have been working on for the last couple of years. KBR's Columbiana Processing County Plant project and CBI's project on fractionation in Dominion are good examples.
In this context, Fluor Corp (NYSE:FLR), Jacobs Engineering (NYSE:JEC), Foster Wheeler AG (FWLT), and SHAW Group (NYSE:SHAW), through CBI, will also benefit.
Chemicals, Fertilizers and Paints
Natural gas liquids (NGLs) are produced through gas processing. The mixed NGLs like ethane, butane and propane are separated into distinct products through fractionation. Ethane is the main raw material in the petrochemical industry. More gas means cheaper raw material for the chemical industry. The main beneficiaries include Dow Chemicals (DOW), Lyondell Basell (NYSE:LYB) and Westlake Chemical Corp (NYSE:WLK). Ethane is a key raw material in the manufacturing of paint as well. In this regard, Sherwin Williams (NYSE:SHW) will be one of the main beneficiaries.
Natural gas is a major raw material for the production of ammonia and nitrogen, which in turn are raw materials for fertilizers. Therefore, cheap natural gas will give a boost to the overall fertilizers industry. Agrium (AGU), Mosaic (NYSE:MOS), Potash (POT) and CF industries (NYSE:CF) will be the main beneficiaries.
Similarly, industry gas suppliers like Praxair (NYSE:PX) and Air Products & Chemical Inc (NYSE:APD) will benefit from cheap raw materials in the production of produce industry atmospheric and specialty gases.

Auto-parts manufacturers
Many auto-parts manufacturers use natural gas in their manufacturing processes. For example, Cooper tires (NYSE:CTB) uses natural gas for processing rubber. Similarly, Precision Cast Parts (NYSE:PCP) uses gas to mold metal parts to form turbines.
Truck Manufacturers
Switching from diesel/gasoline to natural gas in trucks saves a lot more than switching from gasoline to CNG in passenger cars. The most obvious reason is the difference in the mileage of trucks and cars and the added distance that trucks have to cover as compared to normal cars.
As already discussed in detail, truck and engine manufacturers have not invested heavily in the production of "gas compliant" products. However, there are still some players that have a gas-driven product base. Navistar (NYSE:NAV), in partnership with CLNE, plans to sell trucks which will benefit from rebates after getting fuel from CLNE stations. Also, Westport Innovations (NASDAQ:WPRT) is a pure play on natural gas engines. The company produces natural gas in partnership with Cummins (NYSE:CMI) as well as separately for the light and heavy duty trucks. Ryder (NYSE:R), the largest truck lessor in the U.S., stands to benefit after switching to gas.
There are some companies that are waiting for the adoption rate to speed up in order to introduce gas driven models. Paccar Inc (NASDAQ:PCAR) has already produced some models, and is likely to expand its production base, once things get going.
Cargo Transporters
FedEx (NYSE:FDX) and United Parcel Services (NYSE:UPS), the economic bellwethers, pay massive fuel costs to get goods from one place to the other. In this context, they can easily benefit by replenishing their fleet accordingly. FedEx already has a plan to cut its fuel costs by replacing the fuel inefficient jets with Boeing's (NYSE:BA) 757 and 767 planes. Another avenue for fuel cost reduction is the use of CNG as fuel for its minivans. Following shows the cost benefit: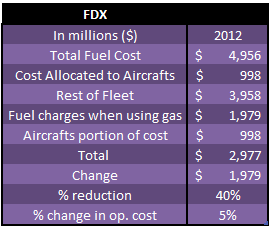 Source: Qineqt's calculations
Waste Management Inc (NYSE:WM) also stands to benefit from the Shale-Gas Boom. It has already replaced 1400 of its trucks, which will save it a total of $37.8 million ($27,000 per truck).
Building Materials
There are certain companies involved with the production of construction aggregates which will benefit from the lower natural gas prices. Vulcan Materials (NYSE:VMC) and Martin Marietta Materials (NYSE:MLM) are two such companies. Cheap natural gas will lower the cost of producing asphalt and cement products.
Railroad:
Coal shipments, on average, yield 25% of the revenue of railroads. However, the declining gas prices have led to a sharp decline in coal demand as most of the power-stations are using the cheaper source of natural gas.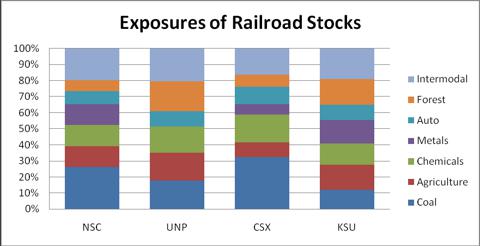 The graph shows the exposure of railroads to different commodities. CSX Corp (NYSE:CSX) and Norfolk Southern (NYSE:NSC), having more coal exposure than other railroads, are considered to be the main losers. United Pacific Co (NYSE:UNP) and Kansas City Southern (NYSE:KSU) may not be that vulnerable to the decline in thermal coal demand, especially KSU, which has a growing demand through automotive parts transportation in Mexico, has been able to tackle with the adverse coal market.
Bulls still feel that railroads have found new demand from different commodities through which they have been able to offset most of the decline in carloads. With a housing recovery around the corner, lumber transportation has been on the rise. Also, transportation of frac sand and petroleum oil from the shale gas region has helped railroads regain carloads and, therefore, shale gas may not be an unfortunate discovery for railroads after all. Exposure to Met coal has been another factor that has helped in diversifying the carload base for railroads. Overall, railroads have lost some of the carloads due to the shale gas boom, but we still do not recommend them as buys, given their exposures to other commodities.
Coal producers
The suppliers of coal to utilities have suffered a great deal after the shale gas boom, and some of them have lost more because they had an extremely undiversified revenue base or, in other words, had 'all their eggs in one basket'. Cloud Peak energy (NYSE:CLD) is one such company. There are some companies in this category that export coal and, therefore, have not suffered as badly as those that do not; Arch Coal (ACI), Peabody Energy (NYSE:BTU), Alpha Natural Resources (ANR) and CONSOL Energy are examples of the former.
Conclusion
The shale gas boom has affected dozens of industries and hundreds of firms. Many have gained from it and some have lost from it as well. Those that gained used natural gas as a cheaper raw material or as a cheap source of energy. All companies that relied on coal and oil have lost sales following the boom. However, the natural gas adoption rate still remained low because many believe that the decline is temporary. Given low natural gas prices for a continued time period, the market will gain enough confidence regarding the changing energy landscape of the U.S.
Disclosure: I have no positions in any stocks mentioned, and no plans to initiate any positions within the next 72 hours.
Business relationship disclosure: The article has been written by Qineqt's Industrial Analyst. Qineqt is not receiving compensation for it (other than from Seeking Alpha). Qineqt has no business relationship with any company whose stock is mentioned in this article.