Eleven months ago, as we all celebrated the arrival of 2012, shares of Apple (NASDAQ:AAPL) traded around $400 per share. Even after a rough past week, Apple is still up over 56% year to date... not to mention the $2.65-per-share dividend paid out in August. What should amaze you most about Apple's gains is that shares still trade at under 15 times last year's earnings and a little over 12 times next year's earnings.
The Upside
Call me crazy, but I think Apple is cheap. And I'm not alone in this line of thinking. Here are some 12-month price targets from major investment firms:
| | |
| --- | --- |
| Credit Suisse | $750 |
| The Street | $824.38 |
| S&P | $800 |
| BMO | $730 |
| Stern Agee | $840 |
| Piper Jaffray | $910 |
| Goldman Sachs | $810 |
While I don't pretend to be a chartist, I do like to look at basic trend lines to identify opportunities. The current trend in Apple stock began with a bottom in late November 2011 at around $363. This bottom was later reinforced by a low around $380 a couple weeks later. Since then, the price hasn't really tested that support line until now. See below:
Click to enlarge images.

My opinion is that the stock should find support here and that, with an earnings announcement as a catalyst, an upside move seems more likely than a move to the downside. But maybe I'm just drawing arbitrary lines on perfectly good charts.
Part of the upside to buying Apple right now is that there is limited downside. Of course the next major level of support would be considerably lower, according to the chart below. As in $450-per-share lower. But that would mean Apple traded at only 10.5 times last year's earnings with a dividend yield of 2.36% -- not to mention a total decline of over 36% from all time highs by what is quite possibly the most profitable company of all time. I consider that to be highly unlikely.

The Downside
There are a couple of factors that could derail Apple's earnings. Margin compression concerned investors after the most recent earnings report, where you can see a decline in gross profit margins in the chart below.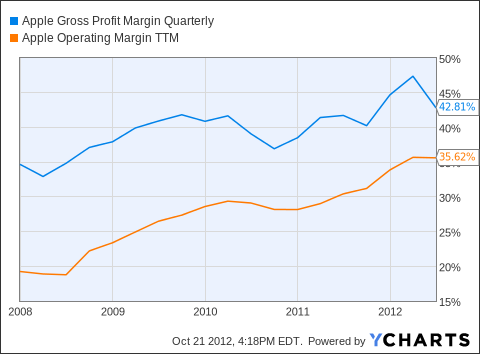 While these margins are still healthy, it's important to know that compression of margins would eat away at profitability. I don't think we're there yet. This chart makes margins look very healthy, but it is important to keep watching this metric.
It sure seems that the shift to mobile is plaguing several key high-flying names such as Facebook (NASDAQ:FB) and Google (NASDAQ:GOOG). It has been well documented since Facebook's IPO that the social media giant is seeing a massive shift to mobile usage, but has yet to monetize its mobile ad platform as effectively as its PC ad platform. Now it seems that Google is facing many of the same issues. It also cited a shift to mobile as a detriment to its earnings ("detriment" is my word; Larry Page described it as an "opportunity") and has fallen around 10% since.
The major risk going into this earnings report, as I see it, is iPhone sales. I'm certainly focused on iPhone 5 sales; however, investors should be braced for disappointing iPhone 5 sales numbers given that there are reports of supply issues. The chart below is a bit outdated now, but seems to be the most updated version I could find on the web. What I want to draw your attention to is the importance of iPhone to Apple's earnings. (Credit to BusinessInsider.com for posting these charts periodically.)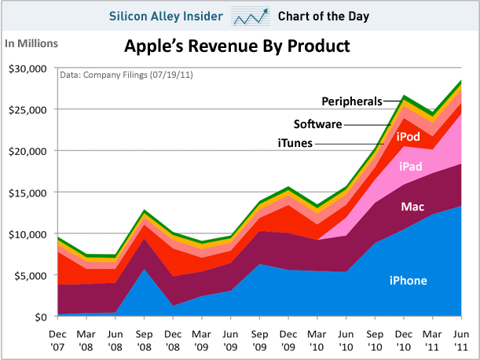 So why would I be bullish on Apple at this particular moment? It appears that the market is punishing companies that are struggling to adapt to the global shift to mobile. Is it then safe to assume that the market will reward companies that are thriving in the mobile environment? In my opinion, the answer is yes. And Apple is certainly thriving in the mobile environment.
Strength in Mobile
Evidence of the iPhone's continued dominance is abundant. Whether you think the lack of availability of iPhone 5s is due to significant demand or supply issues, the fanfare surrounding the launch of iPhone 5 was no different than with previous versions. Just this past Friday Apple opened its largest store in Asia, located just steps from the Forbidden City in Beijing, China.
Verizon (NYSE:VZ) came out with earnings this past Thursday, which gave us the first glimpses of iPhone sales for the quarter. Verizon announced that it sold 3.1 million iPhones in the quarter, with 651,000 being iPhone 5s sold in the nine days of the quarter in which the iPhone 5 was available. Based on this information, Gene Munster, famed Piper Jaffray analyst, reiterated his estimate of 25 million iPhones sold for the quarter. This is slightly lower than the median of analyst estimates of 27 million iPhones sold in the quarter. (Source: CNET.)
Speaking about the Verizon release, Infonetics analyst Julien Blin noted:
The iPhone 4 and iPhone 4S should continue to be good drivers in the fourth quarter given their recent reduced pricing and some potential continued supply issues related to the iPhone 5, so their contribution to the total iPhone activations should not be underestimated. (Source: CNET.)
I couldn't agree more. As you probably know, when new iPhone versions come out, the price of the older versions is cut. This brings the price of an iPhone into a much more affordable range, attracting in a new segment of customers who might previously have chosen an Android phone simply because they wanted a free smartphone with their two-year contract activation. Either way, when AT&T (NYSE:T) declares earnings this Wednesday it will be our last glimpse at iPhone sales data before Apple announces its own earnings the following day.
As my final exhibit in the case of Apple's mobile dominance, a look back at the earnings release and commentary from Verizon. Verizon sold 3.1 million iPhones and 3.4 Android phones in the last quarter. While the share of sales made by the companies selling Android phones is divided among Samsung, HTC, Motorola, and others, obviously all of the iPhone sales proceeds go to Apple. It is Apple vs. everyone else, and it's good to be Apple.
The Bottom Line
Apple has fallen around 13% since its all-time intraday high of $705.07, reached just a month ago. 5.4% of that decline has come since Google declared its most recent earnings. The Wall Street adage when it comes to Apple has been "buy the rumors, sell the news." The performance of Apple shares leading up to, and then immediately following, the launch of iPhone 5 is a great example of this coming true. Shares gained almost 8% in the month before the product was announced and have declined almost 8% since then. But with the iPad Mini launch expected for this Tuesday and the Q4 earnings release just two days later, it doesn't seem as if the market has decided to "buy the rumors." I question how much the market would be able to "sell the news," even if that news was bad.
If the major companies in this space are all declaring lackluster earnings and placing the blame on the shift to mobile, it only makes sense to invest in a company that actually benefits in this environment. With such a large percentage of revenues coming from iPhone sales, Apple certainly benefits from such a shift to mobile.
Monday's 25-point and 4% move to the upside only reinforces the opinion I formed when I first started writing this article Sunday evening. Of course, if the stock rallies in the next couple of days, then it would make a downside surprise in response to earnings more likely. I added to my Apple stock holdings on Friday because I believe the market has been overly negative on Apple leading up to earnings, and that the stock remains inexpensive. What do you think?
Disclosure: I am long AAPL, VZ. I also own AAPL call options. I wrote this article myself, and it expresses my own opinions. I am not receiving compensation for it (other than from Seeking Alpha). I have no business relationship with any company whose stock is mentioned in this article.
Disclaimer: My opinion should not be construed as personal investment advice.