Earlier this year, I wrote an article on Lpath Inc. (LPTN), the market leader in lipidomics-based therapeutics. That article discussed the promising trial results demonstrated by Lpath's lead product, iSONEP, as well as its $500 million partnership with Pfizer (NYSE:PFE). Since the writing of that article, Lpath has continued to make strides as a company.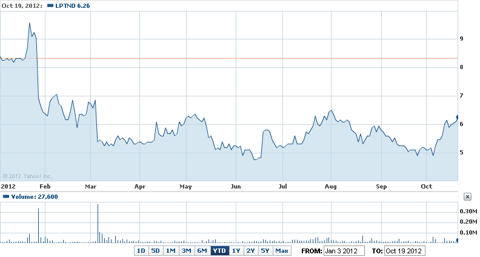 Since Then
On Aug. 27, the FDA decided to lift the clinical hold on Lpath's lead product, iSONEP. In addition, Lpath has recently received confirmation that its application to list the company's common stock on the Nasdaq Capital Market had been approved and is expected to begin trading on the index on Oct. 22, 2012, under the ticker symbol LPTN.
Lpath's President and CEO Scott Pancoast commented on the up-listing:
We believe a Nasdaq listing will provide greater visibility in a larger universe of investors, as well as better liquidity and efficiency in trading. Given our progress toward regulatory approval and commercialization of our novel therapeutics, including enrollment of our Nexus Phase II trial for iSONEP in partnership with Pfizer, the timing seemed right to raise our profile in the investment community.
Lpathomab: Addressing Unmet Clinical Needs
While the majority of the Lpath's exposure has been focused on iSONEP, there is much to be said about its pre-clinical drug Lpathomab. Lpathomab is an antibody that works as a molecular sponge by soaking up lysophosphatidic acid (LPA), a molecule that can damage neurons and promotes scarring in the central nervous system. LPA plays a significant role in neurotrauma and neuropathic pain. Strong, repeatable, third-party data suggests that Lpathomab holds promise in treating these conditions.
Neuropathic Pain: Lpathomab and Market Data
Study data suggests that Lpathomab could be used in treating neuropathic pain related to diabetes and rheumatoid arthritis. In separate collaborations with the Nagasaki University and the University of California San Diego, Lpathomab has demonstrated excellent results in animal models of diabetic neuropathy and neuropathic pain. An estimated 26 million Americans have diabetes and 60%-70% of them have some form of neuropathy. According to DataMonitor, the market for drugs to treat neuropathic pain is currently worth approximately $2.3 billion globally and is expanding rapidly to more than double -- exceeding $7 billion by 2016. As there are currently no proven treatments for the prevention or cure of neuropathic pain, Lpathomab presents a lucrative opportunity.
Neurotrauma: Lpathomab and Market Data
Study data suggests that Lpathomab could be used in treating neurotrauma, such as traumatic brain injury (TBI) or spinal cord injury (SCI). In collaboration with the University of Melbourne, an Lpath study demonstrated Lpathomab's ability to significantly lower the infarct size in mice suffering from TBI. According to The National Institute of Neurological Disorders and Stroke:
TBI costs [Americans] more than $56 billion a year, and more than 5 million Americans alive today have had a TBI resulting in a permanent need for help in performing daily activities. Survivors of TBI are often left with significant cognitive, behavioral, and communicative disabilities, and some patients develop long-term medical complications, such as epilepsy.
In research papers published by the American Journal of Pathology, Lpathomab has demonstrated its ability to reduce the size of a spinal cord injury and improve functional behavioral outcomes in experimental animal models. Spinal cord injuries are extremely debilitating and costly. Data shows that 250,000 Americans have spinal cord injuries, with approximately 11,000 new injuries occurring each year. The average lifetime costs for paraplegics injured at the age of 25 is $428,000, while the average lifetime costs for quadriplegics injured at the age of 25 is $1.35 million. As there are currently no FDA-approved drugs for the treatment of TBI or SCI, Lpathomab presents a source of hope for those suffering from this devastating condition.
Ongoing studies are directed toward examining Lpathomab's activity against a range of central nervous system disorders in which cell death is observed, including Alzheimer's and other neurodegenerative diseases.
Lpathomab Trial Enrollment Rates
Lpathomab is currently conducting pre-clinical trials and is expected to begin Phase I trials in 2014. At the onset of recruitment for participants in Lpathomab Phase I trials, an opportunity presents itself. Given the lack of treatment options available to individuals who suffer from neurotrauma and neuropathic pain, opportunities to enroll in Lpathomab trials would provide a chance at relief for those who would otherwise be left hopeless. Investors are urged to keep an eye on recruitment for upcoming Lpathomab studies, as previous "high risk, no alternatives" scenarios have resulted in faster than expected enrollment rates. These quick enrollment rates demonstrate a sense of urgency in the market and have boosted trading levels upon announcement. Examples of companies that have had their share price benefit from the announcement of rapid enrollment rates include Orexigen Therapeutics (NASDAQ:OREX) for its obesity trials of Contrave, ImmunoCellular (NYSEMKT:IMUC) for its glioblastoma (brain cancer) trials, and others. This signals that Lpathomab could be received even better than expected.
Amira Acquisition Indicates Lpath Is Undervalued
In July 2011, Bristol Meyers Squibb (NYSE:BMY) acquired Amira for $325 million up-front and potential additional milestone payments totaling $150 million. Amira's lead asset is a product called AM152, which has completed Phase I clinical trials. AM152 was an LPA1 receptor antagonist, blocking one of more than eight LPA receptors identified. Bristol-Myers Squibb also obtained Amira's preclinical autotaxin program, which was targeted to the treatment of neuropathic pain. It is worth noting that AM152 targets one of numerous receptors whereas Lpathomab goes straight to the source of the problem by soaking up the LPA itself. This lofty price tag was placed on the AM152, which, like Lpathomab, does not (yet) possess human efficacy data. Comparisons between Lpath and Amira indicate that Lpath is severely undervalued and validates Lpathomab's target and pathway.
Click to enlarge image.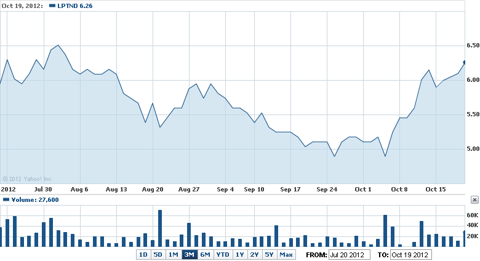 Conclusion
While this particular article has focused on the efficacy of Lpathomab, the market potential, and comparisons to competitors, Lpath Pharmaceuticals has proven itself a valuable company in many other regards. For example, Lpath's partnership with Pfizer has provided it with sufficient funds to engage in R&D through to Q2 2014. This provides ample time for its lead product, iSONEP, to provide further insights -- a product that has already yielded results superior to current treatment methods in its Phase II clinical trials. I strongly urge investors to view my previous article on Lpath's lead product, iSONEP, and perform due diligence of their own. Lpath paints the picture of a company that is currently priced as a bargain.
Disclosure: I am long LPTN. I wrote this article myself, and it expresses my own opinions. I am not receiving compensation for it. I have no business relationship with any company whose stock is mentioned in this article.