Stocks To Trade
Today, we are looking at an earnings trade in Salesforce.com (NYSE:CRM), longs in Agrium (AGU) and Caterpillar (NYSE:CAT), and shorts in Market Vectors Oil Services (NYSEARCA:OIH) and SPDR S&P 500 (NYSEARCA:SPY).
For an earnings trade, we are looking at Salesforce.com. We believe that this may be a quarter when the valuations on CRM catch up with the stock. Right now, the company operates with a 75 future PE. We believe that level is extremely difficult to maintain over a long period of time. It's just not possible, unless the company is growing earnings at a rate similar to that year after year, and CRM is not. The company is expecting earnings to shrink for the next two quarters, year-over-year. With earnings shrinking, valuations high, and earnings not promising already for the tech sector, we believe that CRM is perfect for bearish November options. The company broke its 50-day MA and has had trouble at 160. The chart looks weak, and the stock has a long way to go to properly price in earnings.
Trade: CRM, Nov17, 160/165 Bull Put Spread
Max Gain: 14%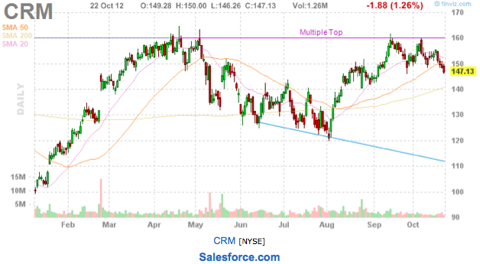 For longs, we like the looks of Agrium and Caterpillar. Agrium has shown a lot of strength despite weakness in the market, which is always a great sign for a company. The stock jumped today after the company announced plans to double its dividend, which we believe is even better to announce in times when the market is rolling over versus strong growth. Investors look for yield in times of weakness, making AGU attractive. Earnings are around the corner on November 7, and they are flat year-over-year. Yet, the stock took out 105 resistance and broke out. The stock still has a lot more potential for momentum if the market gets going some more tomorrow, and we'd like AGU to test 110-115 before earnings now.
CAT did as was expected and cut 2012 guidance, and that announcement actually may have helped put in a nice bottom. The company has seen a lot of support at the 82-84 area, with a yearly low in the 78 area. We believe the report has helped curb any more downside for awhile, and if the market can get going at all, CAT would probably make a nice run. For now, we like CAT for a bull put spread to hold this 78-84 support area.
Equity Trade: AGU, Long
Breakout Point: Take long over today's HOD.
Options Trade: CAT, Nov17, 80/77.50 Bull Put Spread
Max Gain: 14%
For shorts, we like the looks of Market Vectors Oil Services and SPDR S&P 500. Oil prices are likely going to stay depressed for the rest of the year due to low demand, oversupply, and diminishing Middle East concerns. With oil prices lower, supply will probably start to shift lower, creating less demand for oil services. On top of that, oil service companies' profits have been pretty bleak from Halliburton (NYSE:HAL), Baker Hughes (BHI), and more. There is really just not a large catalyst right now for OIH. If oil prices were to skyrocket, it would be on some unforeseen event taking place that severely shifted supply. We will short OIH on a break of the 20-day MA, and add on break of 200-day MA.
Similarly, we like using the S&P SPDR ETF for a bear call spread as well. SPY has a top of 147 for the last couple of months, and today, the SPY lost its 50-day MA. The markets are weak, and we do not see a ton of catalysts between now and options expiration. The election could spark the market if Romney wins, and a potential Spain bailout is looming. Yet those are hopes. We have bad earnings, technical weakness, and lackluster buyer conviction. To believe the SPY will take out its yearly highs by expiration would be to be to invest on hope.
Stock Trade: OIH, Short
Breakout point: Break of 20-day MA
Options Trade: SPY, Nov17, 147/149 Bear Call Spread
Max Gain: 15%
Tomorrow's Outlook
The market has lost its 50-day MA and looks weak. A late rally helped curb some of that pain today, but the fact of the matter is that the market has no catalysts. Earnings have been weak. Politics are at a stalemate. Europe is quiet. Without many catalysts, the market is seeing buyer apathy, and sellers are stepping into the market. Tomorrow we continue without any data, but the market should have some items to digest. First, the debate between President Obama and Governor Romney will take place tonight, which may provide some market sentiment. Further, we have a big event tomorrow from Apple (NASDAQ:AAPL), during which it most likely unveils its new iPad Mini. Finally, the market will mostly be watching some important earnings from the likes of 3M (NYSE:MMM), Harley-Davidson (NYSE:HOG), and UPS (NYSE:UPS).
Our Moves/Holdings
We had a quiet day in the market, as not too much happened. We were stopped out on a portion of our Urban Outfitters (NASDAQ:URBN) bull put spread for a loss. We added a long in Riverbed Tech (NASDAQ:RVBD) and short in Monsanto (NYSE:MON). We added a bear call spread in SPDR S&P, and we added an earnings position in Salesforce.com.
We have the following positions:
In our Short-Term Equity Portfolio, we are long Riverbed Tech and CBRE Group (CBG). We are short Monsanto.
In our Options Portfolio, we are long Intuitive Surgical (NASDAQ:ISRG), Urban Outfitters, Discover (NYSE:DFS), Wal-Mart (NYSE:WMT), and ExxonMobil (NYSE:XOM). We are short United States Oil (NYSEARCA:USO) and SPDR S&P 500.
In our Earnings Alpha Portfolio, we are long Allstate (NYSE:ALL), Michael Kors (NYSE:KORS), Disney (NYSE:DIS), and Continental Resources (NYSE:CLR). We are short Polo Ralph Lauren (NYSE:RL) and Salesforce.com. We have a reverse iron condor in Chipotle (NYSE:CMG).
In our Goldman Sachs Up/Down Paper Portfolio, we are long CSX (NYSE:CSX) and Teradata (NYSE:TDC).
Charts courtesy of finviz.com.
Disclosure: I have no positions in any stocks mentioned, and no plans to initiate any positions within the next 72 hours.
Business relationship disclosure: The Oxen Group is a team of analysts. This article was written by David Ristau, one of our writers. We did not receive compensation for this article (other than from Seeking Alpha), and we have no business relationship with any company whose stock is mentioned in this article.