For over 2 decades since its founding, Microsoft (NASDAQ:MSFT) was the undisputed leader of the technology sector. But now, that lead has crumbled. The company has been surpassed by both Apple (NASDAQ:AAPL) and Google (NASDAQ:GOOG) on a variety of fronts. However, while it is true that some of Microsoft's issues are structural in nature, as highlighted by a recent Barron's article, a good deal of Microsoft's woes stem not from external pressure, but from internal lethargy.
Since becoming CEO on January 13, 2000, Steve Ballmer has presided over one of the most spectacular falls from grace in the history of corporate America. Microsoft has gone from being a beacon of innovation to a company that many see as an artifact of a bygone era. We do not think this is the way that things must be. Microsoft has thousands of intelligent, capable people that are ready, willing, and able to produce innovative new products. What they lack is a CEO who is willing to abandon the past for a brighter future.
We have written about Microsoft several times before, and have been consistent in our view that Steve Ballmer must be ousted. From a failure to capture a meaningful presence in the mobile market, to a corporate culture that suffocates innovation, Steve Ballmer's tenure at Microsoft has been marked by a persistent inability to create "the next big thing." It is true that Microsoft is doing relatively fine today. The company has a solid balance sheet, and as of this moment, there is no dramatic collapse occurring in the sales of either Windows or Office software. Steve Ballmer's weakness as CEO is not that he is endangering Microsoft's present, but rather its future. We believe that Windows 8 proves that this is an issue for Microsoft, and that if and when Microsoft receives a new CEO, that will mark a buying opportunity.
Windows 8: Trying to Please Everyone, and Pleasing No One
For years, Microsoft has suffered from an identity crisis. Is it a consumer company? Is it an enterprise company? Apple's choice is clear: it is neither. Apple makes the best products that it can, and lets users determine how best to use them. It is why iPads are now present in a majority of Fortune 500 companies, even though Apple has made little, if any effort to drive the adoption of iPads in enterprise settings. And iPhones are displacing BlackBerries in office settings around the world because employees are demanding better technology. When Apple launches a new product, it does not strive to distinguish between consumer and enterprise markets. iPhones are marketed as "the best phone ever," not "the best enterprise phone ever," or "the best consumer phone ever."
Microsoft, however, has been unable to define itself, and this dilemma is showing up in the company's newest version of Windows, Windows 8. Microsoft is attempting to hold onto both the consumer and enterprise markets with Windows 8. However, early reviews have not been encouraging. Business Insider has stated that Windows 8 could be the next Vista, and the New York Times' user experiment concluded that consumer users may very well be confused by the operating system's radical departure from previous Windows user interfaces. And an analysis by Gartner has shown that businesses are highly unlikely to upgrade to Windows 8. Gartner's Michael Silver has stated that, "We believe 90 percent of large organizations will not deploy Windows 8 broadly, and at its peak, we expect about 20 percent of PCs in large organizations will run Windows 8." These are not immediate threats. Microsoft makes money no matter what version of Windows is installed on a PC, and 40% of the company's revenue is derived from multi-year licensing contracts. But in the long-term, this inability to define itself will come to haunt Microsoft. The company will have to work to overcome its dependence on Windows (as well as Office), something that is extraordinarily difficult to do with the company's current leadership.
Taking the Worst of Apple and Google's Management Styles and Combining Them
Apple and Google have 2 of the most distinctive management styles in Silicon Valley. At Google, CEO Larry Page essentially gives his employees free reign. Google has profited enormously from the idea that innovation comes from the bottom up, and gives its engineers all the support and attention that they need to continue to make great products and services for users. There is little centralization at Google. The downside to this, however, is that problems may filter up to Page and his executive team slower than they otherwise would if he had a tighter grip on the company.
Apple takes the opposite approach, and has found tremendous success in doing so. Under Steve Jobs, Apple was run, in essence, as a dictatorship, with employees there to carry out the edicts of Jobs and his lieutenants. That approach has largely continued under Tim Cook. Apple does not allow for corporate infighting to occur (the relationship between Scott Forstall and design head Jonathan Ive is a rare exception). And in any case, there is no office politics at the departmental level. Every division of Apple exists in service of a common goal: the success of Apple. The downside to this approach is that it may cause Apple's leaders to be resistant to change, even when change may be necessary.
Microsoft, however, has taken the worst aspects of these 2 management styles and brought them together. Corporate politics are rampant at Microsoft, with each division fighting for itself. There are many stories of how bitter infighting between Microsoft's divisions stifled new products. Many people assume that Apple invented the tablet computer. This is not true. Microsoft was developing tablets as early as 2001, a testament to the innate innovative abilities that lie within Microsoft. However, 2001 infighting between the tablet division and the Office division caused the tablet to collapse, due in large part to the fact that the VP in charge of Office "didn't like the concept." Microsoft's various divisions also have control over their finances, which leads them to look at everything through the prism of saving as many dollars as possible. That is likely to stifle necessary investments in innovation. At Microsoft, there is centralization of power, just like there is at Apple. But, it exists at all the wrong levels. Apple understands that power needs to be centralized at the top. That is why only CFO Peter Oppenheimer has to deal with budgets and finance. Division heads are told to focus on making great products, not dealing with costs. And CEO Tim Cook may consult other executives, but it is clear to everyone that he is in charge, and that divisional warfare will not be tolerated.
Just as Microsoft uses the flaws in Apple's system, it uses the flaws in Google's system as well. Google treats its employees better than almost any public company in the United States, for it understands that happy employees are innovative employees. And that just happens to lead to more profits, Google's ultimate objective as a public company. Microsoft, however, has found a way to set its employees against each other, and it is due to the human resources practices of Lisa Brummel, the bottom 7% receiving a 5 as "the most universally hated exec" at Microsoft. Microsoft evaluates its employees using what it known as stack ranking, in which they are graded on a 1 to 5 scale, with 5 being the lowest. The problem with this system, however, is that Microsoft only allows 20% of employees to receive a score of 1. The flaws of such a system are obvious. If we were to take the 100 best employees at Microsoft and put them into one division, only 20 would receive top scores. The rest would receive progressively lower scores, with the bottom 7% receiving a 5 (those people are usually fired). While Lisa Brummel is currently in charge of this seemingly pointless process, the bottom 7% receiving a 5. The fact that these reviews occur not once, but twice a year means that employees are almost constantly working with only these reviews in their heads, and not the long-term success of Microsoft (at a minimum, this review process needs to be scrapped. At most, Lisa Brummel needs to be fired as head of human resources).
One of the biggest threats to Microsoft's success is internal, not external. The company's corporate culture is one where power is centralized in all the wrong places, and where employees are treated not as assets, but as something needed to be categorized into an archaic ranking system that stifles innovation. The problems of this approach to employee management are clear. When employees are not happy in their work environment, they become less productive, and the company ultimately becomes less profitable.
Microsoft's corporate culture can be summed up in a simple cartoon by Google engineer Manu Cornet of the organizational charts of some of America's major technology companies. Microsoft's is shown below.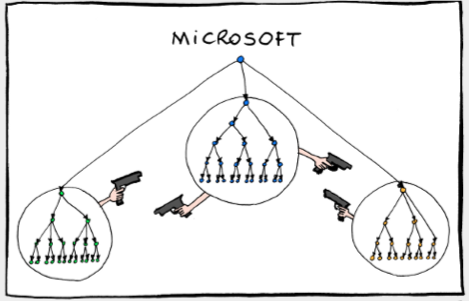 Steve Ballmer has allowed his divisions free reign for too long. This infighting has weakened Microsoft, for its various divisions spend more time fighting each other than they do responding to the company's competitors. But, there is a chance that change is on its way.
Q2 2013: The Catalyst to Fire Ballmer?
Microsoft's results for the second quarter of fiscal 2013 will be released sometime in January, and they will capture the holiday sales of both Windows 8 and Windows Phone. And how they are received in the marketplace by consumers will, in our view, play a large part in whether or not Steve Ballmer retains his position as Microsoft's CEO.
For Microsoft, success or failure in the consumer market will define how well it does in that market AND the enterprise market. There is an inexorable trend towards "consumerization" in enterprise computing. Employees are pushing to bring their own devices to work, and companies are becoming more and more willing to respond. And as Apple and Google continue to innovate and their products become more and more compatible with the workplace, Microsoft will find it harder and harder to recapture its leadership position in the sector. Should Windows 8 and Windows Phone perform poorly during the holiday shopping season, we believe that many more investors, as well as executives (and hopefully directors) within Microsoft will begin to question Steve Ballmer's ability to lead the world's largest software company.
Who Will Replace Ballmer?
The question on many investors' minds is this: even if Ballmer is fired, who will take his place? Bill Gates is much more interested in philanthropy than leading Microsoft, and while we commend him for dedicating himself to helping those in need, it removes his ability to return to the company he co-founded. And promoting an insider is unlikely to help alleviate Microsoft's internal issues, for its executives have been immersed in the toxicity of the company's corporate culture for too long. Microsoft needs an outsider to be its next CEO. This outsider must be someone with the personality of Steve Jobs. By that, we mean that this CEO must be able to take control of Microsoft's various corporate divisions and force an end to their infighting. The company's new CEO will have to realign their focus towards competing with Microsoft's competitors, not each other. This new CEO has to be someone who is able to raise morale at Microsoft. As Microsoft has slowly marched towards irrelevance, its employees have become more and more demoralized. One of a CEO's most important jobs is to rally his or her troops to the company's cause. Microsoft has an important part to play in the global technology sector, and the company's employees need to be reminded of that fact.
Microsoft's new CEO will also have to make several policy changes, starting with human resources. The current review process that Microsoft has needs to be scrapped, for Microsoft needs to show its employees that it values them, not that they need to be forced into competing with each other for a spot in the top 20%. And Microsoft's new CEO needs to give CFO Peter Klein complete control over corporate finance. Like at Apple, divisions need to be stripped of budgetary authority, with all financial aspects of the company centralized under the leadership of Peter Klein and his lieutenants. Microsoft's divisions need to concentrate on creating new products to challenge Apple, Google, and all the other companies that Microsoft competes in, not looking to save every penny they can. With tens of billions in net cash, Microsoft can afford to loosen its purse strings if that allows employees to thrive and be more productive.
Conclusions
We own shares of Microsoft indirectly via the Fidelity Growth Company Fund, and have debated for some time whether or not to buy shares directly. However, each time we look at Microsoft, we find ourselves unable to initiate a direct position. Steve Ballmer's continued presence is holding us back, and as David Einhorn has made clear, it is holding back many other investors as well. For investors who do not have a position in Microsoft and are thinking about whether or not to initiate one, we believe that the time to buy is not yet at hand. The time to buy will be after Q2 2013 results are reported. If Microsoft posts good holiday sales and profits, then fears about the company's position in the marketplace will abate. And even if the stock rallies, it will still be inexpensive (Microsoft's current P/E ratio is just over 15, which is low considering the vast amounts of cash sitting on the company's balance sheet). And if the company posts poor holiday sales, then we believe that discussions about ousting Steve Ballmer will intensify, and if he is indeed ousted as CEO, that will be a buying opportunity.
Does Microsoft face external pressures? Certainly. Competition is intense in the technology sector. But it is unfair to blame all of Microsoft's issues on its competitive position. Much of what ails the company is internal. From an inability to break away from Windows, to an inability to define itself, to an inability to keep its divisions from fighting each other, Microsoft's corporate culture is holding it back and preventing its thousands of talented employees from realizing their full potential. And at the end of the day, the person who is responsible for this is Steve Ballmer. Microsoft has the potential to reclaim its status at the top tier of the world's technology companies. But as long as Steve Ballmer remains CEO, that is unlikely to happen.
Disclosure: I am long MSFT, AAPL, GOOG. I wrote this article myself, and it expresses my own opinions. I am not receiving compensation for it (other than from Seeking Alpha). I have no business relationship with any company whose stock is mentioned in this article.
Additional disclosure: We are long shares of MSFT and GOOG via the Fidelity Growth Company Fund.