By Madeline Schnapp
It appears that the economic growth spurt we measured this summer may have been just a summertime fling. After three months of accelerating growth in July, August and September, so far in October, it looks like growth in wages and salaries is slowing.
Specifically, based on daily income tax withholdings to the U.S. Treasury, year-over-year growth in September wages and salaries went from a 2012 high of 5.1% y-o-y to 3.5% y-o-y in the first three weeks of October. That's a wage and salary decline of about $100 billion annualized, or about a 0.5% to 1.0% of GDP growth. Now before we get too excited about this recent turn of events, the decline may not be real and may simply be an artifact of the normal mid-month volatility in the data. We will know a lot more by the end of the week. You will just have to tune in to next week's Macro Musings to find out how this story ends.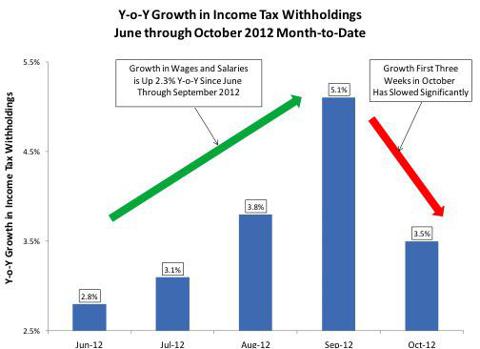 Source: TrimTabs Investment Research
We want to remind our viewers that in both August and September, our withholding tax based employment model has been been reporting much more rapid employment growth than the Bureau of Labor Statistics (BLS). Let's review, in August we reported 185,000 new jobs while the BLS initially reported only 96,000 new jobs then revised their estimate up 48% to 142,000 new jobs. The BLS' revised estimate is a lot closer to our initial August estimate. Then, in September, we reported job growth of 210,000 new jobs while the BLS reported a dismal 114,000. Not only do we believe the BLS employment estimates are wrong, worse still, the BLS missed the economic growth spurt this past summer. Why? We have two reasons.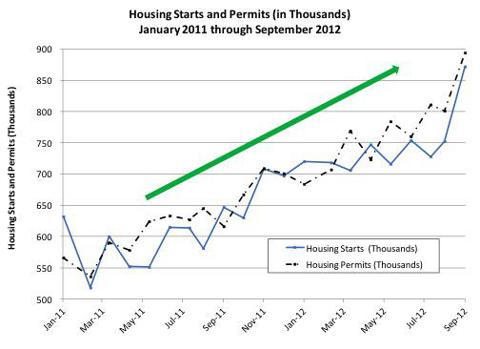 Source: U.S. Census Bureau
First, since July, we have been theorizing that the improvement in employment was due to the improvement in the housing market, specifically construction and sales activity. The Census Bureau reported in September that single family housing starts were up 41% y-o-y and multi-family starts were up 56% y-o-y. In addition, while existing home sales declined slightly in September, they are still up 11% y-o-y. Second, job growth this past summer was likely confined to small- and medium-sized businesses which are underrepresented in the BLS Establishment Survey.
All this sounds peachy, doesn't it? Faster economic growth? Isn't that just what Bernanke has been hoping for? Well, not so fast. The withholding tax data is now showing a slowdown in wage and salary growth by quite a bit, $100 billion annualized.
So that leads us to the other thing that we have been saying since July. If housing activity is the reason economic growth has picked up, then in our opinion, growth won't last because construction and home buying are seasonal and mortgage refinance activity is self-limiting. Once the available pool of home-owners with enough equity have refinanced, that economic growth driver is out of gas.
So why is economic growth slowing? We think its uncertainty surrounding the billions of dollars in new taxes that will flow from the productive sectors of the economy to the unproductive public coffers beginning January 1. First, on January 1, an estimated $260 billion in Obamacare taxes go into effect, regardless of what Congress decides to do about the expiring Bush tax cuts. Second, without a budget agreement, 8% of the defense department budget goes poof, yanking an estimated $50 to $60 billion out of that sector. That's a total of $320 billion that will disappear down the public sector memory hole. That means one thing folks - fewer jobs. In our book that is definitely NOT a recipe for ongoing economic growth.