Under-Delivering Management
When it was announced over one year ago that Ron Johnson will be joining J.C. Penney Company Inc. (NYSE:JCP), shares jumped over 10% on expectations that the former Apple (NASDAQ:AAPL) and Target (NYSE:TGT) executive would be able to bring some shine to the company. Those expectations still have not been met. J.C. Penney is down 26% YTD compared to its competitor Macy's (NYSE:M), which is up 25% YTD.
Bad Move to Eliminate Coupons
One of the problems was that J.C. Penney got rid of its coupons and deals earlier in the year to promote "everyday low prices", but that's a Wal-Mart strategy. By doing so, J.C. Penney completely ignored its main customer base and effectively said goodbye to its core market.
At the time, analysts applauded the move, but I highly doubt any analysts shop at J.C. Penney because this is the time when companies should be focusing on women's trends, as I wrote about in a previous article. J.C. Penney reintroduced a $10 coupon in an effort to attract its loyal customer base, but with Macy's offering timely 20% off coupons, it will be interesting to see how it affects the bottom line in the next quarter.
What do the Fundamentals Show for J.C. Penney?
In the meantime, let's see what the fundamentals have been showing and whether there are any clues for future performance. Here's a quick overview of how I view the company. I won't be able to go through everything, but it should give you an idea.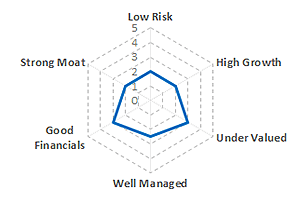 Valuation Ratios
I have 10 years of detailed financial statements to work with from the Stock Valuation and Analysis Spreadsheets, but I want to highlight the years from 2008 to reflect how the business has performed following the recession.
Click to enlarge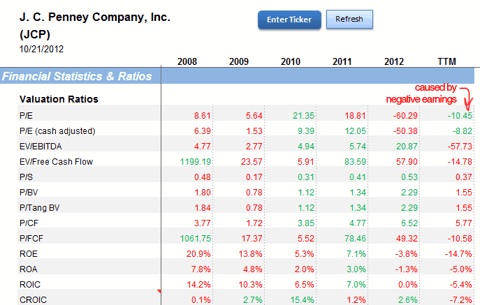 While Price to Cash Flow has been consistently low, when compared to Price to FCF, J.C. Penney has not utilized its cash effectively at all. This is also shown by the barely positive CROIC ratio throughout 2008-2012.
CROIC stands for Cash Return on Invested Capital and reflects the percentage return of cash from investments made. In J.C. Penney's case, looking at the TTM figure of -7.2%, J.C. Penney has lost 7.2c for every dollar it invests. ROE, ROA and ROIC are all negative according to TTM numbers.
Verdict: Bad signs of profitability and management effectiveness. Bad decisions are showing clearly in the numbers.
The Cash Conversion Cycle
The cash conversion cycle is an important number for retailers because it shows how efficiently management is running the business. If a company is able to reduce its cash conversion cycle, this is a great sign towards increased profitability, but J.C. Penney is showing more than a 50% drop in TTM compared to 2012.
However, going through the past 10 years, this has happened three times in total and promptly returned to the average 70 days - which is close to the industry average.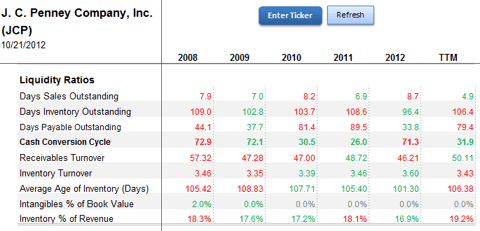 Here is a chart comparing the cash conversion cycle of J.C. Penney, Macy's, Nordstrom (NYSE:JWN) and Sears (NASDAQ:SHLD).
Nordstrom sells higher priced items and therefore the time it takes to convert the inventory to cash is higher.
Quality Check with Accruals
I like to go through a few quick checks with every company. The first one is checking the accruals to see whether there are any warnings signs.
Earnings growth due to accrual growth is not sustainable. This is like cookie jar accounting where a company "borrows" earnings from the future to make earnings look good today. Or it could be inverse where today's earnings are being held down to make future earnings look better.

Companies with high balance sheet accruals tend to have higher sales growth than low balance sheet accrual companies. The Sloan ratio is best when kept below 8%.
From the accruals since 2008, although 2010 saw the highest balance sheet accrual, it came promptly back down and does not raise any flags.
Piotroski Score Showing Decline
This is a 9 point system based on the below requirements.
Profitability
1. Positive return on assets in the current year (1 point)
2. Positive operating cash flow in the current year (1 point)
3. Higher return on assets (ROA) in the current period compared to the ROA in the previous year (1 point)
4. Cash flow from operations are greater than ROA (1 point)
Leverage, Liquidity and Source of Funds
5. Lower ratio of long-term debt to in the current period compared value in the previous year (1 point)
6. Higher current ratio this year compared to the previous year (1 point)
7. No new shares were issued in the last year (1 point)
Operating Efficiency
8. A higher gross margin compared to the previous year (1 point)
9. A higher asset turnover ratio compared to the previous year (1 point)

So far, the decline in business is clearly visible across the financial statements, ratios and accounting scores. The following graphs also show the same decline: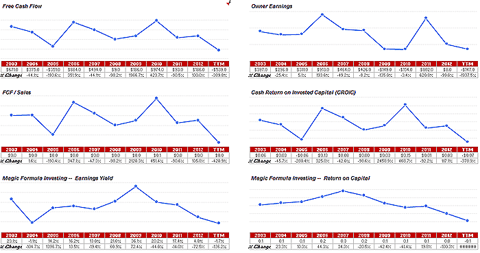 Difficult Company to Value
Retail companies should be easier to value than say an energy company or mining company because the business model is much simpler. However, with J.C. Penney, there are far too many moving parts and variables making valuation difficult.
Honestly, there is no consistency in the numbers to be accurately predict what future numbers will be, so rather than put garbage numbers into my models and get garbage out, I'll stick with a simple grading system from the Navellier stock model.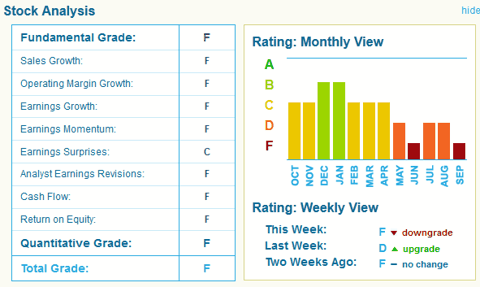 Summing Up
I didn't get into the hidden value aspect or the potential of the turnaround that J.C. Penney is trying to realize, but from the current state, there needs to be a big turnaround. On the brighter side, the expectations are very low and even small surprises could send the stock price shooting up.
Disclosure: I have no positions in any stocks mentioned, and no plans to initiate any positions within the next 72 hours. I wrote this article myself, and it expresses my own opinions. I am not receiving compensation for it (other than from Seeking Alpha). I have no business relationship with any company whose stock is mentioned in this article.