PepsiAmericas (PAS) is the world's second-largest bottler of PepsiCo (NYSE:PEP) beverages. Indeed, PepsiCo owns 44% of PAS. Brands licensed from PepsiCo accounted for 90% of 2007 sales, yet PAS also licenses beverages from other sources and sells its own brands. In general, PAS purchases concentrates, manufactures ready-to-drink beverages, and distributes them through supermarkets, convenience stores, restaurants, vending machines, and other channels.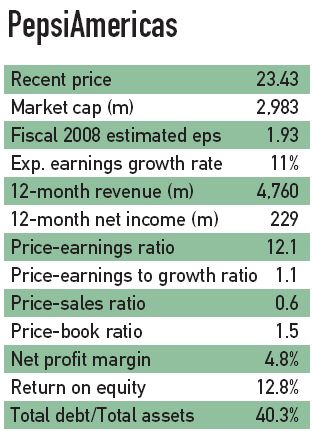 The company reports operating results through three geographic segments. The U.S. was responsible for 70% of first half 2008 sales. This territory consists of 19 states mostly in the Midwest. Pepsi, Mountain Dew, and Aquafina are top brands in the U.S. Central and Eastern Europe generated 25% of sales. Markets include Ukraine, Poland, Romania, Hungary, Czech Republic, and Slovakia. This segment includes distribution activities in Moldova, Estonia, Latvia, and Lithuania. Popular brands are Pepsi,Toma Water, Slice, Lipton Iced Teas, and Kristalyviz. PAS also distributes Frito-Lay snack foods in Czech Republic and Hungary. The Caribbean, which accounted for 5% of first half sales, consists of Puerto Rico, Jamaica, the Bahamas, and Trinidad and Tobago. PAS also has distribution rights in Barbados. The most popular beverages are Pepsi, 7UP, Desnoes and Geddes, Malta Polar, and Aquafina. This segment includes revenue from distributing Frito-Lay snack foods in Trinidad and Tobago.
The U.S. is a mature market with limited growth opportunities and has presented special challenges in recent years as consumers shy away from traditional carbonated soft drinks (CSDs) in favor of non-carbonated soft drinks and energy drinks. This evolution has opened the door to boutique beverage companies, allowing them to grab market share from the traditional players. More recently, the U.S. has been hampered with a slowing economy. Of course, raw material costs have been soaring everywhere.
By raising prices, management has boosted profitability at the expense of sales. At the same time, it is investing in growth abroad. It took a 60% stake in Sandora, a juice company in Ukraine, enhancing the company's ability to supply markets in Belarus,Azerbaijan, Russia, and other East European and Central Asian countries. PAS also bought a 20% interest in Agrima, a distributor of PepsiCo products in Bulgaria.
Q2 net sales increased 11.8% to $1.34 billion, with 8.7 percentage points coming from acquisitions. Price increases offset a decline in volume. Higher ingredient costs depressed the gross profit margin by 68 basis points to 40.78%. However, strong expense controls boosted the pro forma operating profit margin by 21 basis points to 12.35%. Pro forma net income jumped 21% to $90.9 million or 72 cents per share.
A weak economy, changing consumer preferences, and competition could hurt sales volumes. Indeed, despite a recent gain in market share for CSDs in the Midwest, management expects U.S. volumes to fall through the second half of 2008.
Full-year adjusted revenues should grow 13-14%. Earnings should rise 16-18%. Expansion in Europe should support growth through 2010. PepsiCo and CocaCola (NYSE:KO) branded products account for roughly 25% of the highly fragmented beverage market in Central and Eastern Europe. This is a market ripe for consolidation. It provides a rich pipeline of acquisition candidates.