In a recent article, I made a case for getting "very" long Kinder Morgan by purchasing KMI warrants that expire in 2017. Many readers salivated over the potential of these instruments and the possibility of generating big returns. In response, I cooked up this article to satisfy their hunger with a couple other warrants that may nourish their appetites.
Warrants For Beginners - The Appetizer
A warrant is an investment instrument that allows the buyer to purchase the underlying stock of the issuing company at a static exercise price until the expiration date, much like an option. The warrant premium is the price at which the warrant trades, similar to an option contract. Like call options, warrants can offer significant leverage, thus creating the chance of big profits while tying up a low amount of capital.
The primary advantage of warrants is they can last up to 15 years, while longer termed options usually only last for 2-3 years. This is a clear advantage when an investor is seeking long term exposure to a stock.
But which warrants are good investments? First of all, fully understanding the terms of the warrant is critical, as many are unique and could be one of a kind. Also, since warrants are generally leveraged more than shares, they come with a certain amount of risk that may not be suitable for certain investors. Evaluating your tolerance for volatile instruments should be considered. Now that we've had a taste of what warrants are all about, let's get to the main course.
JPMorgan Chase & Co (NYSE:JPM) Warrants - The Main Course
JPM issued warrants as a result of the financial crisis and the TARP program several years ago. Under symbol JPM+ in TDA and JPM-WT on Yahoo/Finance, these warrants expire 10/28/2018 and have an exercise price of $42.42. Basically, these stock warrants give the owner the right to purchase JPM common stock at $42.42/share any time between now and the next 6 years. They are trading for about $11.50 in premium, which makes the break even point $53.92/share.
Dilution protection:
Remember how we said how important the warrant terms are? The exercise price of this warrant has dilution protection which guards against excessive cash dividends. If JPM pays a quarterly dividend over $0.38/share on the common stock, the exercise price will be adjusted to compensate for this. Right now JPM pays $.30/share, so I doubt this protection will be needed anytime soon, but it's still a positive to have these terms if you decide to get long these warrants, especially if you consider what can happen between now and 2018.
Overall, these warrants offer a more leveraged way to gain exposure to JPM than shares. They offer increased profit potential if JPM fully recovers from the crisis and the economy somehow picks up to a more reasonable level of health. Buyers will miss the dividend payments on the common, but the leveraged nature of the warrants should offset these payouts if shares elevate. Also, the warrants should do a fair job of mirroring the common stock, as seen in the past: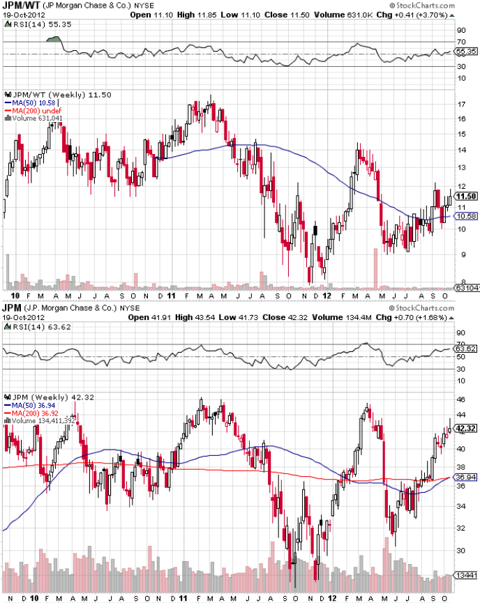 Buyers of these warrants should feel JPM shares will rise at a minimum 27% over the next 6 years. Talk about plenty of time for a trade to take place. In addition, buying on dips is a great way to get levered to an upside recovery in JPM for the short term oriented trader. The advantage of warrants versus options is not having to worry about time decay which is often a devious culprit evident in call options.
Sandstorm Gold Ltd. (SAND)
Sandstorm is small up and coming financier of gold mining. In return for calculated loans they provide to gold mining projects, they are entitled to a share of the profits at contracted rates. As described ever so eloquently by the CEO, they "contract gold streams". The company website does a nice job of explaining the company as well:
Sandstorm provides upfront financing for gold mining companies that are looking for capital. In return, Sandstorm receives a gold streaming agreement. This agreement gives Sandstorm the right to purchase a percentage of the life of mine gold produced, at a fixed price. Sandstorm is a non-operating gold mining company with a portfolio of eight gold streams (five of which are producing gold) and three NSR gold royalties. Sandstorm plans to grow and diversify its low cost production profile through the acquisition of additional gold streams.
Cramer featured the company back in September, where he highlighted the company's fast growing prospects. He mentioned SAND trades for "26x next year's earnings", "while doubling cash flows in 2012", and may increase cash flows "43% in 2013". In October, Cramer interviewed SAND's CEO Nolan Watson, who spent years working with Silver Wheaton Corp. (SLW). This video may help you understand the company and the speculative long case that Nolan did a great job of pitching on the show, Mad Money.
Sandstorm Warrants - Chocolate Cake
If Sandstorm's speculative characteristics are too risky for you, then discontinue reading now. Sandstorm warrants are even more speculative than the stock, for 2 reasons. The obvious is they are even more leveraged than the shares, and the other is they cannot be exercised by a US citizen. I guess not everyone is allowed to eat chocolate cake? A direct quote from the company:
U.S. securities laws require that a Company that wants to distribute securities apply to have those securities registered. U.S. securities law will permit a Company to distribute securities without having to register those securities if the Company is able to distribute those securities to individuals or persons pursuant to an exemption from the registration requirements of US securities laws.

The original distribution of warrants by Sandstorm was made pursuant to exemptions from the requirement to register securities under U.S. securities laws. The warrant indenture, which governs the rights of the warrants, provides that a transfer to, and the exercise of warrants by a U.S. person is prohibited unless that individual is able to provide to a legal opinion demonstrating that there is an exemption available from the registration requirements of U.S. securities law.

Please contact your legal counsel before attempting to exercise or transfer the warrants. Your legal counsel should be able to assist you in determining whether there is an exemption available to you that would permit you to exercise or transfer the warrants.
So if you are a US citizen, SAND warrants could be a problem, especially as expiration approaches. However, if properly managed, the warrants still may still be worth the reward in my opinion.
Sandstorm offers three warrants to investors who wish to invest in this up and coming company. There are two currently offered by most brokerages:
1) Sandstorm Gold Ltd Warrants expiration 04/23/2014: Symbol: SNXXF
Exercise Price $3.00, Premium $2.07
2) Sandstorm Gold Ltd Warrants expiration 10/19/2015: Symbol: SDXXF
Exercise Price $5.00, Premium $1.87
*It takes 5 of these warrants to convert into 1 Common Share
Let's compare these warrants to the longest dated option available at a similar strike price, the March 2013 7.5 Stirke for 6.35 in premium.
Warrant/Option

SNXXF 4/23/2014 Exp

SDXXF 10/19/2015 Exp
Call Option 7.5 Strike 3/15/13 Exp
Exercise Price
$3.00/share
$5.00/share
7.5/share
Premium
$2.07
$1.87
$6.35
Premium Req. for 100 Shares
$1,035
$935
$635
Time Until Expiration
18 Months
36 Months
5 Months
Implied Break Even Price/Share Common
$13.35/share*
$14.35/share*

$13.85/share

Current Price/Share Common
$13.59/share
Implied Move Required for Break Even
Trading Below Fair Value
4.6%
1.9%
Implied Move Required/Month for Break Even Point
Trading Below Fair Value
.13%
.38%
*(5 X Premium + Exercise Price for Warrants)
It seems these warrants offer a clear discount versus most of the options currently offered for the stock. Most notable is the 4/23/2014 warrants that are currently trading at or just below fair value. For the 10/19/2015 warrants, there is a less implied move required per month versus the deepest in the money call offered at the March '13 Expirations. In fact, the implied move required is 1/3rd as much per month for the life of the warrant, offering investors a more advantageous probability of turning a profit.
To perhaps compliment buying either of these warrants, one strategy could be to sell some out of the money options to help reduce net cost over time. This would effectively create a bull calendar call spread, with the warrant acting as the long leg, and the option being the short leg.
Say an investor bought 500 10/19/2015 expiration warrants, for $935 in cost. This would control 100 shares of common stock. Then, they could sell a March 2013 15 Strike Call for 1.30 in premium, or $130. This "spread" would cap the upside at $16.30/share, at $195 or 24% in profits in 5 months, since the break even on the warrants is $14.35/share. ($935 cost of warrants-$130 short option premium= $805 net cost (195$ profit/805$ cost=24% profit before fees). If shares stay somewhat steady, or anywhere below $15/share by the short leg expiration, the investor would simply keep the premium and let the short call expire worthless, and continue holding the warrants for another 32 months. At this point, the trade could be "rinsed and repeated" using a new date for the short call. Over time, this strategy could prove effective.
Disclosure: I have no positions in any stocks mentioned, but may initiate a long position in SAND, JPM over the next 72 hours. I wrote this article myself, and it expresses my own opinions. I am not receiving compensation for it (other than from Seeking Alpha). I have no business relationship with any company whose stock is mentioned in this article.
Additional disclosure: I have owned JPM common stock in the past year. I may initiate a position in any of the stocks, options and/or warrants mentioned over the next 72 hours. This article in not intended to provide investment advice or suggest any investment action.