Autodesk (NASDAQ:ADSK) has a stronghold in construction and infrastructure design, especially with government projects adopting the use of BIM standard. There is a long growth runway for Autodesk due to (1) BIM is only 50% penetrated globally according to management and (2) adoption of the BIM standard is accelerating. Overall, Autodesk will benefit from U.S. housing recovery and increasing infrastructure spending in emerging markets. The business of Autodesk is robust because (1) the switching cost for customers is high, (2) the company has 40% revenue recurring in maintenance that will grow with the installed base of licenses, and (3) an increasing unit revenue (+20% on average) from the installed base from suite penetration.
Despite solid fundamentals, the recent sales reorganization would probably need further fine-tuning using past examples as reference. As a result, there would still be volatility in strategy execution and financial results would be under pressure for the next quarter or two.
Company Description
Autodesk is a vendor of computer-aided design (CAD) software. Customers range from corporations to individuals. The firm was founded in 1982 and is based in San Rafael, California. Autodesk is the de facto 3D design standard within Architecture, Engineering & Construction (AEC) and Infrastructure (combined to be 66% of revenue) from a 30-year head start. The rest are in the manufacturing/ PLM space, where the firm competes with Parametrics and Dassault, and media & entertainment.
Autodesk is dominant in construction and infrastructure design because most government construction projects are mandated to follow Building Information Modeling (BIM), a 3D modeling/ simulation/ visualization requirement. And this standard, a shift away from 2D technology, is being increasingly adopted by governments worldwide. According to the Q4 2012 earnings call, "We've really hit the tipping point with BIM or Building Information Modeling. We've hit the point where there is a huge amount of demand from owners. It's being mandated by government agencies."
Revenue Mix
60% of overall revenue comes from new seat licenses and upgrades. Commercial new seat revenue is 67% of license revenue. Maintenance, which is 40% of revenue, includes new releases, enhancements, downloadable training courses and online support during the term of the software contract. Deferred revenue, at about $600m as of the latest Q, reconciles net billings with maintenance revenue. Most of the net billings are single-year contracts since the product cycle runs on one year, meaning deferred revenue will get recognized as revenue within 12 months. Maintenance growth rate is a function of the license sales during prior four quarters, the attach rate and the renewal rates.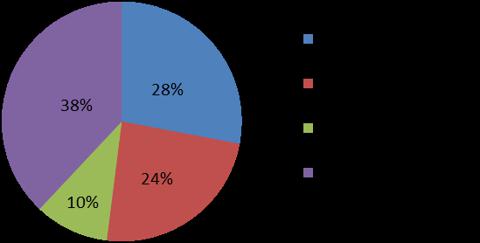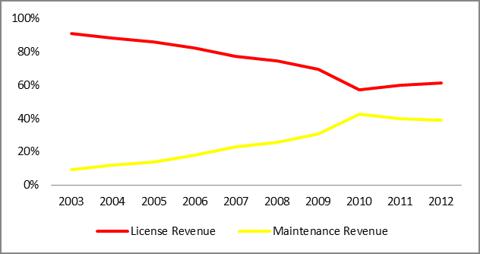 Driving top-line growth through suite penetration
Autodesk introduced suite in Q2 FY12 to replace product bundle. As of Q2 FY13, suites are 27% of license revenue and management would like to grow that to 70%. Suites would lift average spend per customer by 20%. Since 85% of sales come through channel partners vs. 15% company direct sales, Autodesk has encouraged sales teams and channel partners to represent the entire product portfolio targeted at industries rather than geographies through additional trainings and certifications to drive deeper suite penetration. This initiative has motivated management to reorganize the sales force by industry verticals vs. geographies.
P&L waterfall and free cash flow
Autodesk has 90% gross margin and spent 40% of revenue in marketing, 25% in R&D and 10% in G&A. Excluding stock-based compensation and amortization of acquisition-related purchased intangibles, adjusted operating margin improved 480bps in FY11 and 360bps in FY12 to about 25%. The company targets 30% margin by FY15.
CapEx is 2-3% of revenue. With zero debt, cash is 20% of market cap at $1.4 billion (>80% off-shore). Autodesk generated about $500 million free cash flow in 2010 and 2011 on about $2 billion revenue. The company spent $200 million in tuck-in acquisitions in FY12 and the rest went to shares repurchase. The company has a $1.4 billion buyback program outstanding.
Sales reorganization gone bad
To drive suite penetration, management implemented a reorganization on the sales force, changing from a geo-organized sales force to one that focuses on industry verticals. The reorganization blew up last quarter, when management had to cut revenue guidance (from at least 10% growth to 4%-6%) and adjusted operating margin guidance (200bps expansion to 150bps expansion) for FY13.
The management confirmed its guidance of at least 10% top line growth during its Analyst Day in July. The surprised cut in August is summed up by an analyst's question during the earnings call:
"So how does that work? You've got one month left in the quarter and all of the sudden that falls off, I mean the resellers presumably are selling on their own, is it that your guys weren't monitoring that closely enough to see that folks were all of sudden found behind and trying to do things to pull that back in line?"
The reorganization was a significant organizational change, with many employees taking on new roles, new customers, new managers and teams. Management admitted that "it's clear that our reorganization and having people in different positions slowed us down in the quarter." Most people still had the same job, but the chain of command had changed, because the sales force is organized in industry vs. geography and "some of these incentives got out of whack with some of our channel partners." Therefore, "it probably impacted our ability to get quotas and targets out to our sales force and our ability to measure the results as they came in."
A historical examination of reorganization
According to an analyst at the Q2 earnings call, "typically in software, when you make major changes to go to market and sales, it takes three quarters for things to settle out." Exide (XIDE), Ford (NYSE:F) and P&G (NYSE:PG) went through a similar business reorganization in the past - shifting from geography focused to product focused. Their examples are used to analyze the current reorganization at Autodesk.
1. Exide Technologies

In 2000, Robert Lutz, Chairman and CEO of Exide, spent $8 million to form business units around the company's various product lines, replacing geography. Half of Exide's top European managers resigned after feeling demoted. The reorganization didn't last long. When Exide bought GNB Tech in May 2000, Mr. Lutz tilted the organization structure back toward a geographic model by letting Mr. Bregman, the president of GNB's industrial-battery division, keep control of the North American industrial-battery business. After two more quarters of reshuffling, Exide emerged using a blend of geography and product-line org structure.
2. Ford Motor

Under "Ford 2000," Ford abandoned functional departments and geographical divisions and pursued a product-based model. The reorganization, begun in 1995, saved the company $5 billion. However, Ford's European market share in 2000 dropped to 8.8% from 13% five years ago. Between 1996 and 1999, its European division went through four different executives. By early 2000, Ford restored some of its regional executives' lost authority. Ford emerged as a blend of product and geo-focused org structure.
3. P&G
Until 1998, P&G was organized along geography. Under "Organization 2005," P&G shifted from four geo-based business units to five product-based business units - Baby, Feminine & Family care, Beauty Care, Fabric & Home Care, Food & Beverages and Healthcare. However, P&G did not anticipate the disruption when shifting thousands of employees into new jobs. The company's goal of cutting 13% of workforce certainly did not help morale. Managers started complaining to the board, and CEO Jager was forced out after 17 months. His replacement CEO, Alan Lafley, reinstated some of P&G's geographic focus.
Takeaway from past reorganizations
A Bain study of 57 major reorganizations found that less than one-third has added shareholder value. Successful reorganizations enable people in the organization make better decisions and align executions with incentives. According to HBR, reorganizations disrupt relationships that get things done and hinders productivity until connections can be rebuilt within the new structure.
What does that mean for Autodesk?
Autodesk is currently going through two initiatives: (1) pushing customers towards suites and away from point products and (2) restructuring to accelerate the shift towards cloud and mobile computing. The first initiative would depend on the reorganized sales force (85% of revenue comes from indirect sales channels) and the second initiative would depend on how quickly customers adopt a new billing model (from perpetual license/ upgrades to annuity/ term offerings). Looking at history, it is likely that the sales force will emerge as a hybrid (geo/ industry focused) model to align chain of command and incentives. Therefore, there will still be volatility in executions and thus pressure on financial results in the next quarter or two.
Bottom Line - Consensus still too high, staying on the sideline for now
After the Q2 report, FY13 sales growth was revised from +15% to +7.5% and consensus now expects 150bps adjusted operating margin expansion. The company is cutting spending (COGS + Operating expenses) from the 6% run rate to -2% and +2%. That should help margin. However, FY13 sales growth is 150bps above the upper range of management guidance (4%-6%) and EPS has barely bulged since the Q2 miss. With the still high consensus expectation and the lingering reorganization, there would be opportunity in the next quarter or two to buy in this solid business.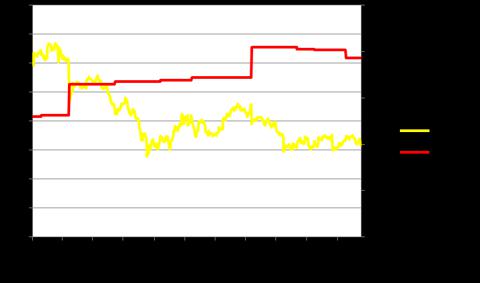 Source: FactSet
Disclosure: I have no positions in any stocks mentioned, and no plans to initiate any positions within the next 72 hours. I wrote this article myself, and it expresses my own opinions. I am not receiving compensation for it (other than from Seeking Alpha). I have no business relationship with any company whose stock is mentioned in this article.