Novo Nordisk A/S (NYSE:NVO) has been on an uptrend since July 2012, thanks in large part to strong second quarter results. However, this Denmark-based healthcare company is also benefiting from a growth-oriented sales guidance and an impressive portfolio of diabetes products. ADRs of Novo Nordisk hit a 52-week high of $169.74 on October 19.
With a more than 46% year-to-date return and a long-term growth projection of about 18.4%, this Zacks #1 Rank (Strong Buy) looks like a solid growth pick.
Strong Second Quarter and an Upbeat Guidance
On August 9, Novo Nordisk reported second quarter 2012 earnings of $1.60 per American Depository Receipt, up approximately 20% from the year-ago period. On a half yearly basis, earnings were approximately $3.08 per ADR, up approximately 17% from the comparable period last year.
Revenues increased 22% on a reported basis and by 13% in local currency basis compared to the same period in 2011.
Novo Nordisk increased its sales growth guidance for 2012 to between 9% and 12% in local currencies, up from the previous guidance of 8% to 11%. Continued market penetration of key products is expected to drive sales growth.
Encouraging Pipeline News
On October 19, the Committee for Medicinal Products for Human Use (CHMP) of the European Medicines Agency (EMA) recommended the approval of NVO's diabetes candidates Tresiba and Ryzodeg in the European Union (EU). A final decision on the approval of the candidates is expected from the European Commission by year end.
The candidates, currently under review in the US, were approved in Japan in September 2012. If the diabetes candidates are approved in the EU as well as in US, Novo Nordisk's top line would be boosted further.
Earnings Momentum Grows
Over the last 90 days, the Zacks Consensus Estimate for 2012 climbed approximately 5.5% to $6.38 per ADR, including an advance of 4% in the past 30 days. For 2013, the Zacks Consensus Estimate has increased 8.7% in 3 months to $7.64 per ADR, with a gain of 4% in the past month.
The earnings estimate for 2012 represents a year-over-year jump of approximately 19.8%, while the estimate for 2013 suggests an increase of 19.9%.
Premium Valuation Justified
Novo Nordisk currently trades at a forward P/E of 26.4x, reflecting a huge premium of 84.6% to the peer group average of 14.3x. Also, on a price-to-book basis, ADRs are trading at 18.0x, a 318.6% premium to the peer group average of 4.3x. Given the company's strong product portfolio and pipeline, the premium valuation is justified and well supported by its long-term estimated earnings growth rate of 18.4%, compared to the peer group average of 6.2%.
A Look at the Chart
The chart below shows that the stock has been consistently trading above both the 200-day and 50-day moving averages since early July 2012. Volume is fairly strong, averaging roughly 240K daily. The stock delivered a year-to-date return of 46.2%, outperforming the S&P 500's return of 12.2%.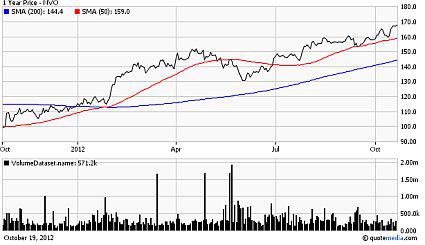 Headquartered in Bagsvaerd, Denmark, Novo Nordisk is a global healthcare company with a market cap of $97.4 billion. The company is a world leader in the field of diabetes care, and one of the leading players in the fields of hemophilia care, growth hormone therapy and hormone replacement therapy. Novo Nordisk markets its offerings in more than 180 countries across the globe.
Novo Nordisk operates in two segments - Diabetes Care and Biopharmaceuticals. Marketed products of the Diabetes Care unit include Victoza, Levemir and NovoRapid. Products in the Biopharmaceuticals segment include NovoSeven and Norditropin.
Read the full analyst report on NVO (email registration required)