Shares of Wal-Mart Stores, Inc. (NYSE:WMT) have steadily returned 32.91% over the past 12 months. At $75.65 per share, the stock is trading very close to its 52-week high of $77.60 reached recently. WMT's strong price appreciation may be largely attributable to the high demand from income investors, given the stock's decent dividend yield and defensive business nature, as well as the low-interest environment. Will the uptrend momentum continue? In this article, I will walk you through my analysis that may help in your decision-making.
Wal-Mart appears to be fully valued relative to the company's financial performance (see table below). Comparing to a peer group consisting of WMT's competitors such as Target (NYSE:TGT) and Costco Wholesale (NASDAQ:COST), growth potential seems to be the company's primary weakness. Analysts on average predict WMT's revenue, EBITDA, and EPS to rise by 2-year CAGRs of 5.0%, 5.3%, and 9.1% over the current and next fiscal years. The estimated rates are lower than the peer averages at 6.7%, 8.1%, and 15.9%, respectively.
In addition, WMT's EBITDA margin is forecasted to remain flat over the same period, compared to the peers' average expansion of 0.2%. Despite the lower growth ahead, WMT has a fairly comparable profitability. All of the company's profitability margins are more or less similar to the peer averages, and both the ROE and ROIC ratios are above the averages.
In terms of leverage and liquidity, WMT assumes a slightly higher debt level as reflected by the firm's higher debt to capitalization and debt to EBITDA ratios. WMT's trailing free cash flow margin is above the peer average, but its interest coverage rate, current ratio, and quick ratio are all largely below the par.
Click to enlarge

In summary of the financial comparisons, WMT's weak growth prospect seems to be a major valuation drag. As such, I believe a fair value for WMT would be somewhat in line with the peer-average valuation. The current valuations for the stock at 8.6x EV/EBITDA, 22.9x EV/FCF, and 15.9x P/E (all on a trailing basis) represent an average small valuation discount of 2.8% to the peer-average trading multiples (see table above), suggesting that the stock is likely fairly priced.
Comparing WMT's current valuations to the long-term historical levels, we can probably come to the same conclusion. WMT's current trailing EV/EBITDA and P/E multiples are trading at discounts of 12.6% and 13.5% to their 10-year historical averages (see charts below). The valuation discount is justified by the firm's declined revenue, EBITDA, and EPS growth rates.
According to the chart shown below, WMT's estimated FY2015 revenue and EPS growth rates as well as the FY2012 actual EBITDA growth rate have slowed down significantly from their historical levels in FY2003 and FY2004. It should be noted that WMT has done an excellent job in maintaining a stable profitability as the company's profit metrics have all been riding on a steadily improving trend (see charts below).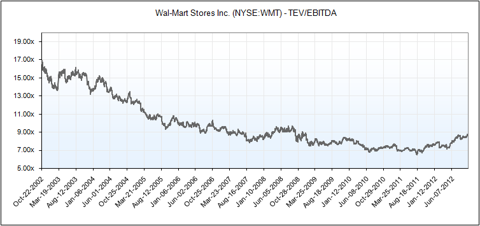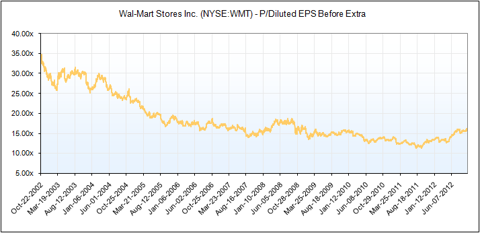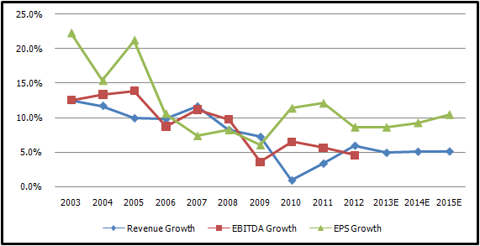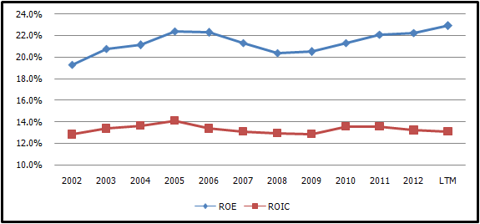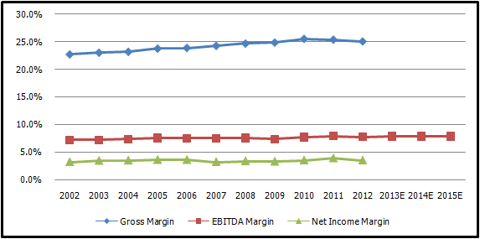 Moreover, the performance of WMT's forward P/E multiple have exceeded that of the S&P 500 index over the past 12 months (see chart below). I believe WMT has reached a fair valuation relative to the overall market as analysts' estimated long-term earnings growth of 9.73% for WMT is higher than the average of 7.85% for the S&P 500 companies (according to Capital IQ), and as such a slightly higher valuation can be explained.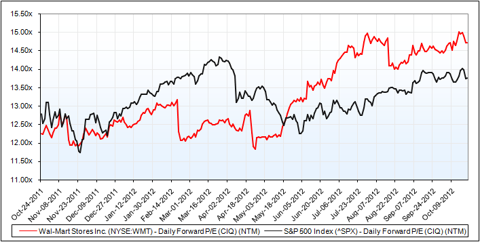 On the dividend side, I believe WMT's current dividends are safely backed by the firm's solid dividend growth and robust free cash flow. The stock currently offers a 2.1% dividend yield. The dividend per share had been raised by a 10-year CAGR of 18% from $0.28 in FY2002 to $1.46 in FY2012, and the annual growth rates in recent years remain strong within the range between 10% and 20% (see chart below).
Over the past decade, the annual dividend paid was fully covered by WMT's growing free cash flow (see chart below), indicating that there remains an ample capacity for further dividend hikes.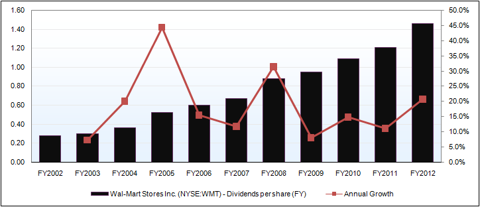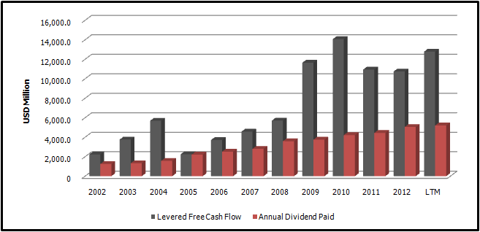 Based on the chart shown below, over the past five years, WMT's dividend yield frequently hovered at roughly the 2.10% level, as yield-hungry investors were attracted to the stock once the yield reached a higher level (i.e. above 2.45%). Assuming a target dividend yield at 2.1%, and supposing that the annualized dividend per share would be raised by 10% from the current level at $1.59 to $1.75 after the next dividend payment period in December 2012, the scenario implies a target stock price of $83.40, representing a 10% upside over the current market price.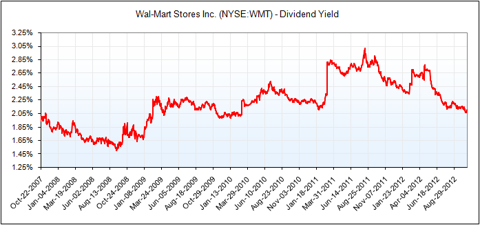 Bottom line, despite the fully-priced valuations, WMT's strong free cash flow and dividend growth could still offer some upside. However, since the investment's margin of safety is diminished, I recommend selling some out-of-money put options to establish a long position in the stock.
Comparable analysis table is created by author, all other charts are sourced from Capital IQ, and all financial data is sourced from Morningstar and Capital IQ.
Disclosure: I am long COST. I wrote this article myself, and it expresses my own opinions. I am not receiving compensation for it (other than from Seeking Alpha). I have no business relationship with any company whose stock is mentioned in this article.