It took a while, but the British pound (NYSEARCA:FXB) finally broke down against the U.S. dollar with a recent break below the 50-day moving average (DMA).
image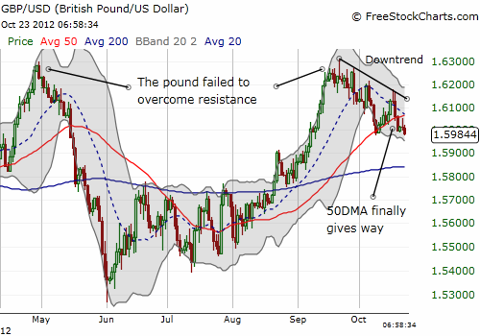 After failing to break resistance, the pound breaks down and confirms on-going downtrend
Source: FreeStockCharts.com
This breakdown is occurring ahead of the Federal Reserve's next statement on monetary policy tomorrow (October 24th) and announcements on GDP for the third quarter for the U.S. and the U.K. Expectations are that the U.K. will finally register quarterly GDP growth at 0.6% although this is still a -0.5% year-over-year decline. The U.S. is expected to log a 1.8% annual growth rate. The current trends seem to confirm that the growth differentials between the U.K. and the U.S. will persist and will once again weigh on the currency pair.
Earlier this month I turned bearish once again on the British pound because of the onset of more austerity for the British economy. The promise of more austerity is likely contributing to a fall in U.K. consumer sentiment despite falling inflation and stable incomes. From Reuters:
The Household Finance Index rose to 39.0 in October from 38.4 in the previous month, reaching its highest level since December 2010… the current level still indicates that many more people experienced a worsening in their situation than an improvement.

Household finances were supported by stable employment income in October, alongside a reduced squeeze on cash availability and the most marked drop in debt levels for just over two years.

But households' optimism about the future took a sharp knock, dropping to its lowest so far this year, and perceptions of inflation were their highest since September last year, when inflation hit a three-year high of 5.2 percent.

By contrast, inflation last month dropped to its lowest in more than two years at 2.2 percent, and official data earlier this week also showed the highest number of people in work since records began in 1971.
Clearly, some seeds of near-term improvement have planted themselves in the U.K. economy. However, continued deleveraging even as the Bank of England and the British government have worked to free up lending (the Funding for Lending Scheme) should act as soft brakes on near-term economic growth.
Be careful out there!
Disclosure: In forex, I am short GBP/USD. I have no positions in any stocks mentioned, and no plans to initiate any positions within the next 72 hours. I wrote this article myself, and it expresses my own opinions. I am not receiving compensation for it (other than from Seeking Alpha). I have no business relationship with any company whose stock is mentioned in this article.