The most important thing to understand about steel is that China drives the market. China has almost half the world's steel production capacity. So although developments such as an improvement in U.S. car sales can give a speculator some comfort, in the end they're really not that important fundamentally. If China is still weak, then sooner or later any temporary improvement in U.S. car sales is overwhelmed.
Steel prices in China
The most followed Chinese steel price is for steel rebar. Steel rebar - or steel reinforcing bar - is used in construction, which already gives us a feeling for the importance construction plays in terms of demand for steel.
Due mostly to a slowdown in residential construction, along with ever-increasing steel production capacity, this year hasn't been easy for Chinese steel producers. As we can see below (source: Bloomberg), steel went into a steep dive after April, bottoming during early September both on news of Chinese economic stimulus and later, on sentiment effects from worldwide monetary stimulus.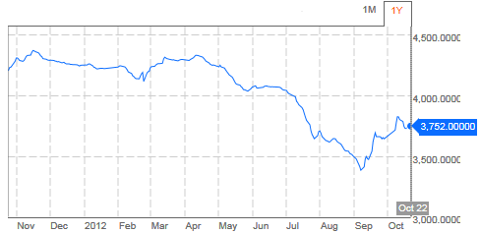 There is reason to believe this latest recovery in steel prices was just a temporary bounce. The weakness in Chinese housing starts is set to continue, economic stimulus is rather weak, slow and only replaces past stimulus and the monetary orgy will have trouble transmitting itself to the real economy.
If the Chinese steel market weakens again, then it's quite likely that the steel market worldwide will suffer. Chinese producers will try to offset internal weakness by exporting steel, and this will transmit their glut worldwide, in a movement that's made stronger by the fact that Europe is also undergoing a substantial slowdown, especially in auto production and sales.
What does this mean for U.S. quoted stocks?
U.S. Steel (NYSE:X), AK Steel Holding Corporation (NYSE:AKS), Arcelor Mittal ADR (NYSE:MT) and even Nucor (NYSE:NUE) get periodically pumped up on good economic developments, the thesis being that these are cyclical stocks and when the economy improves their activity is favored. This ignores the fact that steel is trending towards a worldwide market whose prices and margins are being set in China.
However, after each rally and each pricing increase failure, the market is increasingly acknowledging the obvious. That's why one sees the stock market so close to its highs, and yet steel stocks have gone nowhere, with U.S. steel trading for one third its early 2010 quote.
What this means is that at this point, steel stocks such as U.S. Steel are mostly trading sardines. They can only be bought for short amounts of time when the market is trading higher on cyclical growth hopes. These hopes, regarding steel, will be mostly temporary as the steel oversupply situation in China has little chance of resolving itself quickly.
Conclusion
U.S.-quoted steel stocks such as U.S. Steel are no longer really driven by changes in economic prospects in the U.S. Instead, these steel stocks have their prices and margins dictated by events taking place in the steel industry in China. The Chinese steel market is oversupplied and that's a situation that's not likely to change for a long while. As such, recoveries in U.S. steel producer shares, when they happen, are likely to be temporary.
I believe that the latest bounce in Chinese steel prices has almost run its course, and barring new Chinese economic stimulus, it's likely that we'll see another leg lower in Chinese steel prices. When it happens, it will again have an effect on U.S. steel stocks.
Disclosure: I have no positions in any stocks mentioned, and no plans to initiate any positions within the next 72 hours. I wrote this article myself, and it expresses my own opinions. I am not receiving compensation for it (other than from Seeking Alpha). I have no business relationship with any company whose stock is mentioned in this article.