PPL Corp. (NYSE:PPL) has well diversified business operations. The company has reported a strong financial performance in the past. In the last five years, the company has experienced a decent growth rate of 4% per annum. However, despite offering a high dividend of 4.8% in this low yield environment, the stock, at current valuations, does not look attractive for those looking for capital appreciation. Its valuations are not supported by its growth rate for the next five years, which is negative 8% per annum. Investors looking for dividend income only can buy the stock for its attractive dividend yield. The stock is up 1.9% YTD. We have a neutral rating on the stock.
PPL Corp. is an energy and utility holding company. The company's primary operations are generation, distribution, transmission and sale of electricity in the U.S. and U.K. Over the years, the company has transformed from a small energy company to an internationally diverse company. The company has approximately 10 million customers with a generation capacity of over 19,000MW. The company is also involved in providing energy related products and services to industrial and commercial customers. It has four segments, namely Kentucky Regulated, UK Regulated, Pennsylvania Regulated and Supply. The company operates in an industry that has somewhat constant demand, and has lesser fluctuations with changing economic cycle. The company has a beta of 0.18.
The company had a strong performance in the second quarter of the year. It reported revenues of $2.55 billion in the quarter as compared to $2.49 in the previous year's same quarter. The company was able to beat earnings. Reported earnings per share for the quarter were $0.46 as compared to $0.35 in 2Q2011. The increase in earnings was primarily driven by the U.K.-regulated segment, which experienced an increase of almost 45%, mainly due to higher delivery revenues at WPD Southwest and South Wales, lower income taxes and lower financing costs. Operating income margin for the quarter was down to 22.4% from 23.9% in 2Q2011. The decrease in margin was due to higher other operation and maintenance expense, and depreciation.
The company has been issuing equity in the recent past. By the end of the recent second quarter, common shares outstanding increased by 3.2% as compared to 2Q2011. The company intended to limit its equity issuance to $100 million per year for the next two to three years. Previously, the management was expected to issue $350 worth of equity annually. The company has international exposure including U.K. operations. To avoid the negative impact of foreign exchange movement, the company has mostly hedged currency exposure for 2012 and 2013.
For the third quarter ended in September, the company is expected to report $2.29 billion and $0.45 in revenues and earnings, respectively. For the full fiscal year 2012, it is expected to earn $2.3 per share as compared to $2.73 per share in fiscal year 2011, down 15%. Earnings are expected to fall because of lower energy margins in the supply segment. Revenues for the year are expected to be $11.65 billion.
The company offers an attractive dividend yield of 4.8%. Dividend offered by the company is on the higher side, as compared to its competitors. The company has a strong history of dividends. It has increased dividends from $0.305 per quarter in 2007 to $0.36 in 2012. The company has a strong operating cash flow yield of 15%, coupled with a dividend history, which indicate the company will be able to maintain its dividends in future.
The chart below shows the company's debt maturity profile.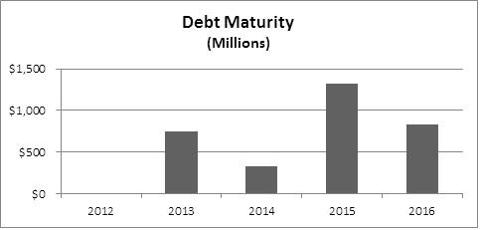 Source: pplweb.com and Qineqt's estimates.
The company has a high debt and its debt-to-equity of 180% does not portray a healthy picture. The company has a credit rating of BBB. However, if the company issues common equity in future as expected, this would help it lower its debt to equity. Also, the company's gross margin of 34% is on the lower side, as compared to its competitors.
| | | | | | |
| --- | --- | --- | --- | --- | --- |
| | PPL Corp. | Duke Energy Corporation (NYSE:DUK) | American Electric Power (NYSE:AEP) | Southern Company (NYSE:SO) | Avg |
| Dividend Yield | 4.8 % | 4.7 % | 4.2 % | 4.3 % | 4.4 % |
| Total Debt to Equity | 180 % | 96 % | 123 % | 114 % | 110% |
| Gross Margin | 34 % | 41 % | 36 % | 40 % | 39 % |
Source: yahoofinance
| | | | | | |
| --- | --- | --- | --- | --- | --- |
| | PPL | Duke Energy | American Electric Power | Southern Company | Average |
| P/E forward | 12.5 x | 14.8 x | 14.3 x | 16.5 x | 15.2 x |
| PEG | -1.5 | 6.3 | 4.3 | 3.2 | 4.6 |
| Beta | 0.2 | 0.15 | 0.34 | 0.13 | - |
Source: yahoofinance
Despite the fact that PPL has a lower forward P/E of 12.5x as compared to its competitors, an average of 15.2x, the company does not offer an attractive investment for those looking for capital appreciation. The company's forward P/E is not supported by its growth rate. It has negative growth rate for the future, mainly because of an increase in shares outstanding and higher depreciation expenditure in the coming years.
Risks
There are few risks associated with the company's future performance. As observed in the past, the performance of utility companies is dependent on weather patterns, meaning that moderate temperatures during summers and winters can negatively impact the company's top and bottom lines. Moreover, PPL is exposed to government regulations related to its business operations; changes in regulations can have an adverse impact on the business' performance.
Disclosure: I have no positions in any stocks mentioned, and no plans to initiate any positions within the next 72 hours.
Business relationship disclosure: The article has been written by Qineqt's Utilities Analyst. Qineqt is not receiving compensation for it (other than from Seeking Alpha). Qineqt has no business relationship with any company whose stock is mentioned in this article.