When Republican Candidate Mitt Romney won the first debate on October 3rd, the dollar weakened against all major currencies and stocks soared. When President Obama won the second debate, U.S. equities also enjoyed a nice rally, the EUR/USD appreciated but the dollar rose against the CAD and NZD. Today, most polls cite Obama the winner of the third and final debate and the dollar is trading higher against all of the major currencies - in other words, there has been zero consistency in the performance of the dollar after the debates.
Republican policies tend to be friendlier to business but based on a study conducted by Fidelity, U.S. stocks do better under Democrats than Republicans. Analysis of the past 12 elections over the last 48 years found that stocks enjoyed an average annualized return of 12% under Democrats and 6% under Republicans. The performance of the dollar is even more confusing and less consistent.
We took a look at how the Dollar Index performed between the time a Democrat or Republican won the election to the day they took office on January 20th. We'll look further out as the week progresses. Our Bloomberg Dollar Index data only goes back to 1975 and while this data is interesting, statistically it is not significant because it only covers 9 elections and 6 different Presidents. As you can see in the table below, there is very little consistency in how the dollar performs because it appreciated after the victories of Republicans Ronald Reagan and George H Bush as well as the victories of Democrats Bill Clinton and Barack Obama.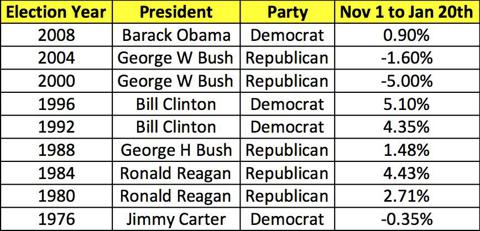 Disclosure: I have no positions in any stocks mentioned, and no plans to initiate any positions within the next 72 hours. I wrote this article myself, and it expresses my own opinions. I am not receiving compensation for it. I have no business relationship with any company whose stock is mentioned in this article.