A recent report from Credit Suisse revealed that Australians have the world's highest individual net worth. A median wealth per adult of $193,653. An earlier Credit Suisse research study showed that the world's best performing stock market between 1900-2009 was also Australia - posting 7.5% inflation adjusted returns for the 110-year period, with a standard deviation of 18.2%. Those returns were the highest, and the volatility the second lowest of the 19 major markets studied. The first study could be dismissed as a short term phenomenon - a product of the natural resource boom of recent years, but the stock market study would suggest a structural difference in both the economy and shareholder culture which bears further examination.
I should quickly add that I am not an Australian exhibiting a "home bias." National pride is not at work here. But U.S. dividend income investors' home bias might be locking them out of markets that reward them more highly than at home. For those not familiar with the term, home bias is "the tendency for investors to invest in a large amount of domestic equities, despite the purported benefits of diversifying into foreign equities," according to Investopedia.
So let us examine what sets the Australian market apart, and what benefits that offers the income investor:
A high payout ratio.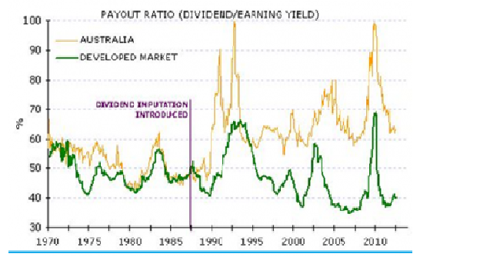 Source: Eurekareport
All else being equal, the single most important determinant of dividend income is the percentage of earnings that a company distributes to stockholders. In 2011, the largest 50 Australian companies by market cap had an average payout ratio of 65%, giving an average yield of 5.2%. By contrast the average payout ratio of the S&P 500 the same year was 28%. The yield? 1.97%
That factor alone emphasizes that the value Oz places on income - stock price appreciation is secondary. The difference in the Australian value is structural rather than temporary. Australians demand different things from their equity investments than U.S. investors. Sixty years ago U.S. investors' prime motivation for holding stocks was for the income they generated. In Australia this still holds true. This is reflected in the Australian franking or tax credits attached to the dividends paid to shareholders. Unlike the U.S. tax regime that encourages the retention of earnings and share buy-backs with excess cash, the Australian dividend imputation system makes it more logical for companies to return their earnings to shareholders. Franking credits are a way to reduce or eliminate the double taxation of dividends that occurs in most developed economies. For a more detailed explanation of how franking credits work click here.
Readers should not be fooled into thinking that the differential in payout ratios is merely due to the different tax treatment of dividends down under. Payout ratios were higher in Australia even before the introduction of dividend imputation. Unlike the U.S., (where payout ratios have been falling for the last 30 years), Australian payouts have fluctuated around current levels since the 1970s. More accurately, franking credits reflect the emphasis Australian equity investors put on income. Other developed markets that have much higher tax levies on dividend income, e.g. Europe, also offer significantly higher average payout ratios than U.S. corporations. Rather, it is the "Daddy knows best" mindset of U.S. boardrooms that keeps payout ratios low at home - not the absolute level of tax levied. U.S. management believes that it can make better use of the cash than shareholders. To quote Benjamin Graham: "typical management will operate with more capital than necessary, if the stockholders permit it - which they often do." Australian stockholders will not. They demand (and get) their rightful share of the earnings stream.
Australian Withholding Tax
I should point out that the dividend franking credits are only relevant for Australian residents. The good news for U.S.-based investors is most large Australian corporations pay out their dividends fully franked. Fully franked means 100% of all corporation taxed owed have been paid; and because Australia (like New Zealand) has abolished double taxation of dividends, you receive the whole dividend - regardless of domicile. If the dividend is not fully franked, 30% Australian withholding tax will apply. You can claim partial tax credits on your U.S. tax return under the double-tax agreement between the U.S. and Australia, but it is better to get all the cash up front in my opinion. Owning stocks that are 100% franked gives you the benefit of the Australian high payout model, without the tax hassles of foreign stock ownership.
Earnings
Income investors know that dividends contribute +50% of total stock returns. That figure goes up if dividends are reinvested. In a market with a high payout model, such as Australia, it is possible to leverage the compound effect of reinvestment, because you are already starting out from a higher level. As the Credit Suisse report shows, it is the income paid out by the companies themselves to the stockholders that is the biggest contributor to Australia's outperformance.
ASX 200 - Earnings per Share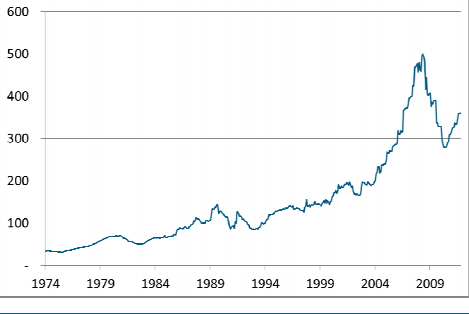 Source: IRESS
High payout ratios are only as valuable as the underlying earnings per share (EPS). If EPS is stagnant or falling, increasing the payout can only come at the expense of increasing the payout ratio. Since the mid 1970s, EPS at Australian companies has been growing at 6.4% per annum. Dividends have grown at the same pace, while the payout ratio has remained static. The Australian economy is healthy, despite the scaremongering about real estate bubbles, and the slowdown in China. In fact Australia was one of the few OECD countries that avoided recession in the 2008/09 period. For a more detailed discussion of the general health of the Australian economy and its banking system in particular see my previous SA article, "With 7% Yield, Australian Big 4 Banks Offer Better Value Than Canada's Big 4."
The Takeaway
By dropping a home bias, U.S. investors can access income streams outside of their home market, which are superior to what is available at home. Australian corporations simply payout more of their earnings.
This is not achieved by taking on more risk, but through ownership of quality corporations whose management cultures still believe earnings should be returned to shareholders in the form of cash dividends.
A tax regime that largely eliminates the double taxation of dividends. This regime can also benefit non-resident shareholders.
The Small Print
Exchange rate risk. Since the low of .64 cents during the GFC, the Australian dollar has appreciated approximately 60%. There is a real risk income streams could be worth less in U.S. dollar terms in future years. As a caveat, many large dividend-paying U.S. corporations, e.g. Procter & Gamble (NYSE:PG) and McDonald's (NYSE:MCD), derive over 50% of their earnings overseas. Exchange rate risk isn't eliminated simply by staying at home.
Not many Australian companies have ADR listings. U.S. investors wanting a U.S. traded ETF might want to look at iShares MSCI Australia Index Fund (NYSEARCA:EWA). Although it has a current yield of 4.51%, it is not an income ETF. For a more focused Australian income ETF, check out the SPDR MSCI Australia Select High Dividend Yield Fund (SYI.AX). This trades on the Sydney Exchange, is denominated in AUD, and has a current yield of 6.26%.
Disclosure: I have no positions in any stocks mentioned, and no plans to initiate any positions within the next 72 hours. I wrote this article myself, and it expresses my own opinions. I am not receiving compensation for it (other than from Seeking Alpha). I have no business relationship with any company whose stock is mentioned in this article.
Additional disclosure: I am long Westpac and Fleetwood Corp.