Canfor Pulp Products Inc. (OTC:CFPUF), Canada's largest NBSK producer (Northern Bleached Softwood Pulp), announced dismal results last night. The Board suspended the dividend, which was at one point $3 per annum when it was an income fund.
The stock is taking a hit at the opening - symbol CFX on the TSX, at $8.40 down $1.31 from $9.71 yesterday, and off from recent peaks in the $10.50 area.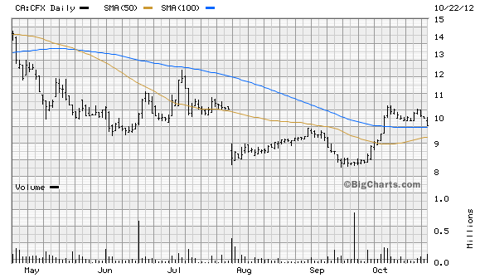 TD Securities had put out a strong buy on the stock recently (target $12.50). Clearly this was a misjudgment on their part. They had also boosted the prices of Domtar (NYSE:UFS) and Mercer (NASDAQ:MERC), and these stocks could also see some pressure.
The Company reported a 6 cent per share loss on $177.7 million in revenues versus a 5 cent profit on $210.8 million in revenues in Q2 2012 and a 33 cent profit on $233.9 million revenue in Q3 2011.
NBSK prices, once over $1,000 USD per ton, slumped with the Chinese and European slowdowns. CPPI list prices averaged $853 USD in Q3, down $47 versus Q2. A higher CAD cut into net realizations, so prices were down $60 to $839 CAD.
Production problems and unscheduled maintenance outages have plagued CPPI's mills for a year. The latest problem was a boiler leak at the Northwood, B.C. mill. This plus scheduled maintenance at the Prince George mill caused production rates to continue to operate below peak rates, at 220,600 tons. Another maintenance outage is scheduled for Q4 2012.
You have to conclude that the "iron" at CPPI's mills is getting old. This has been exacerbated by necessary hookups to recovery boilers which were installed and paid for under the auspices of the federal Green Transformation Program, which paid for the upgrades.
Down the road, CPPI will be able to produce electricity by burning waste black liquor" and sell it. However, this revenue stream won't build for a few more quarters.
Pulp shipments were down Q/Q by 7% to 214, 400 tons, reflecting the weak market for both softwood and hardwood pulp.
Q3 Pulp revenues therefore dropped to $144.8 million from $171.9 million in Q2, down 15.8%, creating an operating loss $8.4 million versus $8.6 million profit in Q2.
The smaller paper segment (unbleached sack paper) generated $32.8 million in revenues, down 14% but also slush pulp costs were down (transferred at the lower market prices from the mills), so operating income was up slightly at $5.0 million versus $4.8 million.
All in all, Q3 cash flow from operations shrunk to $1.4 million, versus $51.3 million in Q3 2011.
Cash on hand was negative $4.4 million as of September 30.
The Board had no choice but to cut the dividend, which was cut to 5 cents from 20 cents in Q2.
According to the Pulp and Paper Products Council, data for September show increased global shipments for NBSK (+4.0%) and BHK (bleached hardwood pulp) (+4.5%) versus August, and the much watched metric, Days of Supply, fell to 27 and 40 days respectively.
Although the DOS for NBSK shows a balanced market, the BHK market DOS indicates oversupply.
The Russian softwood pulp industry is growing in direct competition to Canadian softwood premium product. Net 500,000 tons of new NBSK production is coming on line in Q1 2013 from the Big Bratsk mill in Russia, a joint venture between domestic and closely-held Ilim Group and International Paper (NYSE:IP), to serve primarily Chinese demand.
About 2.6 million tons in new hardwood pulp production capacity is coming on line in 2013, from large new mills in Brazil and Uruguay.
Additional hardwood pulp supply is in the works from Indonesian conglomerates APP and APRIL.
Much ado has been made of the burgeoning demand for hygienic tissue paper in China. But the Chinese tissue production industry is quickly becoming overbuilt and therefore demand for pulp will be tempered by lower prices for tissue, as well as substitution by producers for cheaper bleached eucalyptus pulp.
We are panning Canadian pulp manufacturers due to global economic weakness a and the oversupply situation, in spite of small incremental list price increases. Mercer International, which runs one NBSK mill in British Columbia and two in Germany, announced a $30 price hike for NBSK in Europe, effective November 1.
Discounts from list prices however, cause some NBSK makers to operate at a loss. When CPPI is operating at peak capacity, it is a lower cost producer.
However, we have waited several quarters for that to happen.
We prefer Canexus Inc. (CUS) in the space, which has a diversified chemicals business serving a variety of industries, including the pulp industry.
Disclosure: I am long OTCPK:CXUSF. I wrote this article myself, and it expresses my own opinions. I am not receiving compensation for it (other than from Seeking Alpha). I have no business relationship with any company whose stock is mentioned in this article.