Amazon (NASDAQ:AMZN), the internet retail giant, reports their 3rd quarter, 2012 financial results after the bell Thursday night, October 25th. Analyst consensus is expecting a loss of $0.08 per share on $13.93 billion of revenues for a year-over-year (y/y) drop in earnings per share (from $0.14 a year earlier), but 28% y/y growth in revenues.
Amazon has made it a point to crush earnings the last two years by deliberately increasing "fulfillment" and SG&A (sales, general and administrative expenses) as they have escalated the build-out of regional distribution centers.
A reader might ask why hasn't the stock gotten just drilled as annual earnings per share will fall from $1.37 in 2011 to an estimated $0.69 in 2012, which is down from $2.53 in 2010 ?
The answer I believe is that sophisticated investors look through temporary constraints on earnings and focus on AMZN's revenue growth.
2014 - 26% (estimated)
2013 - 28% (estimated)
2012 - 30% (estimated w 2 quarters left to report)
2011 - 41%
2010 - 40%
Revenue growth is the key for AMZN, as the internet retailer is considered the best secular growth story in retail. With the September '12 retail sales reported in mid-October, it was noted that "non-store" retail, which includes internet sales, is now 9.4% of total retail sales.
What fascinates me is that with annual revenues of $63 billion, Amazon is still just 12 - 13% of WalMart's annual sales of $500 billion, and Walmart (WMT) is thought to represent about 10% of total annual retail sale in the US. For those who can quickly do the math, that means Amazon is just 1% - 2% of total retail sales in the US, and thus has plenty of growth ahead of it.
The other part of that story is that while WMT can only grow their top-line mid-single-digits given the $500 billion in annual revenues is a huge base from which to try and grow, particularly in this economy, AMZN should be able to sustain mid-teens growth for the foreseeable future as they continue to take share from traditional brick-and-mortar retail (note Best Buy's seeming demise).
AMZN's operating margin the last two years - as a function of the distribution center build-out and the investment in other areas - is now close to 1%, while in a normal operating environment, AMZN's operating margin is 4% - 5%.
Current analyst consensus is looking for 2012 to be the bottom for the "investment phase" of AMZN's buildout, with earnings per share expected to hit $2.30 in 2013 and $4.57 in 2014.
This is the reason AMZN's valuation looks absolutely frightening on just about all metrics, expect for "price-to-sales", which, using 4-quarter trailing sales, has AMZN valued a little under 2(x) price to 4qtr trailing.
The attached weekly chart for AMZN indicates the stock is overbought, and while we would like to wait for the stock to re-test the $200 area, or even better the 200-week moving average at $150 - secular growth stocks sometimes never pullback enough to lower-risk buy points.
The holiday season is AMZN's highest volume season of the year. Current analyst consensus for Q4 '12 is $0.52 on $23.5 bl in revenues.
Amazon will continue to gain share for years versus traditional retail, but good companies don't always make for the best stocks.
Wait for your low-risk buy point. We have a small position in AMZN, and plan on waiting for a lower-risk moment to add to the stock.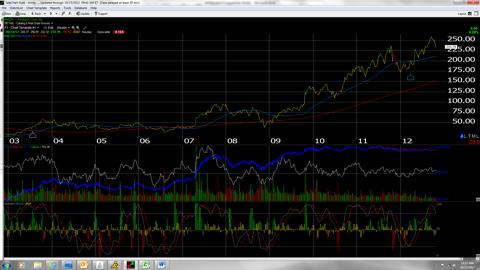 Disclosure: I am long AMZN, WMT. I wrote this article myself, and it expresses my own opinions. I am not receiving compensation for it (other than from Seeking Alpha). I have no business relationship with any company whose stock is mentioned in this article.