We are bullish on China Telecom Corp. (NYSE:CHA), as it has shown impressive growth in revenues over the years, which has reflected positively in its bottom line. The company continues to show strength in its mobile and broadband customer base, which is expected to continue going forward. Smartphone penetration in China is currently very low and will steadily rise in the days to come, as more subscribers switch to smartphones using faster 3G technology. Higher smartphone usage will rake in more revenues for the company per account, eventually boosting profitability.
China Telecom Corporation, the smallest of the three telecom companies in China, provides wireline, mobile communication and internet services to its customers that range from residential customers to corporate clients. As at the end of August 2012, the company had wireline access lines of over 165 million, broadband customers of about 86 million, and mobile subscribers of almost 150 million. With over a million mobile subscribers, the company is currently the largest CDMA mobile network operator in the world. CHA's depositary shares are listed on the NYSE, and are currently trading near $62. The company has a market capitalization of HK$395 billion.
The company is going through a phase of staggering growth in revenues and the first half of 2012 was no exception, with the company achieving record revenue growth. Operating revenues were recorded at RMB138 billion, an increase of almost 15% over the first half of the previous year. Overall, not only is that an impressive growth rate, but it was also higher than what the industry achieved. However, the company 's revenue growth didn't have a trickle-down effect on its bottom line, which actually contracted in the first half to RMB8.8 billion, down 8% from H1 2011. One major reason for the drop in earnings was that the company continues to spend more on smartphone subsidies, especially the iPhone. The company signed a deal with Apple to start selling iPhones earlier this year to attract more high-end customers, which even though a strain on profitability in the short term, is likely to bring growth to its customer base and in turn profitability over the medium and long term.
Higher 3G demand:
With the increased trend towards wireless internet and the demand for high speed 3G services, the Chinese mobile industry presents significant growth opportunities. In H1 2012, revenues from mobile services showed strong growth of over 35%, reaching RMB43 billion. Total net mobile additions were 18 million, reaching a total of almost 145 million customers by the end of the first half. The chart below shows that the company's total mobile market share increased to almost 14%, of which 3G net additions were 15 million customers.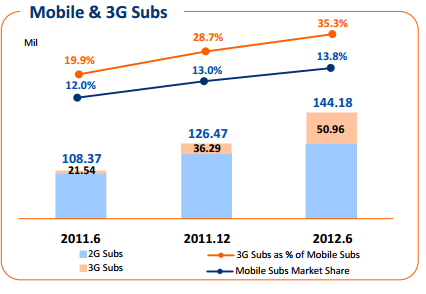 The company has recently taken some innovative steps that have helped it produce some impressive results in the most recent quarters. CHA has adopted a high growth 3G Smartphone based strategy, which involves developing a relationship with smartphone suppliers to widen its smartphone product base, which includes some affordable options. At the same time, its decision to start selling the iPhone early this year has paid dividends in the form of higher data traffic and minutes of usage. It is currently one of the three Chinese telecom companies to be offering the new iPhone, while the country's biggest telecom operator, China Mobile (NYSE:CHL) , is currently in the process of working out a deal with Apple Inc (NASDAQ:AAPL) for its iPhone 5. These innovations have helped the company in tapping into the high speed oriented 3G market, resulting in higher data traffic per 3G smartphone user as well as increased data revenues from mobile usage. The chart below shows that mobile data revenues are on a consistent rise and now they account for almost half of the company's total mobile service revenues with the trend expecting to continue.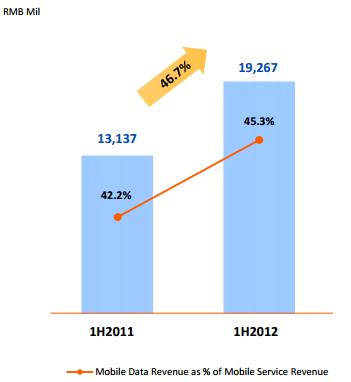 Key developments:
The company recently announced that it plans to acquire the 3G assets of its parent company, the state owned China Telecom. The transaction, which is expected to cost the company around $13 billion, will help it achieve operational efficiency in the long term as it is currently leasing the bandwidth from its parent company.
Financial Position:
Revenues have grown at a 4-year CAGR of over 7%, which is slightly lower than its peer China Mobile's growth rate of 10% and almost at par with China Unicom's (NYSE:CHU) 6.9%. Gross margins are high and in the financial year ended it posted gross margins of 41%. The company has an insignificant amount of debt on its balance sheet with a modest debt-to-equity ratio of 13% and a healthy interest coverage of 10x. Operating cash flows are on an incline since FY2008 and in the year ended 2011, the company generated operating cash flows of RMB66 billion. It has historically produced operating cash flows in excess of its capital expenditures and dividend payments.
The company's last dividend payment came in July, 2012, paying almost RMB5.2 billion in dividends after declaring a dividend of RMB0.0695 per share. However, the company's management has decided to suspend dividend payments for the year 2012 based on the upcoming acquisition of 3G infrastructure from its parent company.
Valuations:
CHA is trading at 20 times its earnings, a discount of 60% over its rival, China Unicom. On a forward basis, CHA looks cheap as well with a forward price to earnings multiple of 15x compared to CHU's 21x. EV/EBITDA of 4.4x for China Telecom is also at a discount to CHU's 5.1x.
Disclosure: I have no positions in any stocks mentioned, and no plans to initiate any positions within the next 72 hours.
Business relationship disclosure: The article has been written by Qineqt's Telecom Analyst. Qineqt is not receiving compensation for it (other than from Seeking Alpha). Qineqt has no business relationship with any company whose stock is mentioned in this article.