The next dividend growth battle pits the two home improvement heavyweights against each other: Home Depot (NYSE:HD) and Lowe's Companies (NYSE:LOW). Home Depot is about two and a half times bigger than Lowe's when it comes to market cap but these two companies are very similar in pretty much every other aspect when it comes to stock analysis. Let us take a look at the details.
Current Yield: There is very little to choose between the companies in terms of current yield. HD yields 1.9%, while LOW yields an exact 2%.
Payout Ratio: Home depot has a payout ratio of about 41%, while LOW's has a payout of about 43%. Again, very little to differentiate the two.
Cash on Hand: This is the first area where there seems to be a significant difference between the two companies. Home Depot's cash on hand is about 30% higher than Lowe's. The common pattern between the two charts is that both companies are recovering from the 2008 crash as evidenced by the improving cash on hand.
(Source: Ycharts.com)
(Source: Ycharts.com)
Valuation: Another area where the two companies look very similar. Both have an expected earnings growth of about 15% per year over the next 5 years and are currently trading at a PE of about 22.
Dividend Growth: This is where Lowe's has the edge over Home depot. Lowe's has been increasing dividends each year going back to 1980. The dividend growth over the past 5 years has averaged 15%. Home Depot too has been paying cash dividends for a long time, since 1987. And the dividends have also been growing ever since, except for three years during the recent housing crisis. The dividend at Home depot did not grow for three years between November 2006 and November 2009. Since then, Home depot's dividend growth has averaged about 9% over the next 3 years.
Since the U.S housing market is not yet out of its tough times and can anytime go onto another crisis, the tables below use half of the recent dividend growth percentage to calculate the yield on original cost for investors who can set aside their money in these two stocks for a long period of time.
(Home Depot's Dividend Growth: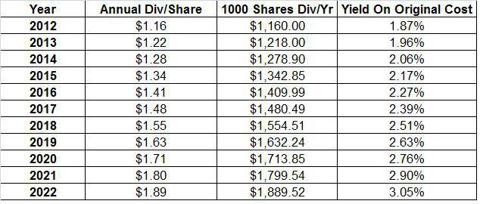 Forward Analysis and Conclusion: Below are a few reasons why we believe investors should stick with Home Depot over Lowe's even though the numbers above are fairly close.
Market Share: Despite being the industry leader, Home Depot is still gaining market share over Lowe's continuously. We strictly believe in first establishing a position in the industry leader before venturing into the other stocks, unless you are talking about a really fast growing stock in an industry still in infancy.
Inventory Turnover: Companies in this industry need to manage their inventories much better than in most other industries. Home Depot seems to be well managed in this aspect as you can see in the Inventory turn over ratio below. Home depot has continuously outdone Lowe's in this regard and this trend is likely to continue, leading to outperformance.

(Source: http://www.stock-analysis-on.net)

(Source: http://www.stock-analysis-on.net)
Strategy/Perception: As noted in this very good article, Lowe's moved from a policy of running frequent high discount programs to the "everyday value" theme towards the end of 2011. The article speculates that maybe people were so used to seeing frequent discounts from Lowe's that they now see no reason to go there if there are no special discounts. Until customers really get used to this, Home Depot will continue eating a bit more into Lowe's pie.
Online Initiative: Another way Lowe's is trying to reinvent itself is through the MyLowe's online sales. While it is good that the company is trying to realign its strategies, what we have right now is a company which is in the middle of its turnaround process. Turnarounds, though rewarding in the long term if successful, can be a painfully slow experience for investors, as has been the case so far with Lowe's.
Cash on Hand: As most investors would know by now, these two stocks (housing in general) can get into the panic mode real fast. Home Depot's extra cash on hand should comfort investors in such situations.
Disclosure: I have no positions in any stocks mentioned, and no plans to initiate any positions within the next 72 hours. I wrote this article myself, and it expresses my own opinions. I am not receiving compensation for it (other than from Seeking Alpha). I have no business relationship with any company whose stock is mentioned in this article.