On Thursday, September 4 pre-market, Blyth Inc. (NYSE:BTH) reported Q2 earnings of $0.08 per share or $3 million on $236.8 million in revenue vs. earnings of $0.08 per share or $3.2 million on $234.9 million in revenue a year ago. Excluding items, BTH earned $0.09 per share vs. $0.16 per share a year ago. Analysts were expecting $0.15 per share before items, on $236.7 million in revenue, widely missing expectations. Shares gapped down opening at $13.74, declined sharply, but recovered during the day to close at $12.07, down $3.81 or 24%, on 937,000 shares traded (3x the average daily volume).
International sales represented 39% of total sales vs. 30% a year ago and the majority of growth came from the PartyLite international and Wholesale Food Service businesses. The PartyLite U.S. business declined 16%. The Direct Selling business increased sales by 9% to $141.4 million vs. $130.2 million a year ago. The bottom-line: the businesses operating internationally did well, but U.S. businesses suffered.
CEO and Chairman Robert Goergen stated:
Sales volume declined across most of our U.S. business units as consumers scaled back their purchases. Higher gasoline and food prices deterred spending, resulting in lower volume in our direct-to-consumer businesses. Traffic at the wholesale summer gift shows was also notably lower. Moreover, price increases implemented for certain product lines did not offset higher product promotion, commodity and transportation costs.
It's a grim reminder that companies selling non-essentials will continue to suffer. Blyth sells candles, bath gels, lotions, gourmet foods, household conveniences (frames, gifts, kitchen accessories, etc), home decoration, textiles, and may other products. These items are the last things consumers are thinking of buying right now and the numbers prove it.
Management knows the current situation and, as a result, lowered their outlook for the fiscal 2009 year to $1.16 - $1.21 per share from a previous forecast of $1.26 - $1.31 per share. Analysts were expecting full year's earnings of $1.28 per share. Cash flow is expected to come in at $80 million vs. $90 million for the year.
The industry outlook is neutral to negative mostly due to the rise in raw and packaged costs, commodities inflation in general, slower consumer demand for non-essentials, and heavy competition from retailers such as Target (NYSE:TGT) and Wal-Mart (NYSE:WMT). I don't see much improvement unless more restructurings occur and new product lines (ones consumers would actually use) are introduced.
Currently, 2 firms (CL King, Jefferies & Co.) publish recommendations for BTH with 2 "Hold" ratings. 13% of the float (13.5 million shares) is short and insiders have purchased (337,155) and sold (363,027) a nearly equal amount of shares, with a net 25,872 shares sold.
Technically, BTH formed an ascending triangle following the 25-day MA, which is usually bullish; however, BTH formed a breakaway gap and is testing support at $11.80. BTH also cut through the 50-day MA and will act as resistance if a dead cat bounce occurs. Risk/reward does not favor either long or short positions at this time. Shorts should look for a weak pullback and longs should wait until BTH shows signs of bottoming out and higher lows.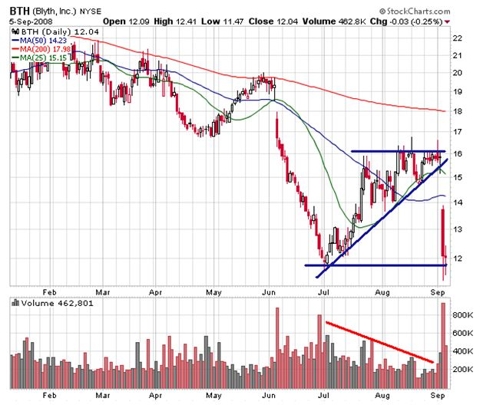 Full Disclosure: None.