Investors not only returned to a shortened trading week after the Labor Day holiday on Monday, but also to a bruising on stock markets, at least for those with long equity positions.
Concerns about the global economic outlook and continued financial duress spooked burses around the world, with a number of other factors also adding to investors' nervousness. In particular, Pimco's Bill Gross, the manager of the world's largest bond fund, said the U.S. needed to step up and buy assets to avoid a "financial tsunami" (Bill is renowned for talking his book on occasion!). Dwight Anderson's big Ospraie commodity hedge fund closed after suffering large losses, and Russia was selling foreign currency reserves to prop up the ruble after foreign capital fled the country following its invasion of Georgia.
Stock markets and commodities ended the first week of a traditionally bad September deeply in the red, but government bonds and the greenback benefited from the deleveraging and a flight to perceived safety.
An announcement by the U.S. Treasury Department regarding the bailing out and recapitalization of collapsing home mortgage giants Fannie Mae (FNM) and Freddie Mac (FRE) seems to be imminent. According to The Wall Street Journal, Congressman Barney Frank, chairman of the House Financial Services Committee, confirmed on Saturday that Treasury Secretary Henry Paulson was planning government intervention to back the troubled GSEs. The detail could be announced as early as today (Sunday), prior to the Asian markets reopening.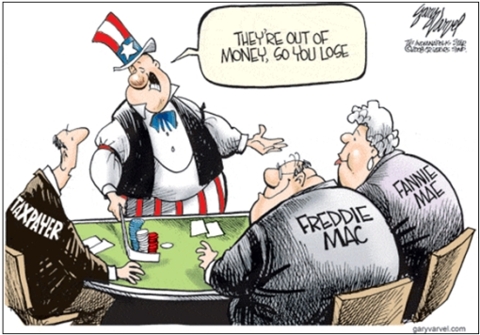 Source: Gary Varvel, Slate
Next, is a tag cloud of the text of all the articles I have read during the past week. This is a way of visualizing word frequencies at a glance. As expected, words such as "bank," "prices," "inflation" and "growth" featured prominently in my reading matter.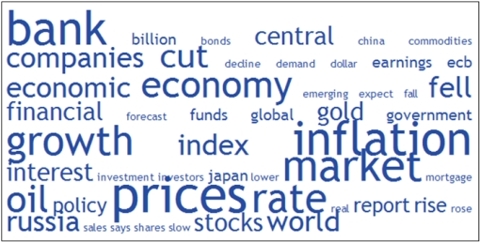 I have mentioned previously that the mid-July stock market lows need to be sustained in order for the summer rally and the market's base building to still be in effect. These levels – 10,963 for the Dow Jones Industrial Index and 1,215 for the S&P 500 Index – approached with unnerving speed last week.
Commenting on the current market weakness, Brett Steenbarger (TraderFeed) remarked as follows:
A number of sectors, such as consumer discretionary and even many of the financial shares, remain well above their July lows. It is not at all clear to me that this will be a fresh bear market leg down. I'm open to the idea that this may be an ultimately successful test of the July lows and part of a larger – and quite significant – bottoming process. Participation to the downside will tell the story.
From across the pond, David Fuller (Fullermoney) added:
… investors have little incentive to channel the large capital pools accumulating in money-market funds back into stock markets. Resistance near the August highs for share indices has checked the rallies. Moreover, many have broken beneath their August lows this week. We have also seen some new lows for the year, reaffirming overall downward trends. Unless stock markets can push back above their August highs, the bear will remain in charge for a while longer.
The last word goes to Richard Russell (Dow Theory Letters):
Yesterday's [Thursday's] stock market action, according to Lowry's, was a classic 90% downside day. Normally, such days are followed by 2 to 7 days of rally (bounce), and then a continuation of the downtrend. 90% downside days often come in a series of one or more, and after each 90% downside day we look (hope for) a 90% up-day. And that's where we are now.
Before highlighting some thought-provoking news items and quotes from market commentators, let's briefly review the financial markets' movements on the basis of economic statistics and a performance round-up.
Economy
According to the Survey of Business Confidence of the World conducted by Moody's Economy.com:
Global business sentiment has been more or less consistent with a global economy that is near recession since the subprime financial shock hit over a year ago.
The survey did take on a slightly more upbeat tone at the end of August as pricing pressures abated a bit, sales strengthened somewhat and hiring firmed modestly. Businesses remain most dour in the U.S., Europe and Japan, and most upbeat in the rest of Asia.
In the U.S., the September Beige Book report from the 12 Federal Reserve districts indicated slow and weak conditions across nearly all districts. Price pressures for energy and commodities continued to be a factor during July and August across nearly all districts, although pass-through to wages appeared to be minimal, giving the Fed some breathing space in terms of monetary policy for now.
The most important economic data released in the U.S. during the past week concerned the employment situation. Non-farm payroll employment fell by 84,000 in August and the unemployment rate rose to 6.1% from 5.7% in July. Revisions to June and July job numbers tacked on another 58,000 lost jobs. In the first eight months of 2008, on average, 76,000 jobs have been lost each month. The decline in payrolls and the rise in the unemployment rate were both larger than expected by consensus forecasts, fueling concerns about the pace of consumer spending in the months ahead.
In summarizing the outlook for U.S. interest rates, Asha Bangalore (Northern Trust) said:
The question is how long before it is widely acceptable to use the 'R' word. The recent rally of the dollar and reduction in energy prices have allowed the Fed to watch and wait. That said, the Federal funds rate at 2.0% may have to be reconsidered in the near term if a turnaround is not visible. The September 16 FOMC meeting will most likely end with the Federal funds rate left unchanged at 2.0%.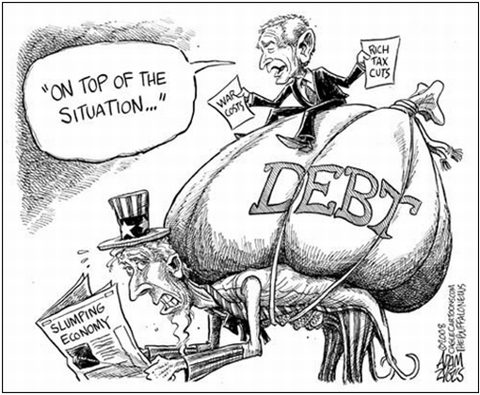 Hat tip: Phil's Stock World
Data releases from the U.K., continental Europe and Japan underlined rapidly worsening economies bordering on recession.
The European Central Bank [ECB] kept its main refinance rate on hold at 4.25% at its September monetary policy meeting. Interest rates are at seven-year high, as central bankers are unwilling to relax monetary policy before inflation comes down closer to the bank's 2% target.
In line with market expectations, the Bank of England [BoE] decided to keep its key repo rate steady at 5% at its September monetary policy meeting. September marks the fifth consecutive month with no change in the monetary policy rate.
The week's economic reports
Click here for the week's economy in pictures, courtesy of Jake of EconomPic Data. This is an exciting addition to "Words from the Wise" and will in future be included regularly:
| | | | | | | | |
| --- | --- | --- | --- | --- | --- | --- | --- |
| Date | Time (NYSE:ET) | Statistic | For | Actual | Briefing Forecast | Market Expects | Prior |
| Sep 2 | 12:00 AM | | Aug | - | 4.8M | NA | 4.4M |
| Sep 2 | 12:00 AM | | Aug | - | 4.8M | NA | 4.6M |
| Sep 2 | 10:00 AM | | Jul | -0.6% | -0.3% | -0.4% | 0.3% |
| Sep 2 | 10:00 AM | ISM Index | Aug | 49.9 | 50.2 | 50.0 | 50.0 |
| Sep 3 | 12:00 AM | Auto Sales | Aug | - | 4.8M | NA | 4.4M |
| Sep 3 | 12:00 AM | Truck Sales | Aug | - | 4.8M | NA | 4.6M |
| Sep 3 | 8:15 AM | ADP Employment | Aug | - | - | -19K | 9K |
| Sep 3 | 10:00 AM | | Jul | 1.3% | 1.0% | 1.0% | 2.1% |
| Sep 3 | 10:35 AM | Crude Inventories | 08/30 | - | NA | NA | -177K |
| Sep 3 | 2:00 PM | Fed's Beige Book | - | - | - | - | - |
| Sep 4 | 8:15 AM | ADP Employment | Aug | -33K | - | -30K | 1K |
| Sep 4 | 8:30 AM | | 08/30 | 444K | 415K | 420K | 429K |
| Sep 4 | 8:30 AM | Productivity Rev. | Q2 | 4.3% | 3.5% | 3.5% | 2.2% |
| Sep 4 | 10:00 AM | ISM Services | Aug | 50.6 | 50.0 | 49.5 | 49.5 |
| Sep 4 | 10:35 AM | Crude Inventories | 08/30 | -1898K | NA | NA | -177K |
| Sep 5 | 8:30 AM | | Aug | 33.7 | 33.7 | 33.6 | 33.7 |
| Sep 5 | 8:30 AM | | Aug | 0.4% | 0.3% | 0.3% | 0.4% |
| Sep 5 | 8:30 AM | | Aug | -84K | -70K | -75K | -60K |
| Sep 5 | 8:30 AM | | Aug | 6.1% | 5.7% | 5.7% | 5.7% |
Source: Yahoo Finance, September 5, 2008.
Next week's U.S. economic highlights, courtesy of Northern Trust, include the following:
International Trade (September 11): The trade deficit is predicted to have widened to $58.5 billion in July from $56.8 billion in June, partly accounting for higher imported oil prices. Consensus: $59.5 billion.
Retail Sales (September 12): Auto sales rose to 13.7 million units in August from 12.55 million in July. It is very likely that gasoline prices fell in August. The headline may show a small gain (+0.2%) to reflect the jump in car sales. Excluding autos, retail sales should be soft. Consensus: 0.3% versus -0.1% in July; non-auto retail sales: -0.2% versus 0.4% in July.
Producer Price Index (September 12): The Producer Price Index [PPI] for finished goods is expected to have dropped 0.6% in August, reflecting lower energy prices. The PPI was up 1.2% in July. The core PPI is most likely to have risen by 0.1% after a 0.7% increase in July. Consensus: +0.4%, core PPI +0.2%.
Other reports: NFIB survey, Pending Home Sales Index (September 9), Import Prices (September 11), Inventories, Consumer Sentiment Index (September 12).
Click here for a summary of Wachovia's weekly economic and financial commentary.
A summary of the release dates of economic reports in the U.K., Eurozone, Japan and China is provided here. It is important to keep an eye on growth trends in these economies for clues on, among others, the trend of the U.S. dollar.
Markets
The performance chart obtained from the Wall Street Journal Online shows how different global markets performed during the past week.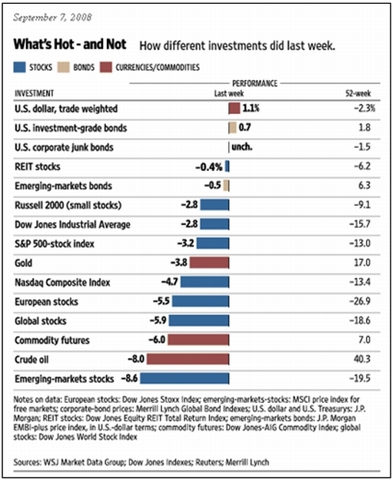 Source: Wall Street Journal Online, September 7, 2008.
Equities
Stock markets around the world suffered badly during the past week on the back of the deteriorating global economic outlook, with the MSCI World Index (NYSEARCA:EFA) and the MSCI Emerging Markets Index (NYSEARCA:EEM) plunging by 5.6% and 8.6% respectively.
Among mature markets, the worst losses were recorded by the U.K. FTSE 100 (-7.0%), the Canadian S&P/TSX Composite Index (-6.9%), the Japanese Nikkei 225 Average (-6.6%) and the French CAC 40 Index (-6.4%).
The carnage among emerging markets was even worse as illustrated by the declines in markets such as Russia (-10.8%), Taiwan (-10.5%), South Africa (-8.3%) and China (8.1%). Gains were few and far between, with Pakistan (+1.5%) and the Philippines (+1.4%) being two of the rare positive spots.
With the exception of the Nasdaq Composite Index (-4.7%; YTD -14.9%), the US stock markets fell by somewhat less than most other bourses as shown by the major index movements: Dow Jones -2.8%% (YTD -15.4%), S&P 500 Index -3.2% (YTD -15.4%) and Russell 2000 Index -2.8% (YTD 6.2%).
Factoring in the past week's performance, an interesting picture regarding bear market declines emerged, as summarized by Bespoke:
After declining 4.25% on Wednesday, 3.94% yesterday, and 3.75% today, Russia's RTS Index is now 41.19% below its 52-week high. These declines put it second to last behind China when looking at recent equity market returns for 22 major countries. As shown, China has fallen 64% from its 52-week high last October!
The declines recently in global equity markets have really been astounding. Japan, Spain, Brazil, India, Italy, South Korea, Singapore, Sweden, Taiwan, and Hong Kong all join China and Russia with equity markets off at least 30% from their 52-week highs. North American countries rank 1, 2, 3 as countries holding up the best. International exposure has never hurt so bad.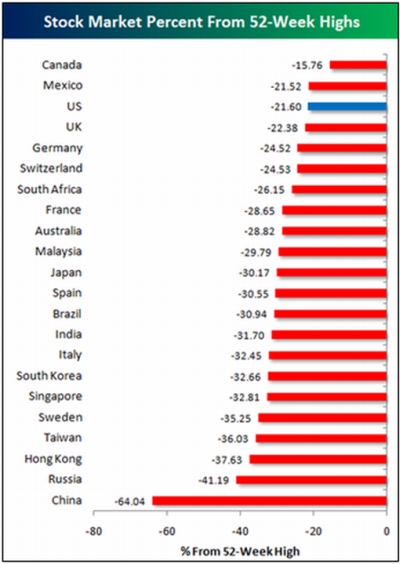 The past week's sell-off has resulted in all the major U.S. indices trading below their respective 50- and 200-day moving averages, with the exception of the Russell 2000 Index which is still marginally above the 200-day line. Some comfort for the bulls is that the key mid-July lows have not yet been breached by any of the indices.
Click here or on the thumbnail below for a market map, courtesy of Finviz.com, providing a quick overview of the performance of the various segments of the S&P 500 Index over the week.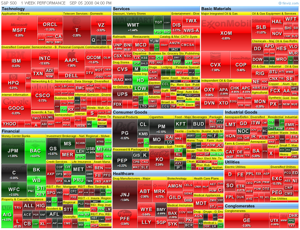 The major trend in the market last week was a sell-off in many commodity-related groups – oil and gas, gold, aluminum, steel, coal and copper. The drivers of these declines were lower commodity prices and growing investor concern over a global economic slowdown. The diversified metals and mining group was the worst performing group for the week, declining by 17%. Its single member, Freeport-McMoran (NYSE:FCX), sold off as the prices of copper and gold declined.
The construction and engineering group (-16%) was the second-worst performer, negatively impacted by economic woes and the fact that many companies in this group have exposure to energy commodity prices.
The regional bank group (+7%) was the best-performing group for the week. As oil and other commodity-related groups declined, there was an apparent rotation into several financial groups, including regional banks.
The home improvement retail group also outperformed, rising by 5%. Its two largest members, Home Depot (NYSE:HD) and Lowe's Companies (NYSE:LOW), led the group higher. An analyst report said that economic forces weighing on home improvement chains were nearing the end of their "trough-like levels" and the early stages of improvement could begin sometime next year.
Fixed-interest instruments
Increasing risk aversion and a flight to safety pushed global government bond yields sharply lower during the past week.
The ten-year U.S. Treasury Note declined by 18 basis points to 3.65%, the U.K. ten-year Gilt yield by 10 basis points to 4.38% and the German ten-year Bund yield by 14 basis points to 4.03%.
Bond yields are increasingly taking their cue from investors' worries about a global economic recession, whereas the threat of inflation is subsiding as shown by the declining trend since March in the Lehman U.S. Treasury Inflation Protected Securities ETF (NYSEARCA:TIP).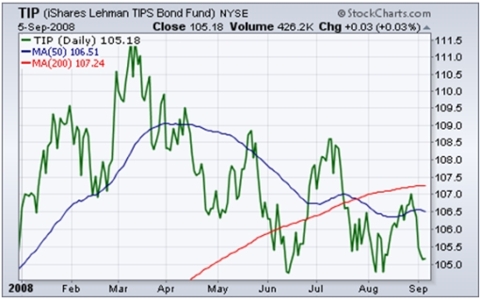 Emphasizing the importance of the direction of bonds, Richard Russell (Dow Theory Letters) said:
… I'm watching the bond action intently. If the bonds believe 'things are getting better', they'll head down. If bond investors continue to be worried about the outlook, they'll buy the currently low-yielding Treasuries, with 10-year notes now yielding only 3.66%.
Currencies
The U.S. dollar maintained its upward path during the past week, supported by the view that interest rate differentials may increasingly favor the greenback as data from the U.K., continental Europe and Japan are weakening relative to the U.S.
The past week saw the U.S. dollar rising against the euro (+3.2% – an eleven-month high), the British pound (+3.6%), the Swiss franc (+1.7%), the Australian dollar (+1.2%) and the Canadian dollar (+0.5%).
However, the U.S. currency declined by 1.9% against the Japanese yen as risk aversion triggered the unwinding of carry trade transactions funded by the low-yielding yen.
The currencies of commodities producers came under strong selling pressure as commodities slipped further. Examples include the Australian and New Zealand dollars that declined by 5.5% and 4.9% respectively against their U.S. counterpart. The Aussie dollar was also weakened by the Reserve Bank of Australia lowering its key interest rate by 25 basis points to 7.0% – the first cut in seven years.
The histogram below shows the performance of a number of currencies since the beginning of 2008, indicating the U.S. currency is now in positive territory after a gain of 3.0% YTD.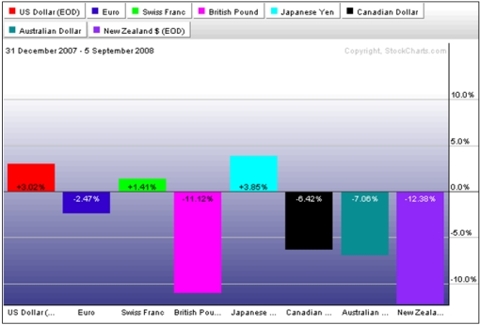 Commodities
The continued unwinding of commodity positions savaged the Reuters/Jeffries CRB Index, shown by the week's 6.5% plunge. 22.4% of the Index's value has been wiped out since its record peak of July 2 – just more than two months ago.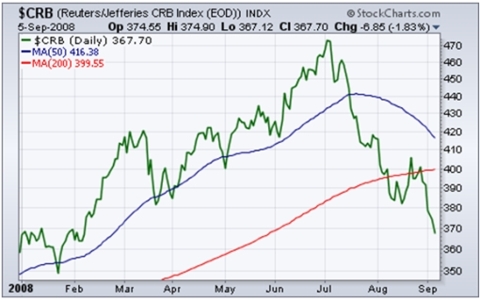 Regarding the outlook for crude oil, David Fuller (Fullermoney) said:
Today, I see no evidence that crude oil has bottomed in what I regard as a lengthy medium-term correction, meaning a minimum of several months and up to two or possibly even three years. … we could easily see a retest of $100 this year, with an outside chance of a temporary overshoot, taking us close to $80.
The chart below shows the damage of the past week's movements for various commodities: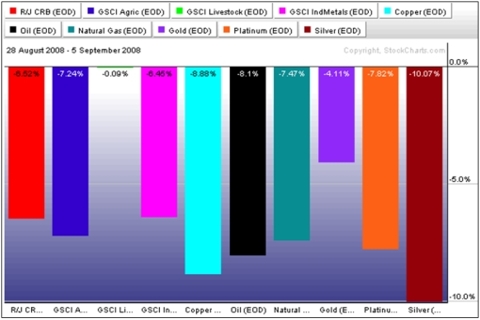 But always remember Earl Nightingale's words:
Wherever there is danger, there lurks opportunity; whenever there is opportunity, there lurks danger. The two are inseparable. They go together. (Hat tip: The Kirk Report)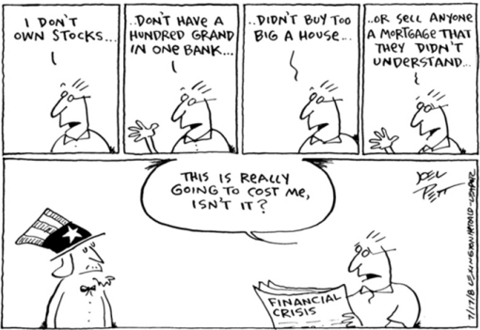 Source: McClatchy