The Federal Reserve's latest plan has done little to help investors relying on fixed income. In September 2012, the Fed announced a new round of bond buying with the additional statement that it would keep the program open-ended. While keeping to its promise that it would keep short-term interest rates near zero, the Fed additionally stated that it expected to do this at least through mid-2015. As a consequence of its actions, investors can expect interest rates to remain low for a lengthy period of time. This is bad news for holders of U.S. Treasuries and individuals monitoring their savings accounts, who have already witnessed declining income flows due to falling interest rates over the past half decade. Yet with more financial pain expected to be endured for some time over the coming years, those looking to obtain yield appear to be turning to the stock market for an income component in their financial plan.
However, investors looking for a diversified dividend fund might be disappointed by the more popular funds available. For instance, the iShares Dow Jones Select Dividend Index ETF (DVY) offers its investors a mere 3.49% yield, which seems like a marginal improvement when contrasted against the S&P 500's average yield. As a stock index that follows the common stock prices of 500 publicly traded American companies, the S&P 500 is often referred to as a benchmark measure of the market itself. As seen as the graphic below, the current yield of the S&P 500 now rests at a mere 1.98% as of October 22, 2012.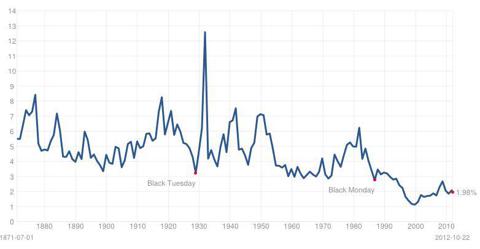 Yet for those willing to create their own income portfolios, they could do much better in selecting their own holdings from a list of high-paying companies. A diversified portfolio such as the one that follows can provide a much more lucrative income component and still retain the relative stability to endure market volatility. When taken together, the following companies offer a combined average yield of 7.04%. The following portfolio also retains a collective average beta of 0.9, a figure that suggests greater overall stability than the market average of 1.
| Company Name | Market Cap. | Fwd. Div. Yield% | Beta | Industry |
| --- | --- | --- | --- | --- |
| AT&T, Inc. (T) | $203.41 Billion | 5.00% | 0.44 | Telecom Services |
| Total SA (TOT) | $116.40 Billion | 4.80% | 1.48 | Oil & Gas |
| Exelon Corporation (EXC) | $31.45 Billion | 5.70% | 0.51 | Utilities |
| Sun Life Financial Inc. (SLF) | $14.81 Billion | 5.90% | 1.39 | Insurance |
| Vector Group Ltd. (VGR) | $1.41 Billion | 9.70% | 0.26 | Cigarettes |
| Pitney Bowes Inc. (PBI) | $2.84 Billion | 10.50% | 1.30 | Business Equipment |
| Government Properties Income Trust (GOV) | $1.05 Billion | 7.70% | 0.90 | REIT |
Screened for higher market capitalizations of $1 billion and greater, all of the companies above are likely to emerge from market shocks better than their small-cap peers. The holdings are spread throughout multiple industries, many of which are perceived as being relative safe havens for stability. For instance, Government Properties Income Trust is a REIT that caters to government agencies which are often considered as stable tenants throughout tough economic times. AT&T and Exelon both operate as essential infrastructural components to society through their provision of telecommunication services and electrical power respectively. Even Vector Group offers overall stability as a cigarette manufacturer equipped with a reliable consumer base.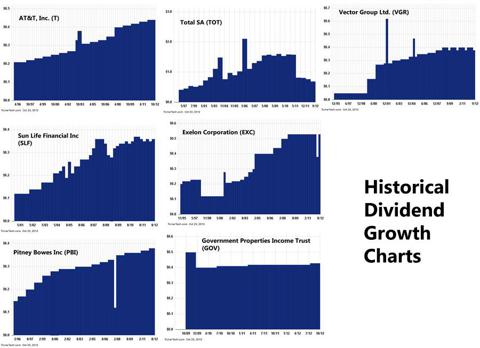 As seen above, the overall picture of the dividend history is also an important figure to consider. The majority of the companies shown have increased their dividend rates over the years in demonstration of their safe yields. Apart from Total SA, all of the listed companies have either maintained a relatively stable dividend rate or increased their yield over time. Companies like AT&T and Pitney Bowes, for example, have sequentially raised their dividend rates for 27 years and 30 years respectively. Altogether, the above holdings offer a glance at one such portfolio construction capable of providing a strong income component without the sacrifice of overall stability.
Disclosure: I have no positions in any stocks mentioned, and no plans to initiate any positions within the next 72 hours. I wrote this article myself, and it expresses my own opinions. I am not receiving compensation for it (other than from Seeking Alpha). I have no business relationship with any company whose stock is mentioned in this article.