I had been stalking Murphy Oil (NYSE:MUR) for some months with the intent to add the energy producer and refiner to my medium outlook portfolio. The two things that were keeping me from pulling the trigger: was that my portfolio was already aggressively exposed to energy; and that I was not sure how long it would take Murphy Oil to realize its inherent value. Then on 16 October the company announced a spinoff off its downstream business. I almost broke my arm buying the stock.
Okay, I am addicted to spinoff companies. I have found that spinoff companies almost always provide excellent returns over the near and medium term. Let me examine the Murphy Oil move as well as others from this year to show why I love them so much.
I was first introduced to the ideas behind spinoff investing decades ago when I read Peter Lynch's book One Up on Wall Street. Lynch is the legendary investor who ran the Fidelity Magellan Fund from around $18 million in 1977 to just over $14 billion in 1990. He averaged a 29.2% return over the 13 year period. One of his favorite investment strategies involved spinoffs.
Lynch stated that spinoff companies tended to do very well for several reasons. First, spinoffs unlocked shareholder value. Companies doing the spinoff generally had components that did not work well together, with some being profitable while others being a drag on earnings. The spinoff allowed the new companies to concentrate on what each did well. It was almost always a situation where 1-1=3. Mathematically it makes no sense, but in business addition by subtraction can be a powerful generator.
Specifically, Lynch stated that the spun off company almost always does well. Mostly this is because the parent company has an inherent interest in the success of the new company. It looks very bad for management if the spinoff fails. After all, the shareholders of the new company continue to be shareholders of the old. Therefore the parent company tends to carefully structure the spunoff units into a viable operation. Perhaps most importantly from my perspective, Lynch also noted that the parent company tended to keep most of any debt. The new spinoff would start life with a healthy balance sheet.
This was definitely true when the old Conoco Phillips split into Conoco (NYSE:COP) and Phillips 66 (NYSE:PSX). The deal was announced in 2011 and went into effect on May 1 of this year when shareholders like me received a tax-free distribution of stock in Phillips 66. Conoco continued life with the energy production units and a large percentage of the corporate debt.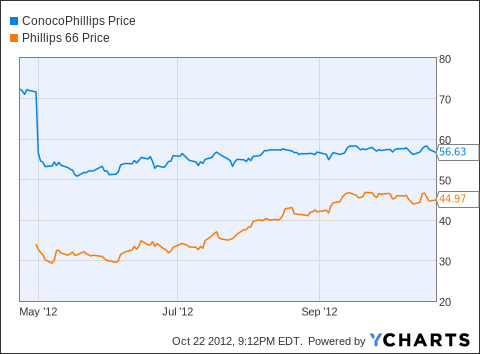 Since the split Conoco is slightly up but is not earth shaking. With a current ratio of 0.8 I expect it will take 12-18 months for this cash flow monster to work through the post-spinoff issues.
Meanwhile Phillips 66, with a much more solid current ratio of 1.3, has seen its share price advance up over 14% and initiated a dividend. It is using its bountiful free cash flow to heavily reinvest in its chemical unit. It is working well now, but still setting itself up to take advantage whenever and economic recovery rolls around.
There are lots of parallels between Murphy Oil and the Conoco Phillips spinoffs. I expect the new structure for Murphy's assets to perform similarly to Conoco's.
One important point to consider: Although most spinoff companies do well, the parent company normally does better in the days immediately following the spinoff. Look at the share action of Phillips on the chart above and you cans see the temporary dip a few day after the spinoff. This is because of the market behavior of large, institutional investors. Big investors often sell the stock of the new company shortly after receiving the shares. This can be because the new company does not meet the investing profile the investor is looking for. It can mean additional buying opportunities if you wait until just after the split.
But post spinoff is not always greater value. Consider the off beat spinoff of Mondelez International (NASDAQ:MDLZ) of its North American operations into the new Kraft Foods (KRFT).
From Kraft's investor web page:
On the distribution date, each Kraft Foods Inc. shareholder received one share of Kraft Foods Group, Inc. common stock for every three shares of Kraft Foods Inc. common stock owned on the record date.

Kraft Foods Inc. also changed its name to Mondelēz International, Inc. on October 1, 2012. Beginning on October 2, 2012, Mondelēz International, Inc. will begin trading on The NASDAQ Global Select Market under the ticker symbol ("MDLZ"). The "KFT" ticker has been retired.
So in this case the spinoff keeps the old brand identities. Kraft is established in the lower growth market (North America) while the main company with the new Mondelez name concentrates more on international and especially developing markets like China and Latin America. I like Kraft with its tool box of established brands like Oscar Meyer, Planters and of course, Kraft. The company should make a dividend pumping machine. Meanwhile down here in Ecuador a young lady offered me an Oreo cookie for a treat. Mondelez will ride global growth for all it is worth.
And then there is Murphy Oil. It is still early to see exactly how the spinoff will actually work with Murphy Oil. A lot of details need to be worked out. Most important will be how debt, receivables and other financials get distributed. But I expect in any case the spinoff will unlock a lot of dormant value.
Add that to the fact that Murphy's board also approved a $2.50/share special dividend while announcing a $1 billion share buyback plan and there is a lot for shareholders to cheer about. I can not wait for the next spinoff to buzz around and unlock some shareholder value for me.
Disclosure: I am long MUR, COP, PSX. I wrote this article myself, and it expresses my own opinions. I am not receiving compensation for it (other than from Seeking Alpha). I have no business relationship with any company whose stock is mentioned in this article.
Additional disclosure: Also long MDLZ