Shares of Google (NASDAQ:GOOG) tumbled more than 10% last Thursday as the company reported third quarter revenue of $11.3 billion, well under the average estimate for $11.8 billion and more than 15% below expectations for earnings of $10.65 per share. Like so many internet companies this year, the blame for poor earnings was put squarely on the company's inability to monetize mobile traffic. The world's largest search engine has been able to collect only about two-thirds the price it charges PC users for mobile ads and about 25% less than it charges for ads run on tablets.
Even after the dramatic selloff last week, shares of Google are up 7.6% this year and an annualized 21% since its IPO in 2004.
CEO Larry Page later said on the conference call that mobile business was on pace to reach $8 billion annually and that the company has, "enormous opportunities to innovate and drive ever higher monetization." Bears are quick to point out that the average price per click across the company was down 15% from a year ago, but this was largely a factor of a higher percentage of total ads coming from tablets and smartphones. Consolidated quarterly revenues still grew by 15% on a quarterly basis with revenue more than doubling from its Motorola business to $2.58 billion. Though traffic acquisition costs increased by 0.8% to 25.5% over the quarter, they are still down over the last two years.
Solid fundamentals support the downside
While I think the drop last Thursday is a hiccup in an otherwise positive outlook, the company's solid fundamentals should support the shares even if it takes a little time to fully monetize mobile users. The trailing price-to-earnings of 17.5 times, while higher than I usually like paying for a stock, is still lower than the average of 18.5 over the last two years. Earnings are expected to grow by 23% over the next four quarters which means a share price of $834 at the current price multiple. The company has $45.7 billion in cash and short-term investments, almost two and a half times the amount spent on investing activities last year. The company is extremely well-run with an operating margin of 27%, well above competitors like Yahoo (YHOO) with an operating margin of 13%. The company's return on equity of 17.2% is better than 81% of competitors in the computer services industry.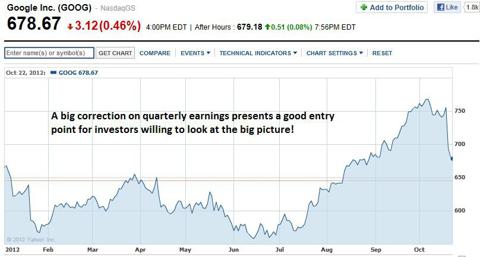 Short-term pain and long-term gain
Investors need to understand the difference between the constant chatter and concerns about quarterly earnings and the long-term picture in growth.
A closer look at increased traffic and an improved platform for all audiences uncovers some real value for Google. The company owns the largest mobile operating system and that part of the business is still in its infancy. While other companies like Facebook (NASDAQ:FB) and LinkedIn (LNKD) face similar hurdles monetizing smartphone traffic, they do not have the core business that Google has to support it through the transition. Core internet search is still expected to see 12% compound annual growth over the next five years.
While the acquisition and subsequent evolution into mobile has posed a challenge to short-term earnings, the company is positioning itself to dominate the space in the future. The fact is that the market is too short-sighted and companies face an enormous amount of pressure to blow away expectations every three months. I personally prefer a company where management is willing to say, "You know what, earnings are not going to be stellar this quarter. We put a lot into investment and are positioning for future growth. Stick with us and you will be rewarded." The company has fallen more than 7.5% in one day on nine occasions since its IPO. Investors willing to look past the short-term have seen an average gain of 34% in the year following the drop. Fair value over the next year, on expected earnings and a conservative 17.5 times price multiple, should be around $834 per share.
Disclosure: I have no positions in any stocks mentioned, and no plans to initiate any positions within the next 72 hours. I wrote this article myself, and it expresses my own opinions. I am not receiving compensation for it (other than from Seeking Alpha). I have no business relationship with any company whose stock is mentioned in this article.