Stocks To Trade
Today, we are looking at an earnings trade in ExxonMobil (NYSE:XOM), longs in Mako Surgical (NASDAQ:MAKO) and PACCAR (NASDAQ:PCAR), and shorts in Best Buy (NYSE:BBY) and Google (NASDAQ:GOOG).
For an earnings trade, we are looking at ExxonMobil. Oil's decline over the past couple weeks has put a top on XOM, and the company has earnings around the corner on November 1. What type of move can we expect into earnings? Earnings are expected to decline near 10% YOY, along with sales. Yet is that drop priced into the stock? The stock is currently pricing in a sub-10 P/E ratio, so it is pretty cheap right now. The company continues to hold the $90 line despite recent weakness, and we would expect it to continue to maintain that area into earnings. If the stock has not broken yet, it's hard to expect it to break further. The company has not dropped more than 5% on any earnings report in the past two years, so we like it for that as well. For an aggressive trader, take the 87.50/85 bull put spread for Nov17. For the conservative, take the 85/82.50 bull put spread.
Trade: XOM, Nov17, 160/165 Bull Put Spread
Max Gain: 18%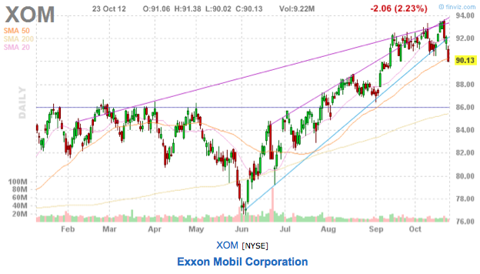 For longs, we like the looks of Mako Surgical and PACCAR. Mako is looking like it's ready for a breakout right now. The company has been strong despite recent weakness in the market, and it is about to test a downward price channel to the upside. The company has been strong after a promising report from Intuitive Surgical (NASDAQ:ISRG) that was bullish for Mako's potential. The company reports on November 7, and it is expected to report 37% growth in sales, with 33% movement in earnings to the upside. The stock is still operating at a loss, but it looks ready to move right now, as it has not dropped for a couple weeks and has coiled below its 20-day MA. We expect a breakout to at least 16, and then movement above 16 if it breaks its 20-day MA.
PCAR looks very solid as well. Trucks were strong today on a weak day in the market, and the company is looking strong into its next round of earnings. Those are expected to come in with about 10% drop in sales, and 15-20% drop in earnings. So why go long? PCAR has not broken 36 all year, and with P/E of 12, the market is not expecting much for the stock anyway. Still, the stock has held 40 despite market weakness, and it's also benefiting from positive headlines coming out of Oshkosh (NYSE:OSK).
Equity Trade: MAKO, Long
Breakout Point: Take long over 15.60
Options Trade: PCAR, Nov17, 36/35 Bull Put Spread
Max Gain: 11%
For shorts, we like the looks of Best Buy and Google. BBY looked to be breaking a downward triangle pattern today as it moves towards earnings in mid-November, and we believe that the company could be a great short breakout candidate. The stock lost a strong $17 support line today, but it did not completely collapse. It may be a great candidate to drop if it breaks today's LOD tomorrow and does not retake 17. Why is BBY dropping? First off, the market's weakness is not helping, but the stock is underperforming comparatively. The company has lost all of its strength since its CEO commented that he may try to take Best Buy private. Additionally, as its nears its next earnings report, things are not looking good. Expectations are for around a 33% drop in earnings, and there is just no catalyst for upside right now. It's a great stock to short in market weakness, as the fundamentals are very sour.
Further, today's Apple (NASDAQ:AAPL) iPad Mini announcement is a hit to GOOG. Whether or not people want to argue about the price point, the iPad Mini will take more business away from GOOG, mostly the untapped market. Right now, if a consumer is deciding between tablets, they can go with the Android tablets between $200 - $300, or for slightly more money, they can get an iPad. Before, consumers looking for a lower price point would likely go with the Android, but now they have an entry way into Apple. It's not so much about those that would never choose the expensive iPad before. It's about those that are looking for the new, smaller tablet. When information starts to come out about sales, we believe AAPL will challenge GOOG. Recent earnings weakness is, obviously, a challenge as well.
Stock Trade: BBY, Short
Breakout point: Break of today's LOD
Options Trade: GOOG, Nov17, 725/730 Bear Call Spread
Max Gain: 12%
Tomorrow's Outlook
The market continues to look weak, and even if we rallied back, the market lost the 50-day MA today. The market did not lose a key 1400 level on the S&P 500, and as long as that holds, the market is not completely bearish. At the same time, earnings continue to be weak. There is just no way the market can hold up with this much weight from earnings weakness. A lot seems to be priced into the market now, but at the same time, more weak reports in big names like Apple or Disney (NYSE:DIS), or retail companies, may give us another leg down. Tomorrow, the market will be able to also get some economic data to react to in New Home Sales, FHF Housing Price Index, and Crude Inventories. Housing has been solid, however, and could go a long way toward providing the market some upside.
Our Moves/Holdings
We had a nice day in the market, as we were able to get almost a 5% gain in our Riverbed (NASDAQ:RVBD) long, Monsanto (NYSE:MON) short. We also exited CBRE Group for a 3% loss. We added a reverse iron condor in Netflix (NASDAQ:NFLX) and a long in Cree (NASDAQ:CREE). We added a short in Texas Instruments (NYSE:TXN).
We have the following positions:
In our Short-Term Equity Portfolio, we are long Cree. We are short Texas Instruments.
In our Options Portfolio, we are long Intuitive Surgical, Urban Outfitters (NASDAQ:URBN), Discover (NYSE:DFS), Wal-Mart (NYSE:WMT), and ExxonMobil. We are short United States Oil (NYSEARCA:USO) and SPDR S&P 500 (NYSEARCA:SPY).
In our Earnings Alpha Portfolio, we are long Allstate (NYSE:ALL), Michael Kors (NYSE:KORS), Disney, and Continental Resources (NYSE:CLR). We are short Polo Ralph Lauren (NYSE:RL) and Salesforce.com (NYSE:CRM). We have a reverse iron condor in Chipotle (NYSE:CMG) and Netflix.
In our Goldman Sachs Up/Down Paper Portfolio, we are long CSX (NYSE:CSX) and Teradata (NYSE:TDC).
Charts courtesy of finviz.com.
Disclosure: I have no positions in any stocks mentioned, and no plans to initiate any positions within the next 72 hours.
Business relationship disclosure: The Oxen Group is a team of analysts. This article was written by David Ristau, one of our writers. We did not receive compensation for this article (other than from Seeking Alpha), and we have no business relationship with any company whose stock is mentioned in this article.